Over the past two decades, Sakhalin Environment Watch (SEW) has emerged as one of the Russian Far East's foremost defenders of salmon and the environment.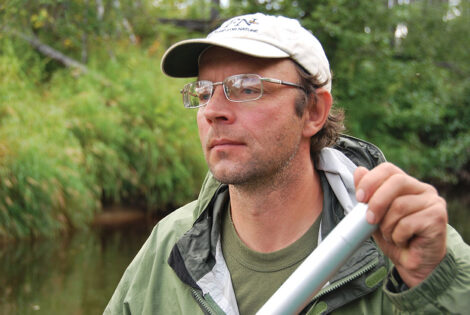 Sakhalin Island experienced a large boom in oil and gas development starting in the early 1990s. SEW, led by Dmitry Lisitsyn, has served as the chief watchdog for Sakhalin development, successfully lobbying for stricter regulations, cleanup of toxic sludge, and the end of waste-dumping in the ocean. By forging relationships with indigenous villagers, fishermen, scientists, government officials, and Sakhalin industry leaders, Lisitsyn has developed a practical, collaborative approach to long-term ecosystem health.
Large-scale poaching of salmon for caviar threatens salmon fisheries as much as oil and coal development, and Lisitsyn and SEW have worked with local government to increase enforcement efforts and establish public watch dog groups to protect priority salmon rivers.
In 2007, SEW, with technical and financial support from Wild Salmon Center, helped restore the protected status of the Vostochny Wildlife Refuge. The 165,000-acre reserve includes two large basins, the Vengeri and Pursh-Pursh rivers, with healthy populations of pink, chum, and coho salmon, as well as char and other salmonids.
SEW and Wild Salmon Center are now working with conservation and fishing industry partners on Sakhalin Island to develop a Wild Salmon Territory in which fishermen would commit to combat poaching and eliminate in-river fishing using river-spanning nets.
Lisitsyn's close partnership with the fishing industry to protect Smirnykh district rivers on Sakhalin earned that coalition a finalist selection for the 2010 International Thiess Riverprize.
In 2011, Lisitsyn won the global environmental community's highest honor, the Goldman Prize, for his work in Sakhalin. View news article here.
Get to Know SEW: Check out our partner profile on Lisitsyn.