International conference in Moscow explores strategies to combine economic development and salmon conservation.
The international conference entitled "Sport fishing, watershed management and salmon conservation in Russia" was held on February 27, 2010 in Moscow. The goal of the conference was to
share experiences among resource users, tour operators and other stakeholders in order to unite efforts toward the sustainable management of salmon rivers. For the first time, an open discussion took
place about new ways for Russians to manage salmon rivers that combine economic development and the conservation of salmon biodiversity.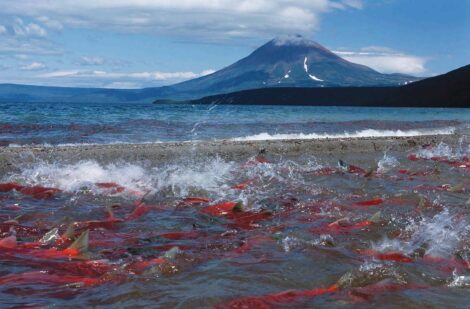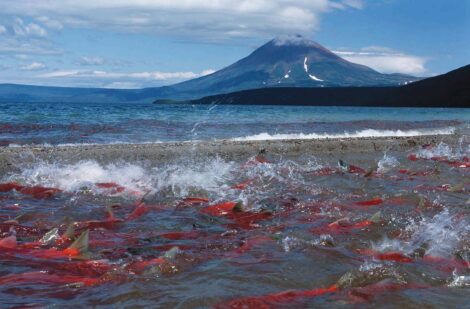 More than 60 people came to the conference from various regions of Russia and abroad. Especially important was the participation of representatives from all of the salmon regions of Russia — Kamchatka, Sakhalin, the Far East, the Kola Peninsula, Karelia and Ural. In attendance were fishing lease-holders, tour operators, scientists, fishermen and NGO representatives, all of whom brought a variety of perspectives to the conference.
The conference was hosted by the Russian Salmon Fund with the support of the Wild Salmon Center, River Panoi Ltd, LottaOlt LLC, and the organizers of the international Fishing and Hunting in Russia expo.
A number of experts on the issues faced in the fields of recreational fishing and conservation spoke at the conference. Svetlana Kudrina, Director of River Panoi Ltd, presented about her business, one the first examples of successful 'catch and release' sport fishing on the Panoi River (Kola Peninsula). Vladimir Smirnov, chairman of Smirnykhovsk Fishermen's Association, also spoke. Scientists from Moscow State University and KamchatNIRO presented on river system and salmon population evaluation methods. A representative from Amurrybvod talked about the federal agency's sport fishing development initiative under the current legislation. Several speakers shared their experience with anti-poaching efforts on salmon rivers. Articles of the presenters were compiled and published prior to the conference.
The highlight of the conference was a showing of Peter Power's film, "Home for Salmon."
Noting the importance of such meetings, at the end of the conference, all participants agreed that such conferences should be organized more regularly. They also agreed that responsible resource
users should create a voluntary and nonprofit association, and Russian Salmon Fund will become its informational center. The conference demonstrated the readiness of all participants for future cooperation, through which both the successful development of sport fishing and salmon conservation can be achieved.
The Russian Salmon Fund (RSF) is an all-Russian vehicle, working with government, businesses and NGOs to promote conservation and the sustainable use of salmon throughout the Russian Far East.