We are led by an experienced volunteer Board of Directors, which includes experts in international conservation, salmon research and management from Russia, Canada, and the United States.
---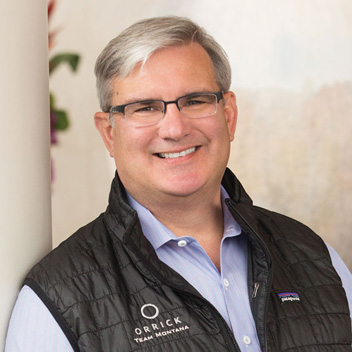 Mitch Zuklie, Chairman
San Francisco, California
Mitch Zuklie currently serves as the global Chairman and Chief Executive Officer of Orrick. He is an experienced business and legal advisor who has completed hundreds of venture capital financings and numerous public offerings, mergers, acquisitions, and licensing transactions.
Mr. Zuklie counsels technology companies at all stages of their life cycles, as well as their founders, advisors, and investors. Representative clients have included Nest Labs, Nanosolar, eHarmony, Royal Dutch Shell, Kleiner Perkins, Benchmark Capital, Pandora, Oracle, Goldman Sachs, Martha Stewart Living, Bessemer Venture Partners, and Sequoia Capital. Recent transactions he has led include, among others, Nest Labs' announced $3.2 billion sale to Google, and Goodreads' sale to Amazon.com.
Lawdragon recognizes Mr. Zuklie as "one of the nation's top tech dealmakers and advisors." He is described by Chambers as a "terrific all-around lawyer" known for "common sense and business judgment." The Daily Journal has named him to its lists of Top Emerging Companies Lawyers and Top Clean Tech Lawyers. See our profile of Mitch Zuklie.
---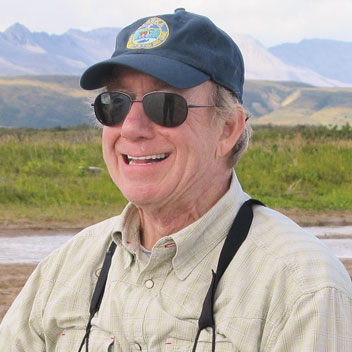 John Childs
Boston, Massachusetts
John Childs is Founder, Chairman, and Partner of J.W. Childs Associates, a Boston-based established private equity firm specializing in leveraged buyouts and recapitalizations of middle-market growth companies.
Prior to founding J.W. Childs Associates in 1995, Mr. Childs was Senior Managing Director of the Thomas H. Lee Company. While at THL, Mr. Childs spearheaded what is considered one of history's most successful leveraged buyouts with the firm's acquisition of Snapple.
Prior to THL, John was an executive at Prudential Insurance Company of America. From 1984-1987, he was responsible for Prudential's approximately $77 billion fixed income portfolio. He is currently a director of Sunny Delight, Esselte, Mattress Firm, WS Packaging, and SimCom.
Mr. Childs has a B.A. from Yale University, an M.B.A. from Columbia University, and volunteers as president of Wetlands Americas Trust, which provides support for the Florida-based nonprofit Ducks Unlimited. He resides in Boston and spends much of his time in Vero Beach, Florida. See our profile of John Childs.
---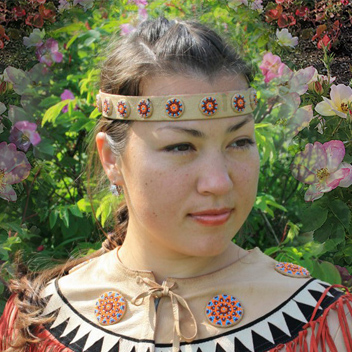 Tatiana Degai, Ph.D.
Cedar Falls, Iowa
Dr. Tatiana Degai is an Indigenous scholar from Russia's Kamchatka Peninsula. She is a member of the Council of Itelmens "Tkhsanom," based in Kovran, Russia, and a Postdoctoral Scholar with the ARCTICenter at the University of Northern Iowa's Department of Geography in the United States.
She received her Ph.D. through the University of Arizona's American Indian Studies program, with a focus on language revitalization. She earned her MA at the University of Alaska Fairbanks, working within the Department of Anthropology on issues of religiosity among Indigenous peoples of Kamchatka and sacred places.
Dr. Degai's research interests are concentrated around Indigenous knowledge systems and Indigenous visions of sustainability. These include Indigenous knowledge and biocultural diversity, cultural landscapes and technology, language revitalization and technology, and Indigenous education. She also works on issues pertaining to Indigenous youth in urban and rural contexts. See our profile of Tatiana Degai.
---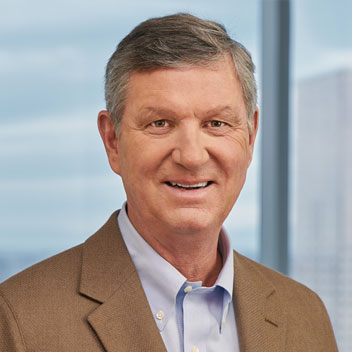 Rocky Dixon
Asotin, Washington
Rocky Dixon co-founded Endeavour Capital in 1991. Since that time, he has worked with companies in the retail, business services and manufacturing industries. Rocky serves on the board of the Bi-Mart Corporation and was previously a Director of Deschutes River Broadcasting, Lone Star Plywood and Door, and Michaels of Oregon. Mr. Dixon additionally serves on the boards of El Aero Services, Adventure Funds, Beef Northwest, and Oregon Health & Science University.
Prior to co-founding Endeavour, Mr. Dixon spent six years as the West Coast Director for Earl Kinship Capital, a diversified equity investment company that specialized in real estate, technology startups, and oil and gas exploration. He is also the Chairman of the Kinship Trust Company. In 1983, Mr. Dixon co-founded Support Technologies, Inc., a computer-test equipment company. He received a B.S. from the University of Oregon. He has two sons and currently lives with his wife in Asotin, Washington.
---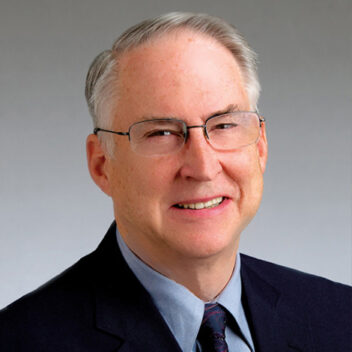 Rick Halford
Eagle River, Alaska
Rick Halford is a lifelong Republican who served for nearly 25 years in the Alaska State Legislature. He retired as Senate President in 2003. He was an Alaska State House Representative from 1978-1982, and an Alaska State Senator from 1982-2002, during which time he served multiple terms as both Senate Majority Leader and President.
As a commercial bush pilot, he launched the Halford Guide Service and served as owner and operator of the Susitna Lodge and Flying Service. From 1968-1975 he was a member of the Alaska Air National Guard.
Former State Senate President Halford is well-respected for his role as a political leader in Alaska. And with about 10,000 hours in the air over Alaska as a commercial pilot and big game hunting guide, Mr. Halford has a 54-year view of Alaska's incredible values in renewable and nonrenewable resources. He is an avid outdoorsman, and now spends his time working to protect Bristol Bay fisheries. He and his wife Rona have three daughters and three sons.
---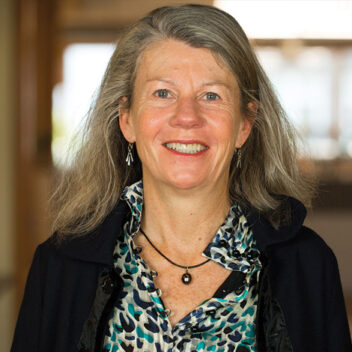 Loretta Keller
San Francisco, California
Loretta Keller began her San Francisco culinary career at Jeremiah Towers' revolutionary Stars. She opened Bizou in 1993, and transformed the concept and menu in 2005 into COCO5OO, a San Francisco Chronicle "Top 100" restaurant. In 2009 she garnered a James Beard nomination for Best Chef California/Pacific region.
In 2008, Chef Keller partnered with Charles Phan of The Slanted Door to launch the Moss Room Restaurant and the Academy Cafe at the California Academy of Sciences. Since selling COCO5OO in 2014, she has focused on developing educational programs, such as through her partnership with the Exploratorium and SEAGLASS Restaurant. CUESA, Street Smart, Share Our Strength, Meals on Wheels, Food Runners, and Tibetan Aid are among her charity interests.
Chef Keller was born in Vancouver, British Columbia, raised in Los Angeles, and has a literature degree from the University of California Santa Cruz. She has a lifelong passion for the natural world and enjoys fly fishing, hiking, hunting, and foraging. See our profile of Loretta Keller.
---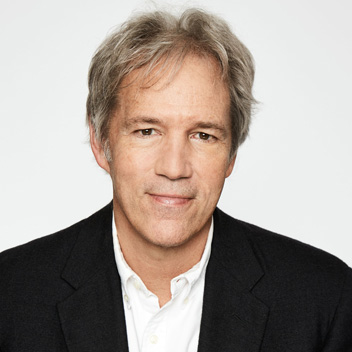 David E. Kelley
Santa Monica, California
Multi award-winning writer/producer David E. Kelley is the mind behind some of America's most groundbreaking and distinctive television dramas that address contemporary issues such as social justice, diversity, and privilege. He is the creator of the Emmy, Peabody and Golden Globe Award-winning shows "Big Little Lies", "Boston Legal," "The Practice," and "Ally McBeal," the critically acclaimed dramatic series "Boston Public," "Chicago Hope," and "Picket Fences."
Before venturing into the world of entertainment, Kelley was an attorney practicing law in Boston. While still a lawyer, he wrote the feature film "From the Hip," which earned the attention of "L.A. Law" co-creator Steven Bochco. He joined "L.A. Law" as a writer in 1986, quickly climbing the ranks to producer. Mr. Kelley has gone on to create over twenty television series, credited with writing over 500 episodes.
Born in Waterville, Maine, Kelley graduated from Princeton University in 1979, where he served as captain of the hockey team. He received his law degree from the Boston University School of Law in 1983. Kelley's background in law has greatly influenced his storytelling and ability to create thought provoking television that resonates with viewers across the world. Kelley also has a large interest in wild fish conservation, which led him to found the sustainable aquaculture company Riverence, which has fourteen land-based trout and trout-egg farms across Idaho and Washington State.
---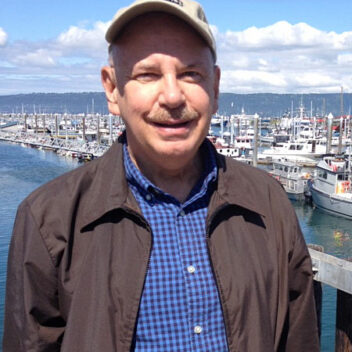 Steven Kohl
Arlington, Virginia
Steven G. Kohl is a retired Russia-East Asia Branch Chief with the U.S. Fish and Wildlife Service. He served in many capacities over the course of his long career in government service, with the USFWS as well the U.S. Environmental Protection Agency and the former U.S. Information Agency.
As Eurasia Branch Chief of the USFWS's International Conservation Division from 1996-2017, Mr. Kohl was responsible for negotiating and administering essential bilateral agreements and overseeing annual exchanges of U.S. and foreign scientists to learn from each other and achieve conservation goals.
Following his 38-year USFWS career, Mr. Kohl has remained active in conservation work, volunteering at Kenai National Wildlife Refuge and Russia's Lake Baikal Nature Reserve and Central Siberian Botanical Garden. Kohl is an optimist, seeing in his work to build bilateral cooperation among biologists and ecologists an example of partnerships that transcend politics for the larger work of salmon and wildlife conservation. See our profile of Steven Kohl.
---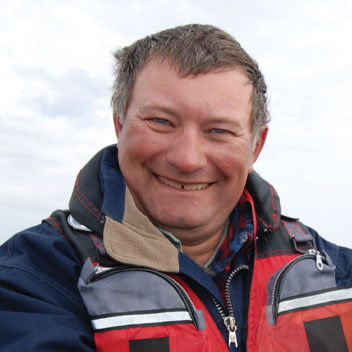 Kirill Kuzishchin, Ph.D.
Moscow, Russia
Dr. Kirill Kuzishchin is a fish biologist and professor with Moscow State University, where he has taught and researched since 1988. His major scientific activity includes the study of the morphological and genetic diversity in brown trout, Salmo trutta, from the watersheds in the White Sea region.
Since 1994, he has worked with the international Kamchatka Steelhead Project. Additional major projects include serving as science coordinator for the joint Russia-U.S. project Salmonid Rivers Observatory Network (SaRON), focused on studying the linkages between riverine geomorphic complexity, salmonid rivers productivity, and fish diversity. Since 2011 he has served as senior research scientist for a Russian national project on fish diversity in the Lower Volga region.
Dr. Kuzishchin is a member of the Editorial Board of the Russian Journal of Ichthyology as well as at the angling magazines Fisherman and Elite Fisherman. He holds a Master of Science, a Ph.D., and a Doctor of Science in fish biology from Moscow State University.
---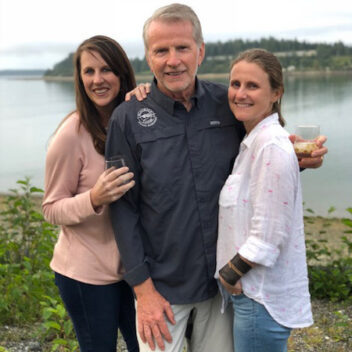 Ray Lane
Atherton, California
Ray Lane is an American business executive and strategist specializing in technology and information strategies. Mr. Lane is best known for a "go to market" overhaul of Oracle Corporation in the 1990s, which led to a ten-fold increase in sales and a 65X increase in stock price. He is cited as being the catalyst for "Oracle's success, 'past, present, and future.'"
Mr. Lane is currently a Managing Partner at Greatpoint Ventures, a firm he co-founded. Greatpoint invests in early-stage technology companies innovating in Enterprise Data Strategies and Personal Wellness & Digital Health. He is also a partner emeritus at Kleiner Perkins Caufield & Byers, a venture capital firm in Silicon Valley where he was a Managing Partner for 14 years.
He has served as the chairman of the board of trustees at Carnegie Mellon University, and led the institution's capital campaign to establish a Silicon Valley campus in 2002. Mr. Lane's philanthropic interests include work in higher education, the Special Olympics, and cancer research. See our profile of Ray Lane.
---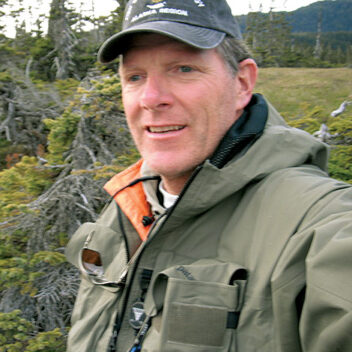 Nate Mantua, Ph.D.
Santa Cruz, California
Dr. Nate Mantua leads the Salmon Ecology Team at NOAA's Southwest Fisheries Science Center in Santa Cruz, California. From 1995-2012, Dr. Mantua worked at the University of Washington in Seattle, where he co-directed the Climate Impacts Group.
In 2000, Dr. Mantua received NOAA's Presidential Early Career Award for his work on the Pacific Decadal Oscillation and its impacts on Pacific salmon. He has served on multiple national and international scientific advisory panels, including the Royal Society of Canada's Expert Panel on Climate Change and Oceans, the National Research Council's panel on Alaska Stellar Sea Lions and the Groundfish Fishery, and the Pacific Salmon Commission's Fraser River Sockeye Panel.
Dr. Mantua grew up in Bodega Bay, California, earned a B.Sc. in atmospheric sciences from the University of California Davis, and a Ph.D. in atmospheric sciences from the University of Washington. He was a postdoctoral fellow at the Scripps Institute for Oceanography in a project focused on seasonal climate forecasting. His passion for the ocean, salmon, and steelhead guides his research, service, and recreation activities. See our profile of Nate Mantua.
---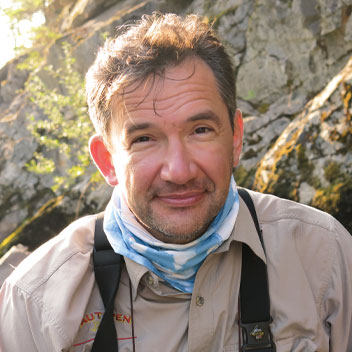 Nikita Mishin
Moscow, Russia
Nikita Mishin is a Russian entrepreneur, philanthropist, and a passionate fly fisherman since his first trip to Kamchatka in 1997.
Mr. Mishin received a degree from the Philosophical Faculty of Moscow State University in 1993. In April 1996, he and his partners founded the N-Trans Group, a large investor in transportation infrastructure. He is a co-owner of Globaltrans Investment PLC, a leading private group operating in the Russian freight rail market, founded in 2004 and listed on the London Stock Exchange since 2008. He is also involved in various international investment projects in high tech, real estate, and biotechnology.
Mr. Mishin is active in various charity programs, and founded the charity foundation Dar (which translates to "gift" in English) to enhance access to modern educational programs for gifted children. In September 2017, Dar's New School opened its doors to 600 children. Mr. Mishin is married with three children. See our profile of Nakita Mishin.
---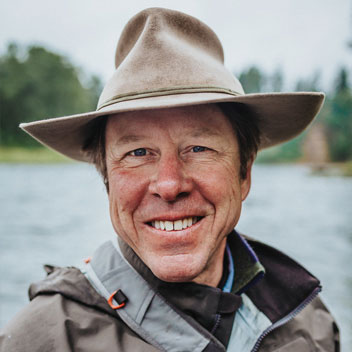 Guido Rahr
Portland, Oregon
Under Mr. Rahr's leadership, Wild Salmon Center has developed scientific research, habitat protection and fisheries improvement projects in dozens of rivers in Japan, the Russian Far East, Alaska, British Columbia and the US Pacific Northwest, raising over $100 million in grants, establishing eight new conservation organizations, and protecting three million acres of habitat including public lands management designations and eight new large scale habitat reserves on key salmon rivers across the Pacific Rim.
Mr. Rahr earned a BA in English Literature from the University of Oregon and a Masters of Environmental Studies from Yale University. Before coming to the Wild Salmon Center, he developed conservation programs for Oregon Trout, the United Nations Development Programme, the Rainforest Alliance and Conservation International. Mr. Rahr is a member of the World Conservation Union (IUCN) Salmon Specialist Group, and is a passionate fly fisherman and fly tyer. He lives in Portland, Oregon with his wife, Lee, and their three sons. Learn more about WSC President Guido Rahr.
---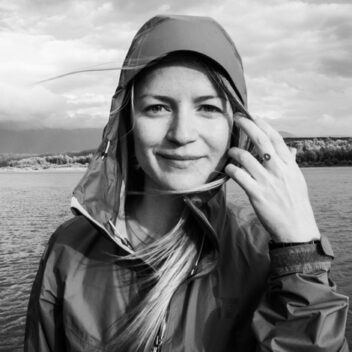 Andrea Reid, Ph.D.
Vancouver, BC
Dr. Andrea Reid is an Indigenous fisheries scientist and conservation biologist based in Canada. In January 2021, she joined the University of British Columbia's Institute for the Oceans and Fisheries as an Assistant Professor of Indigenous Fisheries Science.
Dr. Reid combines ecological and social science methodologies, adopting an integrative approach to complex fisheries questions. She belongs to the Nisga'a Nation on British Columbia's North Coast and has significant experience with Indigenous fisheries communities, practices, perspectives, and issues in British Columbia as well as around the world, from East Africa to Oceania and Southeast Asia.
Dr. Reid holds a B.Sc. in Environment and a M.Sc. in Biology from McGill University. She is currently co-supervised between Carleton University and the University of British Columbia for her Ph.D. in Biology centered on Pacific salmon fisheries and conservation. Her research and outreach are supported by the Natural Sciences and Engineering Research Council of Canada, Royal Canadian Geographical Society, and National Geographic Society. See our profile of Andrea Reid.
---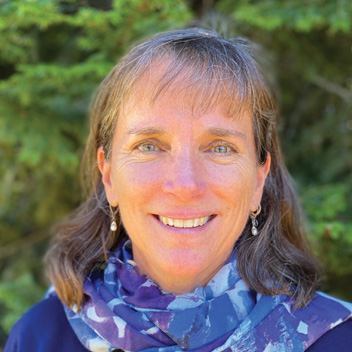 Mary Ruckelshaus, Ph.D.
Seattle, Washington
Dr. Mary Ruckelshaus is the director of the Natural Capital Project and a consulting professor at Stanford University. She has also led the Ecosystem Science Program at the NOAA's Northwest Fisheries Science Center in Seattle. Her recent work focuses on developing ecological models that include estimates of the flow of ecosystem services and changes in human wellbeing under different global management regimes.
Dr. Ruckelshaus serves on The Nature Conservancy's science council and is a trustee on its Washington Board. She is a member of the U.S. Ocean Research Advisory Panel, providing independent science advice to the National Ocean Council, and is a past chair of the National Center for Ecological Analysis and Synthesis's Science Advisory Board. She was Chief Scientist for the Puget Sound Partnership—a public-private institution charged with recovering Puget Sound terrestrial, freshwater, and marine ecosystems.
Dr. Ruckelshaus has a B.A. in human biology from Stanford University, and an M.A. in fisheries and Ph.D. in botany, both from the University of Washington. See our profile of Mary Ruckleshaus.
---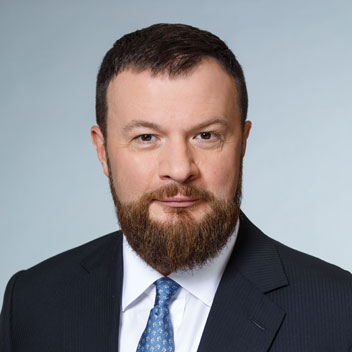 Ilya Sherbovich
Moscow, Russia
Ilya Sherbovich has worked in Russian capital markets since 1992, when he began his career with the International Finance Corporation.
From 1995 until joining United Capital Partners in September 2007, Mr. Sherbovich was President of the Russian investment bank United Financial Group, which was acquired by Deutsche Bank in 2006. Since June 2012, he has served on the board of several major Russian companies, including Rosneft, Russia's largest oil company; Transneft, an oil transportation company; and Russia's electricity transmission business.
Since August 2011, Mr. Sherbovich has been a member of the Board of Directors of Uralmash Oil and Gas Equipment Holding, a leading Russian drilling rigs manufacturer. From 2000-2001, he served on the board of Sberbank, Russia's largest commercial banking institution. From 1994-1995, he also served on the Capital Markets Surveillance Unit of the Russian Federal Commission on Capital Markets. Mr. Sherbovich is a graduate of the Plekhanov Russian Academy of Economics.
---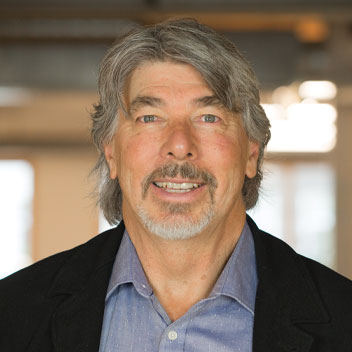 Ivan Thompson
Vancouver, British Columbia
Ivan Thompson currently works as Senior Advisor to Tides Canada, where he oversees the Pacific Salmon Watersheds Fund.
Prior to 2017, he was employed for a decade as Program Officer for the Gordon and Betty Moore Foundation's Wild Salmon Ecosystems Initiative, which focused on the intact watersheds of British Columbia. This followed Mr. Thompson's earlier engagement as Northern Rivers Initiative Project Director with the Sage Centre, and as a community and economic advisor with Forest Ethics, working to support the campaign to protect the Great Bear Rainforest.
Mr. Thompson began his professional life as a counselor and educator, culminating in the roles of Regional Director and Dean of Education at Northwest Community College. He holds a Postgraduate Certificate in Economics from the University of London, an M.Ed. in Counseling from University of Victoria, a B.Ed. in Outdoor and Experiential Education from Queens University, and a B.A. in Psychology from McMaster University. He currently resides in Victoria, Canada.
---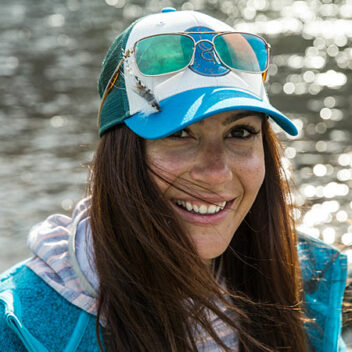 April Vokey
Chilliwack, British Columbia
April Vokey is a fly fishing writer, fly tyer, speaker, writer and host of the original WFN series Shorelines with April Vokey, and host of the popular fishing podcast Anchored. After ten years of guiding in British Columbia, she now splits her year between camp in northern B.C. and Australia.
Ms. Vokey is a Federation of Fly Fishers Certified Casting Instructor, forager, bowhunter, and mother. In 2007, she founded Fly Gal Ventures, where she guided anglers on some of B.C.'s best steelhead destinations. Her works and photos can be found in Fly Fusion, Chasing Silver, Fly Fisherman Magazine, Salmon Trout Steelheader, Field & Stream, Canadian Fly Fisher, Flyfishing & Tying Journal and other international publications. She is a full-time contributor for Meateater.
Ms. Vokey sits on the Steelhead Society of British Columbia Board of Directors and founded the popular fundraiser Flies for Fins. In 2011, she joined the Patagonia ambassador team, assisting in the design and direction of an upcoming women's line of fishing apparel. See our profile of April Vokey.
---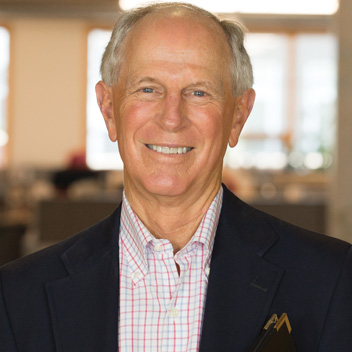 David K. Welles
Perrysburg, Ohio
David "Deke" Welles is a trustee of the Wetlands America Trust, the foundation arm of Ducks Unlimited. A life-long water fowler, he is a member of the Winous Point Shooting Club of Port Clinton, Ohio, the oldest duck club in North America. He serves as president of the Winous Point Marsh Conservancy and Waterhen Lodge duck club in Manitoba, is an advisor to the Black Swamp Conservancy, and is a member of the Castalia Trout Club, the Anglers' Club of NY, and the Rolling Rock Club in Ligonier, Pennsylvania.
Mr. Wells retired as chairman of Therma-Tru Corp upon its sale to Fortune Brands in late 2003. During his career, he was a member of the Young Presidents' Organization, served on the boards of the Homebuilding Community Foundation and the National Building Materials Distributors Association, and chaired the Policy Advisory Board for the Harvard Joint Center on Housing Studies.
He is a former director of the Chief Executives Organization, a former trustee of Phillips Exeter Academy, the Toledo Community Foundation and Toledo's Center of Science and Industry. He graduated cum laude from Yale in 1974 and resides in Vero Beach, Florida. See our profile of David Welles.
---
Emeritus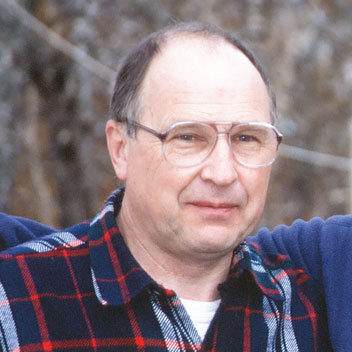 Dmitry S. Pavlov, Ph.D.
Moscow, Russia

Peter W. Soverel (Founder)
Edmonds, Washington

Jack Stanford, Ph.D.
Polson, Montana