Fishing guides, outfitters, and lodge owners are some of the most passionate advocates for wild fish across the North Pacific. In 2019, Wild Salmon Center harnessed the power of these conservation allies by forming its Ambassador Council—leaders in the fishing industry who care deeply about the health of wild salmon and steelhead strongholds.
Together, we're building a stronger network of those who enjoy spending time in these watersheds and want to do more to protect them over the long term.
---
Our Ambassadors represent some of WSC's longest-standing conservation partners, dedicated to the stewardship of key wild fish strongholds: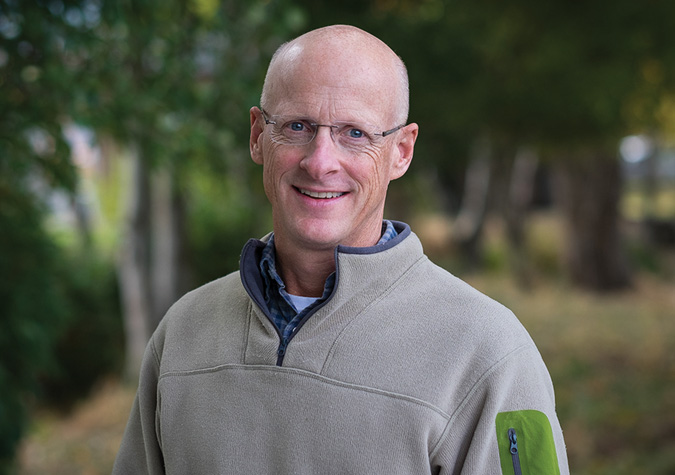 Ken Morrish
Fly Water Travel
Ashland, Oregon (International Bookings)
Ken Morrish has worked within the fly fishing industry for the past 30 years. Starting out as a guide in Alaska, Oregon, and California, Ken has taught fly fishing, managed fly shops, and is widely known as a fly designer for Umpqua Feather Merchants. Ken is an accomplished writer and photographer whose work has appeared in Patagonia, Outside, Fly Fisherman, Wild Steelhead and Salmon, and other popular publications. Ken's images have also appeared in dozens of books including Lani Waller's A Steelheader's Way.
In 1999 Ken started Fly Water Travel, a fly fishing travel company specializing in international angling destinations. Ken runs the company with his business partner Brian Gies and serves as their Director of Travel Sales, their primary photographer and catalog copywriter. Ken is also a dedicated environmentalist whose primary focus is on the cold water fisheries of the Pacific Northwest and British Columbia. Ken lives in Ashland Oregon with his wife Mia and his children Max and Lilli.
---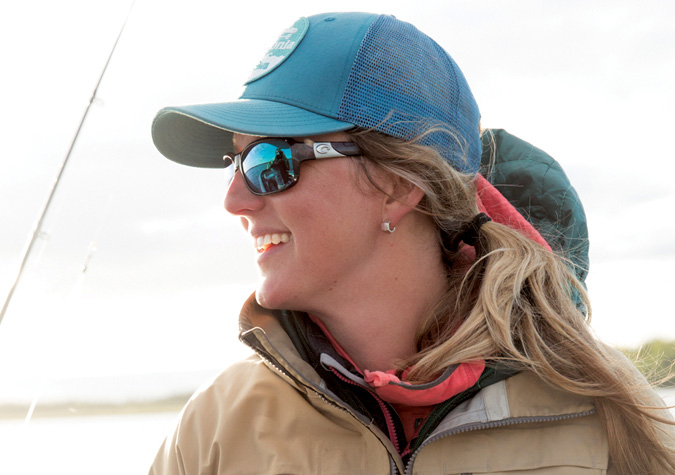 Kate Crump
Frigate Travel
Rockaway Beach, OR & Bristol Bay, AK
Kate grew up in the Shenandoah Valley of Virginia but found her calling as a salmon fisherman in the wilderness of Washington. In 2008, she began guiding in Bristol Bay, AK for all five species of salmon, rainbow trout, char and dolly varden, and in 2010 began guiding winter steelhead trips in coastal Oregon. Kate and her husband Justin co-own Frigate Travel, which specializes mostly in all-inclusive guide experiences in Oregon and Alaska. She is a brand ambassador for Patagonia, Loop Tackle, Costa, Fishpond, and Rising Tools. Kate is also an environmental activist, a member of Rockaway Beach Citizens for Watershed Protection, and an advocate for reforming Oregon's harmful private lands logging practices.
---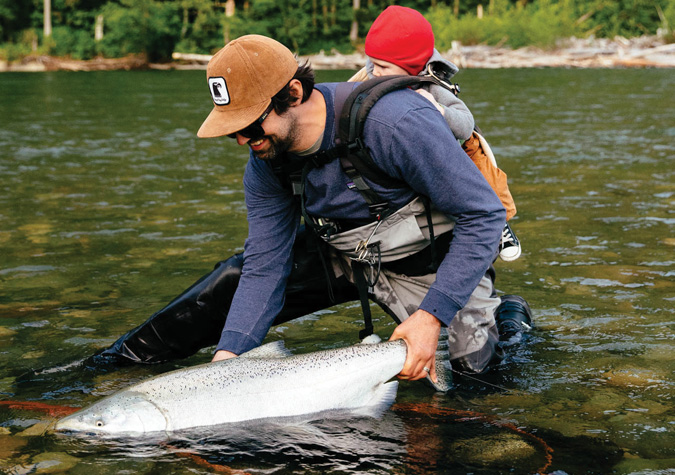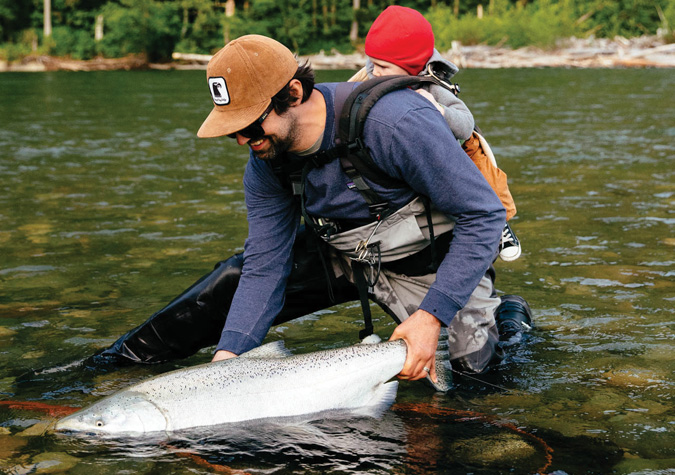 Jeff Hickman
Fish the Swing
Manzanita, OR & Dean River, BC
Jeff taught himself to fly fish at a young age. Growing up in a lodge on Mt. Hood that he helped his mom manage, he learned hospitality early. He saved up his housekeeping wages to buy his first Spey rod at age 12. Hitchhiking to the river before and after school, Jeff was doomed to a life of fishing addiction. This led to fly shop employment, guiding in Oregon and Alaska, and even managing a bonefishing lodge in the Bahamas.
Jeff has been guiding since 2002 and now owns and operates Fish The Swing, a fly fishing guide/outfitter service specializing in two-handed rod fly fishing for steelhead. Fish The Swing is the parent company under which he also owns and operates a jet boat tent camp on the Deschutes River, Winter steelhead lodges on the Clackamas and Oregon Coast rivers, as well as Kimsquit Bay Lodge on the Dean River in British Columbia.
Jeff is a passionate conservationist and with his extensive time spent on the water has gained a unique knowledge of these rivers, the fish that inhabit them, and the conservation challenges they face.
---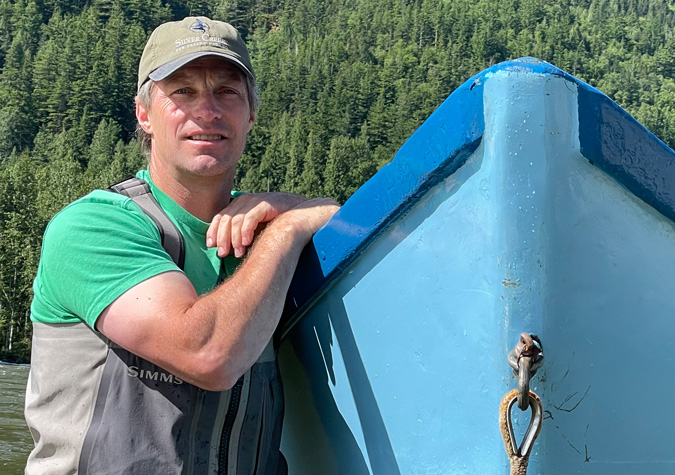 Billy and his wife Mandi have co-owned and operated Lower Dean River Lodge since 1999. His family has been an integral part of the lodge since his father founded it in the mid-sixties. Billy is active in the protection of the Dean watershed and has assisted scientists with many salmon, steelhead, and wildlife research studies throughout BC's central coast, as well as the Nuxalk First Nation's Supporting Emerging Aboriginal Stewards (SEAS) community youth initiative. As a key stakeholder on the Dean River, he has been an important member of The Dean River Advisory Committee for 20 years. Billy's in-depth knowledge of the central coast's wild salmon and steelhead runs comes from a life spent exploring its many marine channels and rivers.
---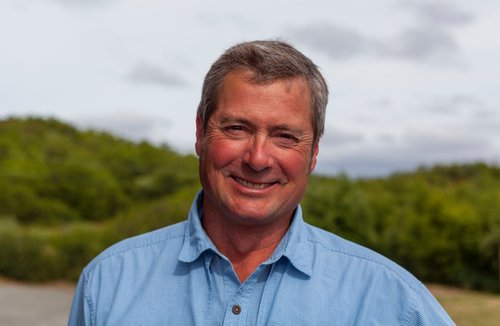 Dan is an owner, manager, chief bottle washer, poet, philosopher, humorist (bad) and visionary at the multi-award-winning and Orvis Endorsed Crystal Creek Lodge – a top tier fly-out lodge in Bristol Bay that features guided fishing, bird hunting, and wildlife viewing adventures.
Dan's personal mission statement is: "I am the possibility of inspiration through hospitality, adventure, and interaction with nature". He oversees operations at Crystal Creek Lodge, hosts guests, flies one of the bush aircraft, and guides guests at the lodge, too. Dan is originally from Minnesota, where he lived the outdoor life from a young age and obtained his college degree from the University of Minnesota. He helped build the original Crystal Creek Lodge in 1988 and at that time began guiding in the Bristol Bay region. He purchased the lodge in 1995 and has managed it since. Dan says, "What originally began as a summer adventure has become a life's work" – a mindset that shines through in his passionate support for the protection of Bristol Bay from the proposed Pebble Mine.
Dan is married to Lynnette Michels, and when they are not overland traveling live in Wasilla, Alaska during the off-season.
---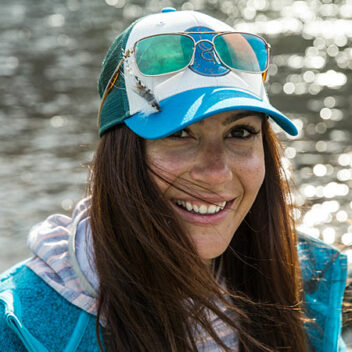 April Vokey began fishing as a toddler. After discovering a passion for fly fishing in her late teens, she soon dedicated her entire life to the pursuit. April began her guiding career on the Fraser and Harrison in British Columbia but left in 2007 to found her own guiding operation, Fly Gal Ventures. She has since established herself as a respected authority in the sport and has traveled the globe in pursuit of gamefish on a fly rod.
April's writing has appeared in Fly Fisherman, Outside, Fly Rod & Reel, and Fly Fusion magazines. She is in the process of authoring her first book. April has also been featured on the Outdoor Channel, 60 Minutes Sports, the Discovery Channel, and WFN's Fly Nation TV. Most recently, April wrote and hosted her own series, ShoreLines with April Vokey, focusing on fly-fishing's rich history and diverse characters. She has since branched out with her podcast, Anchored with April Vokey, to archive stories from some of fly-fishing's most influential people.
For the last eight years, April has split her time between northern B.C. and Australia to be with her family and pursue her passion for saltwater species. She is a FFF certified casting instructor, a fly-tying instructor, traveling speaker and an eternal student of life, love, and conservation.