Getting to know a prolific environmental activist, journalist, historian, and the founder of Saving Salmon Together.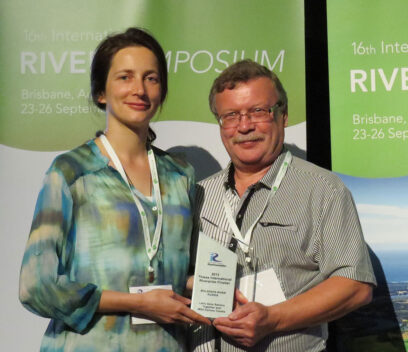 Sergei Vakhrin's work in salmon conservation began over 40 years ago with the publication of an article about salmon fisheries in a local Kamchatka newspaper. Since then, he has published numerous articles, magazines, and short films and today runs "Fish Kamchatka," the most popular website on Kamchatka's fishing industry. People from 147 countries visit his forum.
The organization has developed plans for reducing illegal catch of salmon, and Vakhrin personally led an anti-driftnet campaign for over a decade, repeatedly petitioning Moscow and pulling together a book on the subject. The work paid off with the Russian ban on driftnets in 2015.
Vakhrin has been collaborating with Wild Salmon Center since 2009, when he attended a seminar on Sakhalin Island co-hosted by WSC and saw the success of watershed organizations we helped build there. He brought the idea of watershed organizations to Kamchatka and helped start the Ust-Bolsheretsky council, at Kamchatka's southern tip in 2010. At the 2013 RiverPrize award ceremony in Australia, Vahkrin and WSC's Leila Loder accepted an award on behalf of Kamchatka's public salmon council for their important conservation work on the Bolshaya River.