Building local stakeholder involvement in promoting sustainable fishing and salmon conservation in Kamchatka.
Last January, the first public salmon council was created on Russia's Kamchatka Peninsula in the Ust-Bolsheretsky district by official decree of the district mayor. This district covers much of southwestern Kamchatka, including the Bolshaya, Opala, and Ozernaya watersheds, with their thriving sockeye runs and booming fishery.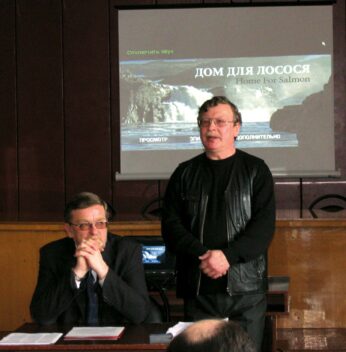 Public salmon councils provide a coordinated, cross-cutting mechanism to implement projects and build public-private partnerships in specific salmon watersheds. Six public salmon councils are currently operating on Russia's Sakhalin Island, leading efforts on anti-poaching, stream restoration and monitoring, public education, and involving local communities in integrated watershed management. In March 2010, representatives from Kamchatka attended a watershed council training seminar on Sakhalin, organized by WSC. Soon thereafter the first steps were taken to create Kamchatka's first council through a partnership between WSC, World Wildlife Fund, and Pacific Environment.
Objectives of the council include local stakeholder involvement in promoting sustainable fishing and the conservation of salmon biodiversity on Kamchatka. The council plans to involve the regional branch of the Federal Fishery Agency, commercial fisheries, enforcement agencies, local people, indigenous groups, and educators. There is strong commitment from the community and local administration with the deputy mayor of the district as chairman of the Council and a local indigenous community leader as secretary of the Council.
The council held its first meeting and seminar in February on fishing tourism and developed recommendations to promote sport fishing and combat poaching in the region. Initiatives include the creation of a Federal Fisheries Protected Zone (FFPZ) on the Bolshaya River, strengthening laws so local residents have fishing rights along with indigenous people, amending fishing regulations to restrict fishing with nets, and increasing poaching penalties. April's meeting will focus on fishery development with the primary goal of ensuring traditional livelihoods of the local community.
Banner Image: The Opala, one of the peninsula's most important salmon strongholds, will be included in the new council.