Thousands of acres purchased on Washington's Clearwater and Oregon's Kilchis rivers will benefit key populations of wild salmon and steelhead.
Two new tracts of land have been set aside for the protection of salmon and wildlife in thanks to a partnership with The Nature Conservancy (TNC). Although WSC is not in the business of purchasing land, we have acted in an advisory role on a number of key land acquisitions. Two years ago, TNC consulted with us regarding an opportunity to conserve a vital piece of lowland habitat for wild salmon along the Clearwater River, a tributary of the Queets. WSC provided important data to build arguments for increased protections of Chinook and other wild salmon populations in the region. We are happy to share that in February TNC announced the purchase of a corridor about 11 miles long and a mile wide along the Clearwater River with the expressed goal of bringing salmon back to their historical levels.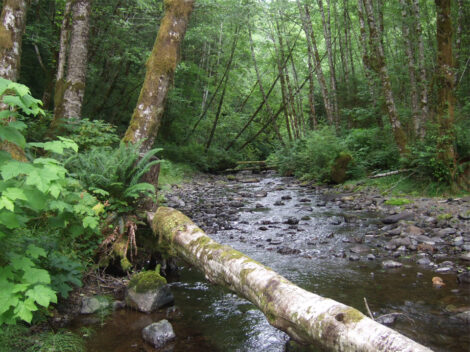 The Clearwater is nationally recognized as a salmon stronghold by the North American Salmon Stronghold Partnership and Quinault Indian Nation. However, its spring/summer Chinook salmon population is in serious decline and reestablishing the temperate rainforest ecosystem is critical to bringing back healthy populations.
"We support and applaud The Nature Conservancy's visionary efforts toward ecological restoration of this area, which will partner with our own efforts to restore the declining salmon populations for our future generations," said Fawn Sharp, president of the Quinault Indian Nation.
WSC was also able to play a key role in the acquisition of property along the lower Kilchis River in Oregon. After receiving a generous gift from the Mintkeski family, we partnered with TNC to make the purchase of 68 acres. The Kilchis is one of five major tributaries of the Tillamook Bay and supports significant wild population of Chinook, coho, and chum salmon, as well as steelhead and cutthroat trout. This scenic river is particularly valuable as a stronghold for chum salmon, representing the southern extent of the species' distribution in North America, and is vital to ESA threatened Coastal coho populations.
Historically, the two regions have been managed for timber and dairy. New protections and management will help bring balance and restore the rivers and forests closer to their former natural magnificence.