Notes from the Field: The long (bumpy, cold, wet) road to protecting salmon on Sakhalin Island.
Last spring WSC, together with the Sakhalin watershed councils, organized the first community ecological forums (within the council framework) in three of the six Sakhalin districts where the councils operate. Normally, workshops are held in Uzhno-Sakhalinsk, the capital of Sakhalin Island, but this year an interdisciplinary expert group visited the actual districts where the councils operate, engaging five out of six councils. Our group consisting of nine individuals whose expertise range from fish biology, research, and education to policy and strategic planning, traveled together by van and train the long distances between watershed councils. The first leg of our journey took us a few hundred miles north to Uglegorsk along rough, dusty roads originally constructed for the coal industry, which dominates much of Sakhalin's southwest coast. Next we traveled several hundred miles to Nogliki, back via the way we came, up north and east, and then south to Smirnykh. As we made our long journey, trudging through snow and mud and sometimes having to heat dinners over half-working burners in our small shared kitchens at night, our hearts were filled with appreciation for the Sakhalin people and their efforts to make the watershed councils a success.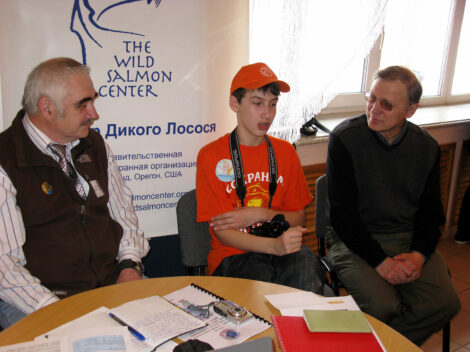 We were impressed with not only the great turnout at the forums (with over 150 participants, including government officials, fishermen, local community groups, and indigenous representatives), but also with the level of engagement. The councils took greater initiative, organizing exhibitions and presentations to the public on council operations, vision, and activities. As a result of the 2-day conservation planning processes, each community identified the three main threats for their districts (destruction of salmon habitat due to water pollution, poaching, and social problems), and developed objectives and actions for the upcoming years. We were inspired to see not just the council members, but the local people standing up and volunteering not only ideas, but their time and talents to improve the quality of their salmon rivers. For instance, in Uglegorsk district a young adult community group asked to participate in outreach, river bank clean-up, and salmon conservation-themed events. In Nogliki, indigenous community members expressed interest in expanding their conservation education program, and members from the Poronai council proposed a council network project with the Smirnyk and Tymovsk districts to collaboratively address issues on an important salmon river they share.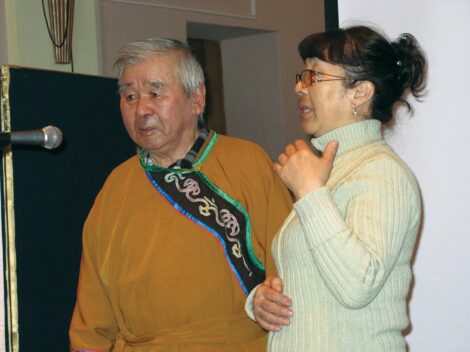 People were coming up to us and sharing how much it meant to have the delegation of experts travel all the way to their districts and watersheds. It showed them our level of commitment and inspired greater faith on their part that change can be accomplished. Sergei Zolotukhin, Head of the Pacific Salmon Laboratory (TINRO, Khabarovsk), noted how well the visiting experts were received by the community and put forth that such a seminar would be especially helpful in the Amur region of Khabarovsk. Anatoly Semenchenko from the Sakhalin Salmon Initiative Center commented, "the public felt the problems were addressed on their level, a level they understood; local residents felt their newfound strength and opportunities to have an impact on the pressing issues." And even a visiting reporter from the Shakhtersk area, Anna Odinokova, was struck by the optimism and stated very succinctly, "Change can be brought about only by those who truly care about what's going on around them and what will happen to us and our children."
The Sakhalin councils are now in the process of finalizing their long-term conservation strategies based on the drafts developed at these conservation planning workshops. Under a shared goal of diverse stakeholder groups, these strategies will provide a clear vision and framework for the yearly work plans each council develops, and will include greater local resident involvement in watershed protection and salmon conservation.