Notes from the Field: Joining rangers on Russia's Koppi River to combat poaching.
In only its first year of operation, the Koppi River Nature Reserve succeeded in establishing a framework for enforcement of the protected area, but not the budget to help carry it out. This created a special challenge for the Regional Department of Wildlife Conservation and Protected Areas Enforcement (DPW), which is responsible for appointing rangers.
As one of the solutions, DPW assigned ranger duties to its staff, which oversees the hunting grounds that are adjacent to the Reserve. Newly appointed staff conducted area raids using their own vehicles, fuel, boats and engines. Meals for the raids are provided by donations from the local chapter of the Hunters and Fishermen Society.
To reach the Koppi River, rangers travel 62 miles (100 km) from the city of Sovetskaya Gavan on unpaved and very rugged roads. Then they cover 110 miles (180 km) by river to check for evidence of poaching, habitat destruction, and other illegal activities.
During the raid, we monitored wildlife activities and human presence along the main river channel, by boat. When possible, our group made stops to assess activity on forest roads as well. During the three-day raid, we didn't encounter any unauthorized activities, an encouraging sign. In the past, this area has been plagued by poachers who strip the salmon of their valuable roe and leave the carcasses to rot (similar practices are detailed in this piece on poaching in Sakhalin). Anti-poaching activities have been more successful now that rangers have support from the State.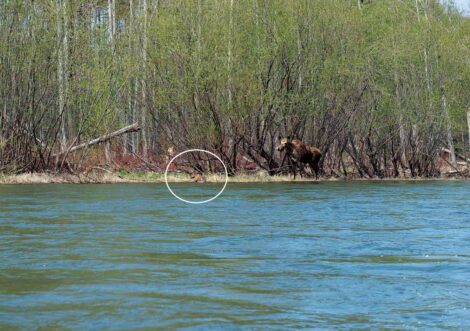 We did, however, see plenty of beautiful landscapes and wildlife. We recorded an abundance of grayling, a member of the salmonid family. Among the terrestrial fauna we saw moose (including a week-old calf), black bears, and endangered species such as Steller's sea eagles, mandarin ducks, Siberian grouses, and scaly-sided mergansers.
Natural succession in the forests surrounding the main river channel and its tributaries was demonstrated by the remaining isolated primary stands of Korean pine, aspen and birch with dominating groves of the 40 foot Chosenia arbutifolia — a Pleistocene relic of the willow family that survives along the Pacific coast in river valleys. It was a beautiful sight to behold when a pair of mergansers took flight from the rapidly flowing river with grace and vitality that only comes from nature sustained in beautiful balance.