Sakhalin Salmon Park will showcase region's salmon and culture; construction is underway.
The site of the new Sakhalin Salmon Park was buzzing with activity this summer. Construction workers from Olympus, LTD, led by Nikolai Kan, were setting the foundation forms and supporting concrete piles for the building of Ecology Education Center. Staff from Sakhalin Energy Investment Company were busy as well, clearing nature trails from overgrown vegetation and trees fallen throughout the area during unmerciful winter storms.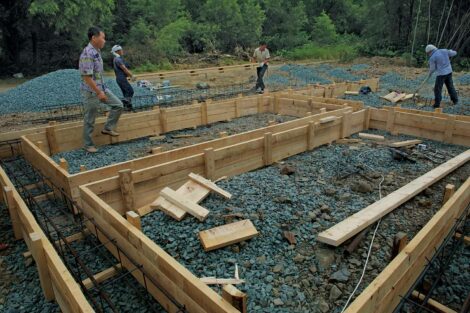 Sizeable preliminary work accomplished in the spring to finalize designs for the park's structures, survey the land, mark the trail, and identify areas for interpretive stations helped pave the way for the summer crew to break ground on the park. WSC Sakhalin and Khabarovsk Program Manager Tatiana Boyle was on hand to monitor the progress and assist our Sakhalin partners (Sakhalin Salmon Initiative Center, Outdoor Education Club "Boomerang," and Sakhalinrybvod) in planning the next stages of the project.
"Seeing the Park's master plan taking shape in reality — what will become the nation's first nature park dedicated to Sakhalin salmon which our people depend on — is a deeply inspiring experience," stated Aleksandr Kim, the park's chief architect.
Banner Image: Sakhalin is famous for the size of its herbaceous vegetation, including wild buckwheat which can exceed 7 feet and can make trail clean-up particularly challenging | © Wild Salmon Center