Creating a coalition of conservation partners with the help of Spirit Mountain Community Fund.
The Spirit Mountain Community Fund's focus is to improve the quality of life in Northwest Oregon through community investments that provide lasting benefits consistent with the Tribe's culture and values. Since 2009, the Community Fund has supported Wild Salmon Center's effort to sustain and restore the health of Oregon's Tillamook State Forests. By protecting the Tillamook and its wild salmon rivers, we are safeguarding critical water supplies for nearly half a million people, helping maintain salmon populations that are important to the North Coast economy, and keeping the forest on a positive trajectory for increased carbon sequestration.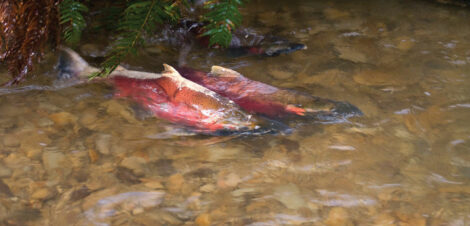 With the help of the Spirit Mountain Community Fund, WSC has created a coalition of conservation partners, including Northwest Steelheaders and the Sierra Club. Our goal is to support solutions that provide both environmental protection to our state forests and address the need for an alternative source of local government revenue that is not tied to timber harvest. We have succeeded in prohibiting clear cutting in the best 20% of older forest habitat and in maintaining extra protections for critical salmon habitat. To support more balanced management for the long term, we are developing community support for jobs in forest restoration as well as alternative revenues for county governments.
The Confederated Tribes of Grand Ronde through the Spirit Mountain Community Fund fulfills their Native tradition of potlatch, a ceremony at which good fortune is distributed. WSC's President Guido Rahr was invited to participate in this ceremony last June where he was presented a check for $20,000 for WSC's work in the Tillamook.