New nature trails help people and salmon alike enjoy the Calawah River.
The 256 acre Elk Creek Conservation Area officially opened to the public last June with 1.25 miles of new hiking trails. The Conservation Area provides a rare opportunity to the Forks community as it is one of only two established nature hikes in the Forks area. It is also a reserve for steelhead, Chinook and 35% of the Calawah River's spawning coho, and provides habitat for elk, marbled murrelet and other wildlife.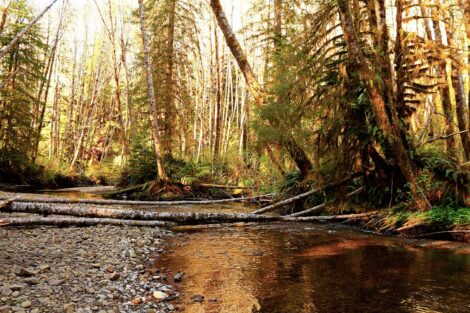 Once the property of Rayonier Forest Resources, the land was purchased by WSC in 2004 and deeded to the North Olympic Land Trust (NOLT) in 2009, as they would be better able to monitor and steward the land. With modest improvements to the property, NOLT has helped build a lot of new support for the conservation area.
"We are so excited to be opening up one of our privately owned properties to the public, where locals can literally step out of their backdoor and hike through one of the most beautiful, ecologically important parts of the Calawah watershed, enjoying all that makes Elk Creek such a special place," noted Lorrie Campbell, NOLT Stewardship Manager.
About 75 hikers and their canine friends were on hand for the opening event. Among them were Rep. Van De Wege (D), Rep. Steve Tharinger (D), project partners, and local families. The Forks Mayor, Byron Mononhon, was very appreciative and supportive of this project and applauded all partners involved in making it happen. The four interpretive signs (one is devoted to wild salmon) and the 65-foot suspended log bridge were particular favorites. In addition to restoring the area and adding hiking trails, NOLT has launched a new educational program directed at illegal ATV use to highlight the negative impacts it has on Elk Creek.
"We understand the community's enthusiasm for riding, but hope that they will embrace our vision for Elk Creek as a place for people to go for a beautiful hike and student groups to learn in an outdoor classroom setting," states Brenda Campbell, AmeriCorps Intern and Elk Creek Conservation Area Environmental Education Coordinator.