WSC and Kamchatka mining company launch joint environmental program.
Wild Salmon Center and Zoloto Kamchatky Joint Stock Company ("Kamchatka Gold" in Russian), the largest gold mining company on Kamchatka and part of the Renova Group of Companies, have launched a five-year environmental program on the Kamchatka Peninsula in the Russian Far East. The main objectives of the program are to employ best practices and public involvement in the conservation of Kamchatka's wild salmon ecosystems, support Kamchatka's protected areas, and expand the environmental and social responsibility of the region's mining companies.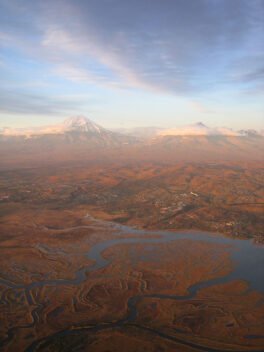 "We appreciate the desire of Zoloto Kamchatky's leadership to make their business more environmentally conscious and therefore more effective. This is a rare example of constructive collaboration between representatives of the Russian mining industry and environmental organizations," said Guido Rahr, President of Wild Salmon Center.
Russia's 800-mile long Kamchatka Peninsula contains a vast network of rivers that remain free-flowing from headwaters to ocean and are virtually unaltered by human development. The region produces up to one-fourth of all wild Pacific salmon and hosts the greatest diversity of salmonid species on Earth. Wild Salmon Center has been working to conserve Kamchatka's wild salmon resources for 15 years and will work within the framework of this new program to reduce the environmental risks of mining activities on Kamchatka.
The five-year program aims to utilize international standards to reduce the impacts of mining on salmon rivers. The program will also lead to increased transparency of Zoloto Kamchatky's mining practices, and will create more opportunities for the mining company to collaborate and communicate with local communities and stakeholders. Other program activities will include training for the staff of Zoloto Kamchatky on international "best practices" for environmental management and the implementation of environmental education initiatives focused on salmon ecology and conservation.
Maxim Mayorets, Chairman of the Supervisory Board for Zoloto Kamchatky, is confident that the program will contribute in positive ways to helping implement the Renova Group of Companies' principles of corporate responsibility, such as environmental stewardship, building voluntary and sustainable relationships with stakeholders, improving management practices through international standards, and reducing environmental risks.