US Forest Service joins WSC and Russian partners to help protect forests surrounding Khabarovsk's Koppi River.
The Koppi River travels from Sikhote-Alin mountain range in Russia's Khabarovsk region through boreal forests to the Sea of Japan. These forests, a mix of Korean pine and broad-leaved subtropical flora and fauna, are home to over 14,000 plant species and 35 species of fish—including a rich assemblage of salmon, char and taimen species. A range of wildlife such as Siberian tiger, Himalayan bear, giant Blakiston's fish owl, moose and the Steller's sea eagle also roam its vast expanses.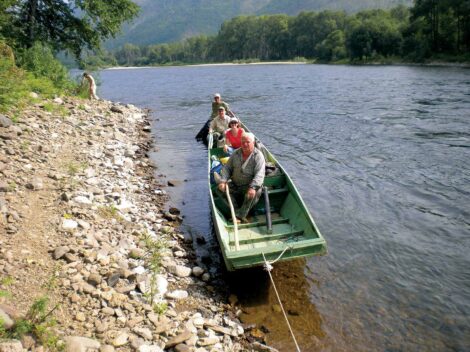 Although Khabarovsk is relatively remote, its wild salmon are still exposed to a wide range of threats from human activities. While poaching is considered the most serious of these threats, legal and illegal timber harvest and forest fires contribute to declining salmon populations as well.
WSC has been working in partnership with local community groups in the region for nearly fifteen years to advance salmon conservation. In 2010 the Koppi River Regional Nature Reserve was established, permanently protecting over 94,000 acres of habitat—including 200 miles of the Koppi River. The Koppi River public salmon council was formed in the following year to help coordinate watershed stewardship activities including anti-poaching efforts.
The US Forest Service (USFS) has helped WSC's work in Khabarovsk for several years and in fall of 2013 USFS personnel joined WSC staff and long-time partners Khabarovsk Wildlife Foundation (KWF) in the Koppi River basin to assess opportunities for salmon conservation via forest restoration and fire prevention improvements.
KWF founder Alexander Kulikov organized an informative trip for the USFS team so they could shadow watershed council members on their river routes and see first-hand the work they were doing. The team stayed with local families and were introduced to commercial fishing, indigenous subsistence fishing, and recreational sport fishing and hunting in the region. They were also able to meet with Russian scientists and observe the sea-run taimen tagging program, led by WSC partner and Pacific Scientific Research Fisheries Center fish biologist Sergei Zolotukhin. Taimen were historically common in the region but have been driven to extinction in many watersheds.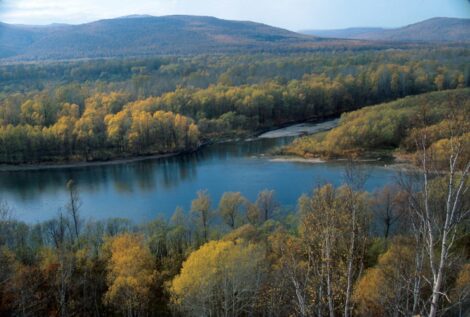 The visit provided the USFS team a better picture of the damage to the Koppi Watershed from logging and forest fires and the important conservation work that is being planned and implemented by WSC and Khabarovsk Wildlife Foundation, including a restoration project that involves planting over 4,000 Korean pine seedlings along a tributary of the Koppi.