Bolshaya community on Kamchatka recognized as finalist for international RiverPrize.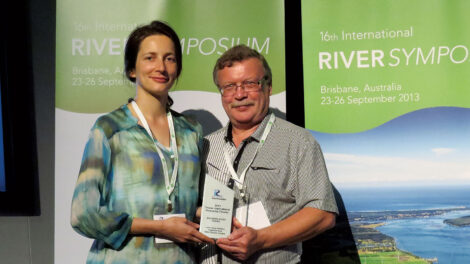 In 2013 the Bolshaya River in the Kamchatka Peninsula was named one of four finalists for the Thiess Riverprize—a globally recognized award for outstanding achievement and excellence in watershed management sponsored by the Australia-based International RiverFoundation. The Wild Salmon Center has been working with the Kamchatka nonprofit organization called Saving Salmon Together to restore and protect the Bolshaya River.
The Bolshaya River's highly productive wild salmon runs once fueled a multi-million dollar salmon industry, provided thousands of jobs, and sustained the economic and social livelihood of dozens of regional communities. Over a span of about 30 years, however, industrial-scale poaching decimated salmon runs and it became clear the community would need to mobilize before the fishery collapsed completely.
With support from the Wild Salmon Center, local citizens formed Kamchatka's first public salmon council. The council is made up of citizens, indigenous communities, commercial fishermen, scientists, tourism operators, educators, and municipal governments. Together, they're committed to restoring the Bolshaya River's habitat and eliminating large-scale poaching to bring back the once-prolific salmon runs.