Getting to know the founder of Khabarovsk Wildlife Foundation.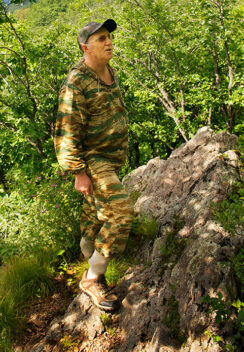 When Alexander Kulikov helped form the Khabarovsk Wildlife Foundation with a group of like-minded scientists 20 years ago, he initially focused on protecting the rare and beautiful Amur tiger. But he soon shifted his attention to salmon, realizing how much the Khabarovsk region depended on the fish.
"It is very important for the local ecology and communities not only as a source of nutrition but also as a symbol of clean water and healthy ecosystems," said Kulikov.
A shared vision of establishing Russia's Shantar Islands as a National Park initially brought Kulikov and Wild Salmon Center together in 2006. Since then, we have also joined efforts protect the Tugur and Koppi rivers, and initiate a proposal for a reserve on the Nimelen.
Despite bureaucratic obstacles and delays, Kulikov expressed that he is more committed than ever to seeing that salmon strongholds are protected for the benefit of all.
Kulikov said: "Creation of any protected area is a complex and prolonged process that requires a lot of patience and excellent partnerships."