Wild Salmon Center part of renewed science and conservation pact between the two countries.
Top leaders from US and Russian wildlife agencies agreed to continue cooperative work on a broad array of conservation and wildlife science initiatives, as part of a renewed pact signed last week in San Diego.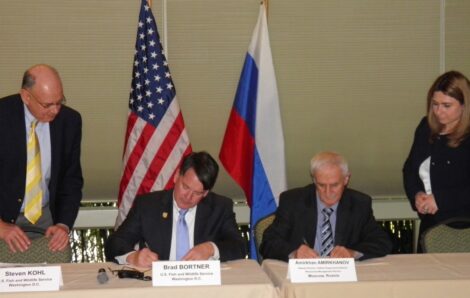 In addition to work that will include Polar Bear research and conservation, marine mammal studies, and migratory bird monitoring and protection, the agreement endorsed a series of ongoing science and technical support projects between Wild Salmon Center and our Russian partners.
"This work is central to protecting wild salmon abundance in the Russian Far East," said Mariusz Wroblewski, Wild Salmon Center's Western Pacific program director. "With dozens of beautiful, intact salmon rivers and nearly 40% of wild Pacific salmon, the Russian Far East needs the care and attention of the Russian and American wildlife science communities."
Collaborative projects over the next three years include:
On the Koppi and Nimelen rivers in Khabarovsk, we will work with local partner Khabarovsk Wildlife Foundation to expand protected areas for the benefit of the giant, critically endangered Sakhalin taimen. WSC helped the foundation establish the 94,000-acre Koppi River Preserve in 2010; it is home to 20 species of fish, as well as rare fish-eating bird species, such as Blakiston's fish owl, Chinese merganser, and white-tailed sea eagles. KWF is striving for expanded protections on the lower Koppi, as well as a new reserve on the Nimelen, which is prime taimen habitat.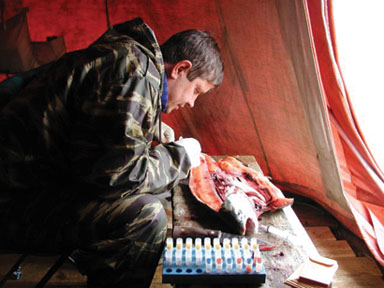 On Sakhalin Island's Langeri River, WSC will continue to support Russian Academy of Sciences research to understand the abundance and productivity of this salmon stronghold. The Langeri figures economically in the region, with sizeable pink salmon runs that feed local commercial fisheries. It's also home to Sakhalin taimen.
In Kamchatka, on the Utkholok and Kvachina rivers, we will collaborate with American partner Conservation Angler and the Russian Academy of Science on the Kamchatka Steelhead Project, which samples and tags steelhead to deepen knowledge about fish abundance and life histories. The Steelhead Project was first started by WSC in 1994, before being taken over by our partners at Conservation Angler. The project will now build the scientific case for a protected area on the world-class Utkholok.
Russian and American collaboration on wildlife and conservation – now known as the Area 5 Working Group for Conservation of Nature and the Organization of Reserves – dates to a 1972 agreement for collaboration on a wide range of government and civil society initiatives between the United States and what was then the USSR. The working agreement was updated in 1994, following the establishment of the Russian Federation.
The latest Area 5 agreement was signed by Amirkhan M. Amirkhanov, Deputy Head of the Russian Ministry of Natural Resources and Environment and James Bradley Bortner, Chief of Migratory Birds Management at the U.S. Fish and Wildlife Service.