New research on Klamath rainbow trout could provide clues to how fish populations can remain productive in an increasingly hot world.
The serpentine waterways of the Upper Klamath River Basin are born from some of the largest freshwater springs in North America. These springs produce copious volumes of cold water, an increasingly rare resource in a warming world. The Klamath River was once one of the largest producers of Pacific salmon on the west coast, but for nearly a century, impassable dams have prevented salmon from returning to the Upper Klamath.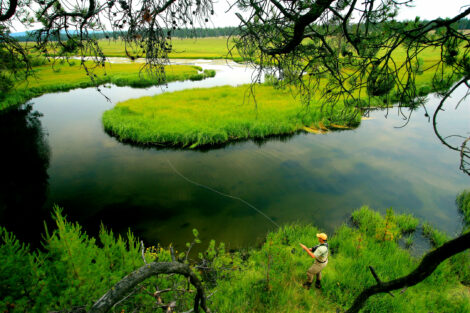 Now with agreements in place for removal of four Klamath River dams, one of the largest river restoration projects in US history, salmon may again find their way upstream to these productive headwaters. Before they reach the cold waters of the Upper Klamath, however, salmon will need to negotiate warm and stressful water temperatures along the way.
How will they navigate this complex waterscape and reach the climate refuge provided by spring-fed headwaters?
To answer this question, Wild Salmon Center is partnering with Oregon State University and Oregon Department of Fish and Wildlife, with additional support from US Geological Survey and US Fish and Wildlife Service, to study fish movement and habitat use in the Upper Klamath River Basin.
The project is led by OSU stream ecology professor Dr. Jonathan Armstrong and focuses on the movements of migratory rainbow trout. Because of the dams, Upper Klamath rainbow trout can no longer complete their ocean migrations. But these fish still reach steelhead size by migrating between freshwater habitats that offer seasonal feeding opportunities and those that offer respite from stressful summer water temperatures. The research team, including Wild Salmon Center Science Director Matthew Sloat, will track rainbow trout movements using radio telemetry to determine how these fish "dine and dash" to cold habitats as summer water temperatures warm. This work will provide us with clues to the ways salmon and steelhead populations can remain productive despite the challenges anticipated from climate change.