Alaska coalition celebrates major milestone on the journey to protect the wild Susitna River.
In a major victory for Alaska salmon, Gov. Bill Walker shut down the Susitna-Watana dam project last week. The move came as part of broad budget cuts by Walker. The Susitna dam, which would have been the second tallest in the country, would have cost at least $6 billion.
Due to the size and scale of the dam, it posed an enormous threat to all five species of salmon supported by the Susitna River, including Alaska's fourth largest Chinook run. It would also have flooded 40,000 acres of prime recreation and hunting lands near Denali National Park.
"We applaud Gov. Walker for making the right decision during these tough fiscal times," says Emily Anderson, Wild Salmon Center's Alaska Senior Program Manager. "This project would have wreaked havoc on the river, harmed important local tourism and recreation based economies, and set a very bad precedent for future energy development on our salmon rivers in the state."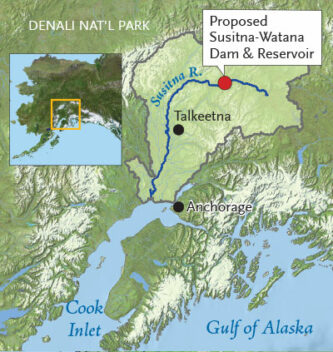 Wild Salmon Center has worked to stop the dam by supporting the Susitna River Coalition, a group of small business owners, recreational guides, retired teachers and citizens.
This spring, the coalition sent a letter to Gov. Walker asking him to issue a final stop work order for the dam. The letter included more than 13,000 signatures from Alaskans who oppose the dam. Collected through the efforts of local volunteers over the last three years, these signatures represent about 20% of the voting bloc that brought Walker into office.
The Susitna dam project has been proposed three times over the last 60 years. With the project shelved, the focus now turns to earning permanent protection for the Susitna once and for all.