As part of our 25th anniversary this year, we are profiling some of our most important partners around the Pacific — our ultimate allies. The Gordon and Betty Moore Foundation has been fundamental over the last 15 years in changing the Pacific salmon narrative to one of hope and abundance.
In 1999, Kamchatka was opening up to the outside world and things were changing fast. With caviar poachers materializing on nearly every river and natural resource extraction companies building roads and prospecting across the peninsula, the United Nations Development Program moved to try to conserve some of the region's most spectacular wild places. WSC pushed the international body to include salmon in those conservation efforts, but had little of the financial resources and manpower to participate in scientific assessments and conservation planning.
That's when the Gordon and Betty Moore Foundation stepped up with its first grant to Wild Salmon Center.
The foundation would go on to start its own Wild Salmon Ecosystems initiative and supported the work of WSC and partners in Russia, Alaska, and British Columbia for 15 years. Gordon Moore himself (pictured above on Kamchatka's Krutogorova River, 2002) took a personal stake in conservation in the Russian Far East, once offering a simple plea to the governor of Kamchatka: "Please save the fish."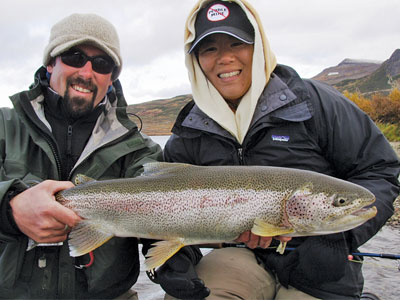 It's safe to say that more than any other person or organization, the Moore Foundation helped mold the Wild Salmon Center into the respected and focused Pan-Pacific organization it is today. The foundation's salmon program staff, led by Aileen Lee (pictured at right), helped change the Pacific salmon narrative from one about potentially squandered resources and loss, to one of hope and abundance defended by strong local organizations and people across three nations.