How new genetic evidence will help us improve spring Chinook conservation.
By Dr. Matthew Sloat, Director of Science
Every angler knows that spring Chinook are precious. They are the first salmon we encounter each year and their higher fat content makes them the best eating in the salmon family. But these fish are special for more reasons: they play an important ecological role by carrying marine nutrients higher into watersheds than fall Chinook, they are very significant to the cultures and traditions of the indigenous peoples of the Pacific Northwest and Northern California, and they extend the window of fishing opportunity for humans, bears, and whales, alike.
But spring Chinook have been extirpated or are in decline across most of their range. And despite these declines, spring Chinook, in most situations, haven't received special protections: that's because they are typically treated as part of the same conservation unit as closely related fall Chinook, whose runs have generally been much stronger.
That could all change, based on new genetic research led by our partners at UC Davis.
Last year, researchers in Dr. Michael Miller's genetics lab at Davis discovered that spring Chinook have a unique genetic composition that's responsible for their early migration timing.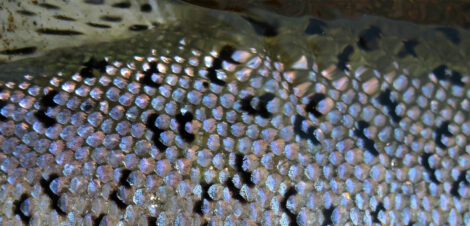 This discovery challenges the previous notion that spring and fall Chinook were genetically so similar that they could be managed together as one population in watersheds where both forms were found. From a conservation perspective, that meant that if spring Chinook were lost due to habitat destruction or other factors, they could re-evolve from fall Chinook if habitats supporting spring Chinook were restored.
But the new research indicates that fall Chinook are unlikely to have the genes needed to give rise to spring Chinook runs. Spring Chinook populations could be permanently lost unless special protections and new management approaches are taken to conserve remaining stocks. Rebuilding lost spring Chinook stocks will require novel approaches – some of which haven't been used before.
Wild Salmon Center is working alongside government and academic partners, including our colleagues at UC Davis, to incorporate the new findings into spring Chinook conservation plans.
This means working proactively to protect currently strong spring Chinook populations in watersheds like the Rogue and North Umpqua, and developing new approaches for recovery of lost stocks of spring Chinook after the Klamath dams come down in 2020. Stay tuned for more news on those initiatives in the coming months.
We've always had an intuitive sense that spring Chinook are special. We now have a clearer scientific understanding of what we need to do to protect these legendary fish before they are lost.