A state ballot initiative in November could be the last chance to save Bristol Bay.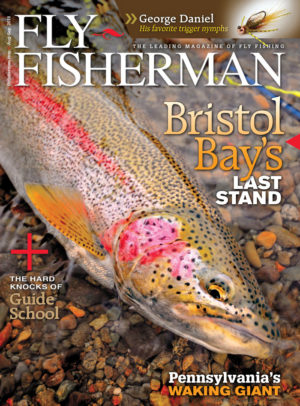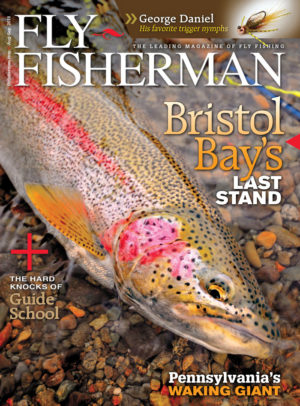 The following is an excerpt from WSC President Guido Rahr's original story, "What We Stand to Lose", appearing on the cover of the August Issue of Fly Fisherman.
Crystal Creek Lodge owner Dan Michels banked the plane for a better look. Next to me in the plane, lodge owner John Childs was grinning. "There they are!" he shouted over the roar of the engine. "Those gray dots…those are salmon!"
From the window of the Beaver that morning, a pristine tapestry of land and water spread out as far as I could see: a glimmering a gray sheet of ocean to the west, the blue waters of Iliamna Lake to the east, and now, below the circling plane, the Kvishak River flowed in a labyrinth of channels and riffles across the lush green floodplain. Visible in the crystalline waters was a band of gray and silver shapes, proceeding upstream along each bank of the river.
We could see the thousands of ocean-bright sockeye salmon as clearly as if they were swimming in the air. They were gradually working their way up the river, their sides like mirrors, and weeks away from developing the brick red bodies and green heads of their spawning coloration.
This was July 2016, and we were witnessing one of the greatest migrations on earth-the movement of millions of salmon into the rivers and lakes that flow into Bristol Bay, Alaska.
Bristol Bay produces the largest remaining salmon runs on earth. Last year, almost 60 million sockeye returned to these rivers, more than half of the world's sockeye salmon. Hundreds of thousands of coho, chum, pink, and the largest remaining wild Chinook salmon runs also swim through the rivers of Bristol Bay, along with Arctic char and rainbow trout. The annual salmon runs make this basin home to one of the greatest ecological phenomena known: the movement of millions of tons of salmon biomass from the Bering Sea into this vast lake and river system.
These fish are considered "keystone species" for the ocean, rivers, and lakes of western Alaska, feeding bears, eagles, marine mammals, and supporting Alaska Native people who have coexisted with these abundant salmon runs for millennia. The salmon runs also support a $1.5 billion (annual) commercial and recreational fishing industry creating 20,000 jobs and the greatest concentration of high-end sport-fishing lodges in the world.
We may lose this treasure…
…continued in the August-September 2018 issue of Fly Fisherman, at a fly shop near you.