Our Washington program is gearing up this fall with the addition of Jess Helsley as our new Senior Program Manager. Helsley comes to us after three years as the Executive Director of the Coast Salmon Partnership—which was co-founded by WSC in 2007 to restore and protect Washington's best salmon and steelhead runs.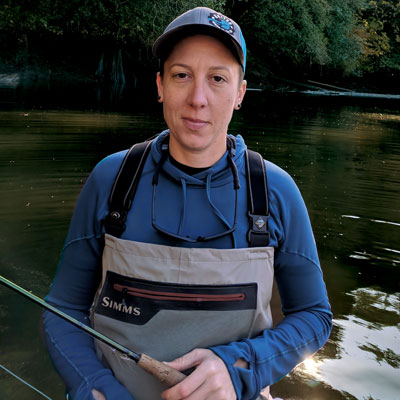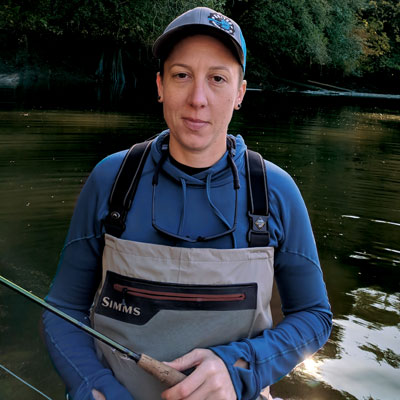 Helsley earned a Master's degree in natural resource and environmental science from the University of Idaho and she brings a deep understanding of the importance of community partners in Olympic Peninsula conservation.
Fishing and hunting were a family tradition for Helsley, who grew up in the backwoods of Idaho. She spent 11 years as a river guide primarily on the Salmon River, leading multi-day rafting trips where, "I loved sharing some of the most incredible wild places with guests from around the world. Plus, nothing beats getting lost in the wilderness from April to October every year." Salmon became the lens through which Helsley connected her guests to the river.
I'm excited to get back in my waders to tease apart the science that will help Washington's wild fish thrive into the future.
Helsley made the move from the dry river canyons of Idaho to the rainforest of the Olympic Peninsula—from 11 inches of rain to 11 feet of rain per year—to work for the Quinault Indian Nation as a fish habitat biologist. In addition to working on tribal Natural Resource laws, she was in the field almost everyday learning about the ecosystem and working on restoration projects.
"Wild Salmon Center is in a unique position for a busy year of success in Washington," noted Helsley. She'll be working with partners to identify comprehensive habitat restoration opportunities, helping to re-engineer priority stream blockages as part of the Cold Water Connection Campaign, and advocating for wild fish as we oppose the Chehalis Basin Dam project. Most importantly, Jess says: "I'm excited to get back in my waders to tease apart the science that will help Washington's wild fish thrive into the future."