Wild Salmon Center is thrilled to introduce you to three new board members. All bring very different experiences and perspectives to our work, but they share a common passion for wild salmon and steelhead. Join us in welcoming April Vokey, past fly fishing guide, conservationist, and media maker, Ray Lane, avid fly-fisherman and Silicon Valley executive, and Steven Kohl, Russia expert and U.S. Fish and Wildlife Service retiree.
---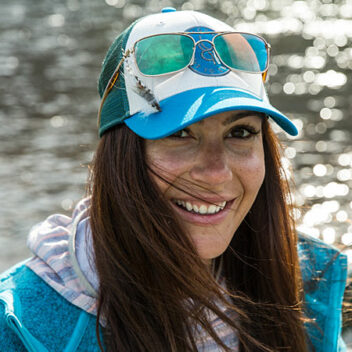 APRIL VOKEY
April Vokey is a fly fishing writer, FFF certified casting instructor, fly-tyer, speaker, writer/host of the original WFN series, Shorelines with April Vokey, and host of the popular fishing podcast, Anchored. After ten years of guiding in British Columbia, she now splits her year between camp in northern BC and Australia.
In 2007 she founded B.C. based guiding operation, Fly Gal Ventures, where she guided anglers on some of B.C.'s best steelhead destinations. Today she is a full-time contributor for Meateater.
"In all of the inhabited places I have been on this planet, none are as pristine and wild as the Skeena," Vokey says "From where it flows into the ocean, to where it teams with the Nass and Stikine to form the Sacred Headwaters, every inch of the Skeena reminds me just how perfectly nature functions if we let it do what it's supposed to."
She has made it her mission to encourage and introduce aspiring anglers to the sport, in hopes that it will bring them as much pleasure as it has brought her. She takes pride in being an eternal student of fly-fishing and an active conservationist. And she's working today to protect her home waters in the Skeena.
"The Skeena and its tributaries are constantly under the pressure of extraction. Even when a proposal is denied, corporations continue to press and poke for access. To win such fights (and ensure they stay defeated) takes a dedicated team of knowledgeable advocates with the necessary funding and resources. My hope is that WSC and the public will team together to continue fighting to keep the Skeena wild."
---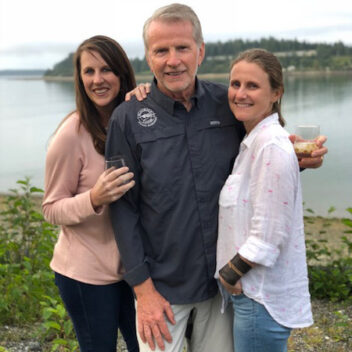 RAY LANE
Ray Lane brings to Wild Salmon Center his experience as one of Silicon Valley's most steadfast, successful organizational leaders, from leading an overhaul of Oracle in the 1990s to his current role as Managing Partner at GreatPoint Ventures and partner emeritus at Kleiner Perkins Caufield & Byers. Lane has managed investments and held board membership in startup companies, including those leading the transformative development of enterprise AI, big data analytics, and alternative energy. His unwavering dedication to research and philanthropy make him stand out. Lane served as the chairman of the board of trustees of Carnegie Mellon University. Lane and his wife, Stephanie, have been active in funding key initiatives at Carnegie Mellon, Special Olympics, and the American Cancer Society.
Lane is an avid fly-fisherman with a soft spot for Alaska. "I have visited Alaska once or twice a year since 2003," he says, "I have fished most great spots including Bristol Bay, Glacier Bay, The Kenai, Kodiak, Brooks and Yakutat. It's hard to beat steelhead on the Situk in Yakutat. I have fished South America, New Zealand and Russia now, but not enough to replace Alaska as my first love."
While Lane is new to WSC, he is very interested in the challenges we have long wrestled with at the intersection of conservation and economic development. Lane says, "It's hard for me to understand how any commercial project like a minerals mine could be more important than the established ecosystem that is a big part of the Pacific Rim existence."
"The important challenges of preserving our environmental ecosystem transcends political and cultural divides. It falls on all of our shoulders to protect these fragile ecosystems from short sighted commercial developments. I am a big believer in Wild Salmon Center's mission to provide fundamental protection of salmon and their spawning habits to protect the entire wildlife ecosystem in the Pacific Rim."
---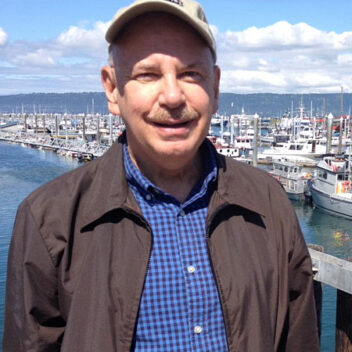 STEVE KOHL
Steven Kohl has long been a partner of Wild Salmon Center and our Russia program throughout his 38-year career at the International Conservation Division of the U.S. Fish and Wildlife Service (USFWS). Kohl long served as the Chief of the USFWS Eurasia Branch, negotiating essential bilateral agreements and overseeing annual exchanges of U.S. and foreign scientists to learn from each other to achieve conservation goals.
Kohl says, "One of the most important things I tried to do was expose as many USFWS employees as possible to conservation in Russia and China, either as travelers to those countries or as hosts to colleagues from those countries (most notably, in National Wildlife Refuges). WSC has been a participant in these exchanges for 20 plus years. Time and again FWS employees returning from those countries said the trip was a watershed moment in their career. They stopped assuming that wildlife is managed more or less about the same all over the world and were also struck by the similarities and how much they had in common with Russian and Chinese colleagues."
From his perspective working with WSC over the years, WSC and our Russian partners are exceptional in our ability to remain true to the goals of salmon conservation. He says that, "Of all the countries in the world, what the U.S. and Russia do, with their large land masses and diverse ecosystems, to conserve fish and wildlife has a great effect internationally, and bilateral cooperation serves as an example (and hopefully, an inspiration) to other nations, most notably China. It is noteworthy that U.S.-Russia cooperation on wildlife conservation and management continues uninterrupted despite the current chill in political relations. Biologists and ecologists in both countries are making a concerted effort to keep things going."
Looking to the future, Kohl is hopeful that, "Countries will begin to realize the already-existing and potential threats posed by climate change, and help salmon stocks to adapt to those conditions."