At Wild Salmon Center's September 2019 U.S./Russia Exchange in Alaska, participants learned different ways to run hatcheries, fisheries, and anti-poaching programs. (Still unresolved: which nation has the tastier fish.)
The windowless government meeting room was packed with confiscated wildlife, from a walrus skull with two-foot tusks to an entire black bear hide with scalloped edging. Matt Dobson, Regional Commander for Southeast Alaska Fish & Wildlife Protection, held up a rack of furs for his eight Russian guests: beaver, red fox, river otter, lynx and wolverine, even a wolf pelt, glossy in a full winter coat.
The Russians oohed. Then they got down to business, peppering the self-described "fish cop" with questions. (Some, pretty tough.) How far to sea did his jurisdiction stretch? What penalties did poachers face? How much were wildlife troopers paid? How did the department keep its nose clean?
Occasionally patting the thick rulebook in front of him (outlining regulations "from bunny rabbits to King salmon"), Lt. Dobson answered everything, including starting salaries. His guests—scientists, conservationists, and commercial fishermen from Sakhalin Island in Russia's Far East—were making the most of this face-to-face parley with an enforcer from a salmon system that seems to be working. (Alaska is generally thought to have the best-managed salmon fisheries in the world.) The Russian delegation was here, in Juneau, to learn what keeps this fishing economy swimming, from Alaska's nonprofit hatcheries and scientific monitoring, to its private seafood processors, right down to how officials discourage poaching—a problem still chronic on Sakhalin Island.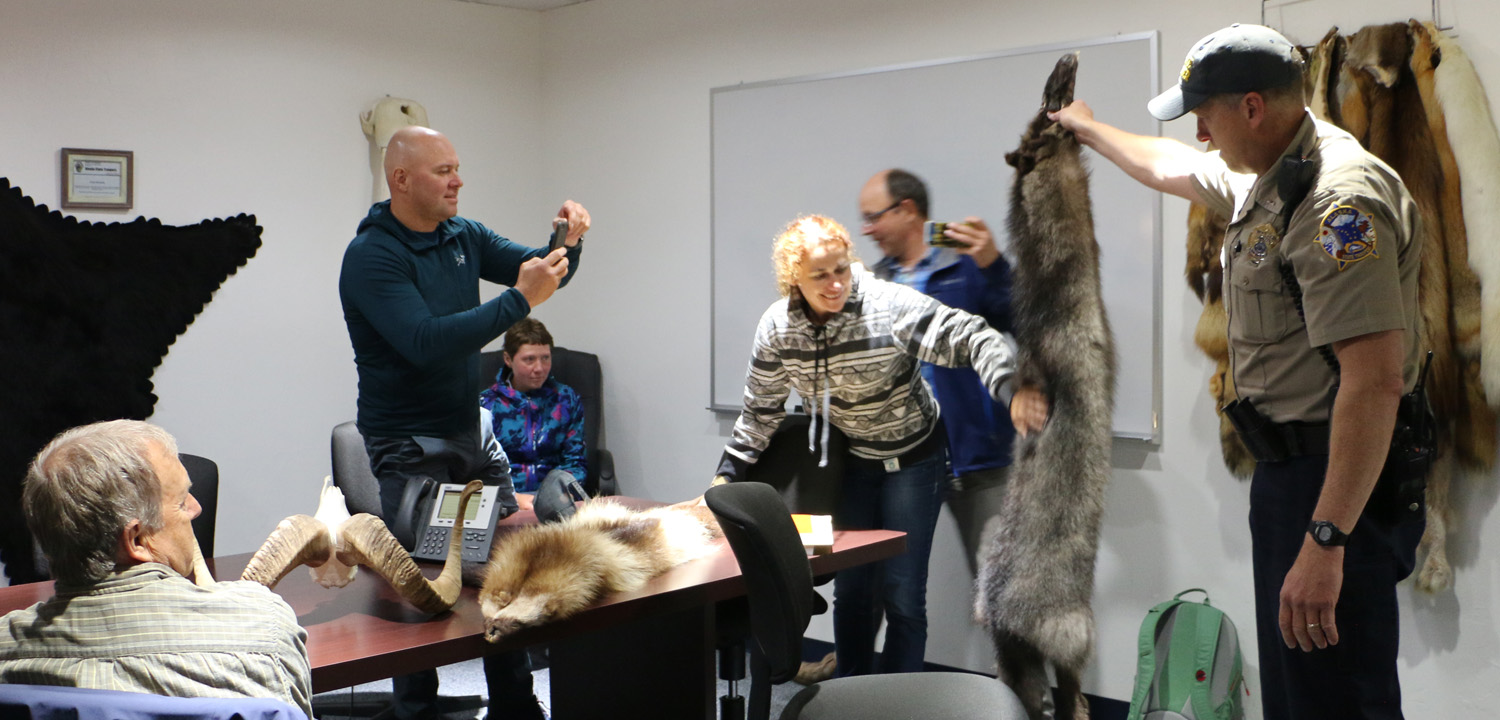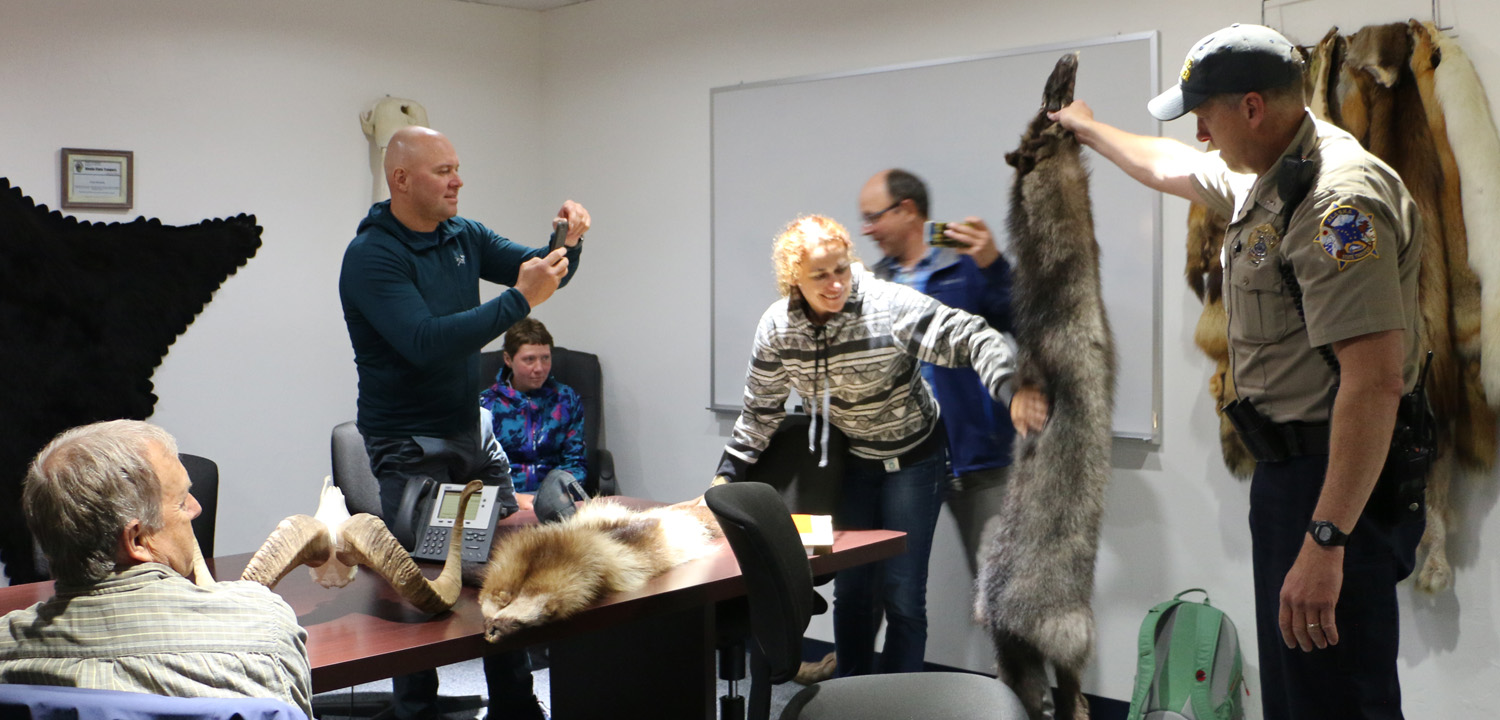 The Wild Salmon Center has facilitated more than 50 international exchanges since 1998, most convening Russians with their North American counterparts for high-level, hands-on conversations on all aspects of wild salmon. Past exchanges (many funded by New York-based Trust for Mutual Understanding) have focused on such topics as dam removal, sport fishing, conservation education, and mining impacts on watersheds. The exchanges also serve a diplomatic purpose, said Mariusz Wroblewski, WSC's Russia Program director, "keeping the door open" between two powerful nations with shared natural resources. Each exchange, Wroblewski said, strengthens transcontinental relationships key to saving the world's last, best salmon strongholds.
This September's Alaska exchange may have been the best yet.
"WSC's past exchanges have focused more on what not to do; build more dams, or prioritize hatcheries over wild salmon habitat," said Wroblewski. "This year, our participants were really energized by possibilities: things they learned here that they can apply back home."
The visit to Fish & Wildlife came midway through the week-long exchange. Already there'd been a boat trip to the Lynn Canal coho fishery (dotted with sightings of humpback whales and Dall's porpoises), and tours of a nonprofit hatchery and a state-run fish weir on Auke Creek. The delegation discussed mining regulations with U.S. Forest Service employees, and aerial salmon counts with Alaska Fish & Game biologist Dave Harris. Next, the delegation made a two-hour flight northwest to Cordova, for community meetings, science presentations, tours of seafood processors, and, best yet, fishing. Fisheries management specialist Randy Ericksen helped coordinate the itinerary in Juneau; in Cordova, the Prince William Sound Science Center and PWSSC research ecologist Pete Rand (a WSC alum) facilitated the exchange's second leg.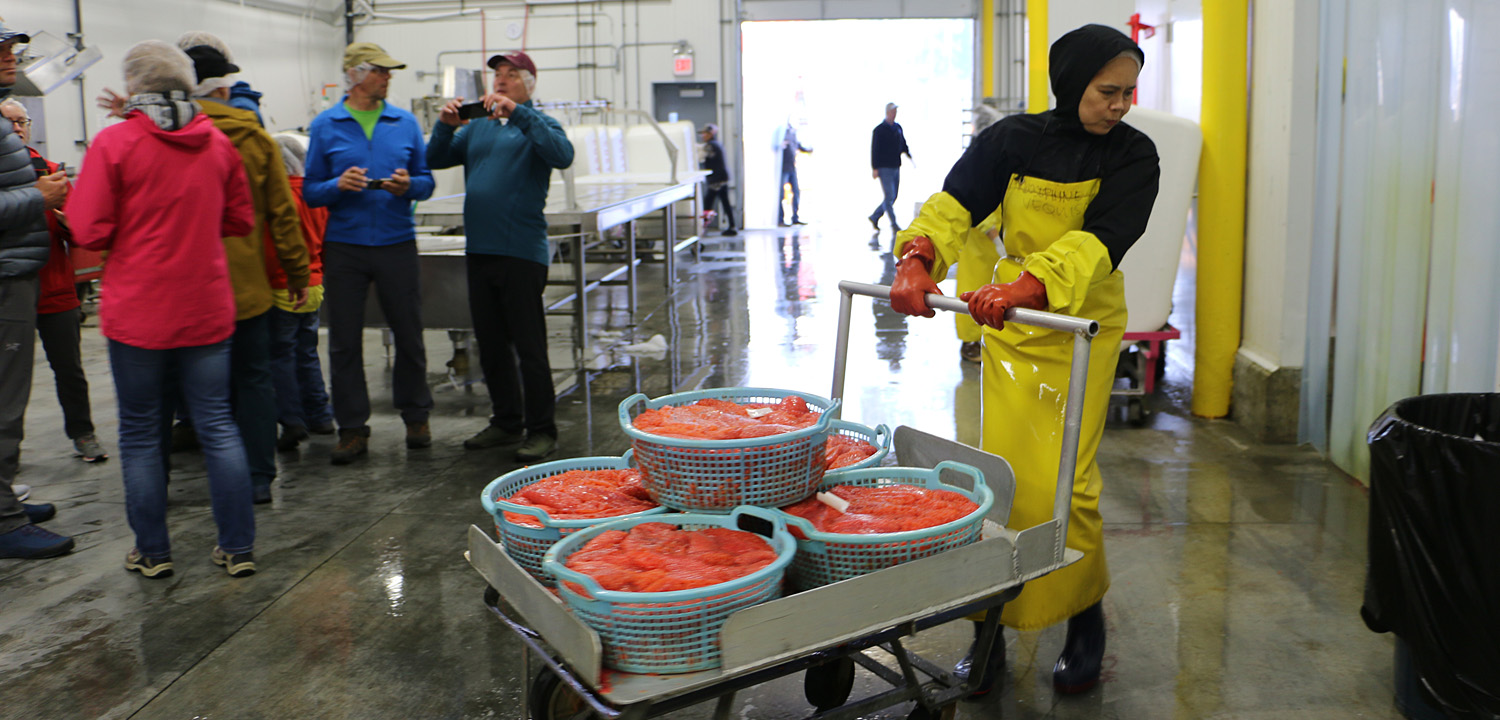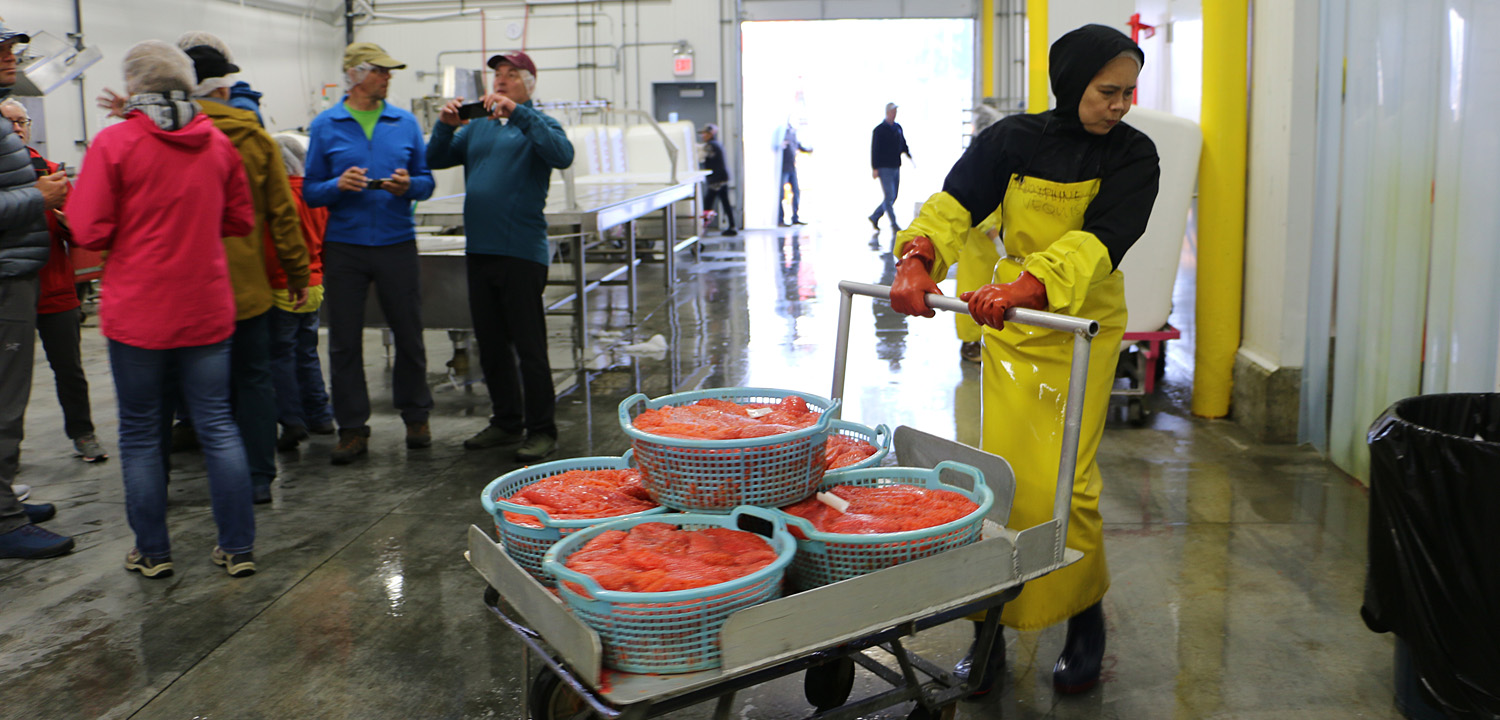 During the exchange, enforcement remained top of mind for the three commercial pink salmon fishermen in the Russian delegation. These fishermen represent the Wild Salmon Territory, a new hatchery-free regional initiative taking root on 30 rivers threading Sakhalin Island's northeastern coastline. Each commercial fishermen operating in the Wild Salmon Territory has committed to pooling resources to produce independent fishery science and protect their watersheds from mining and poaching. The fishermen also help fund enforcement along rivers on Sakhalin, they explained to Lt. Dobson, because local regulators on Sakhalin are ill-equipped and underpaid. Of the September exchange, Wild Salmon Territory leader Vladimir Smirnov said (via translator): "I wanted to see how fisheries were managed [in Alaska] and here, I see another way of policing the fish."
Smirnov was also impressed by a visit to DIPAC, a nonprofit salmon hatchery. On Sakhalin, Smirnov explained, hatcheries are privately-owned and powerful, operating in direct competition with fishermen like him—stretching their nets across entire rivers and claiming all fish caught, hatchery and wild, as their property.
"Here, the system seems to be fair," said Smirnov. "[Alaska's] hatchery policy surprised me a lot. In Russia, the hatcheries have big influence, to the extent that they say, 'if you want a good fishery, build a hatchery.' We are trying to help them understand the dangers of that."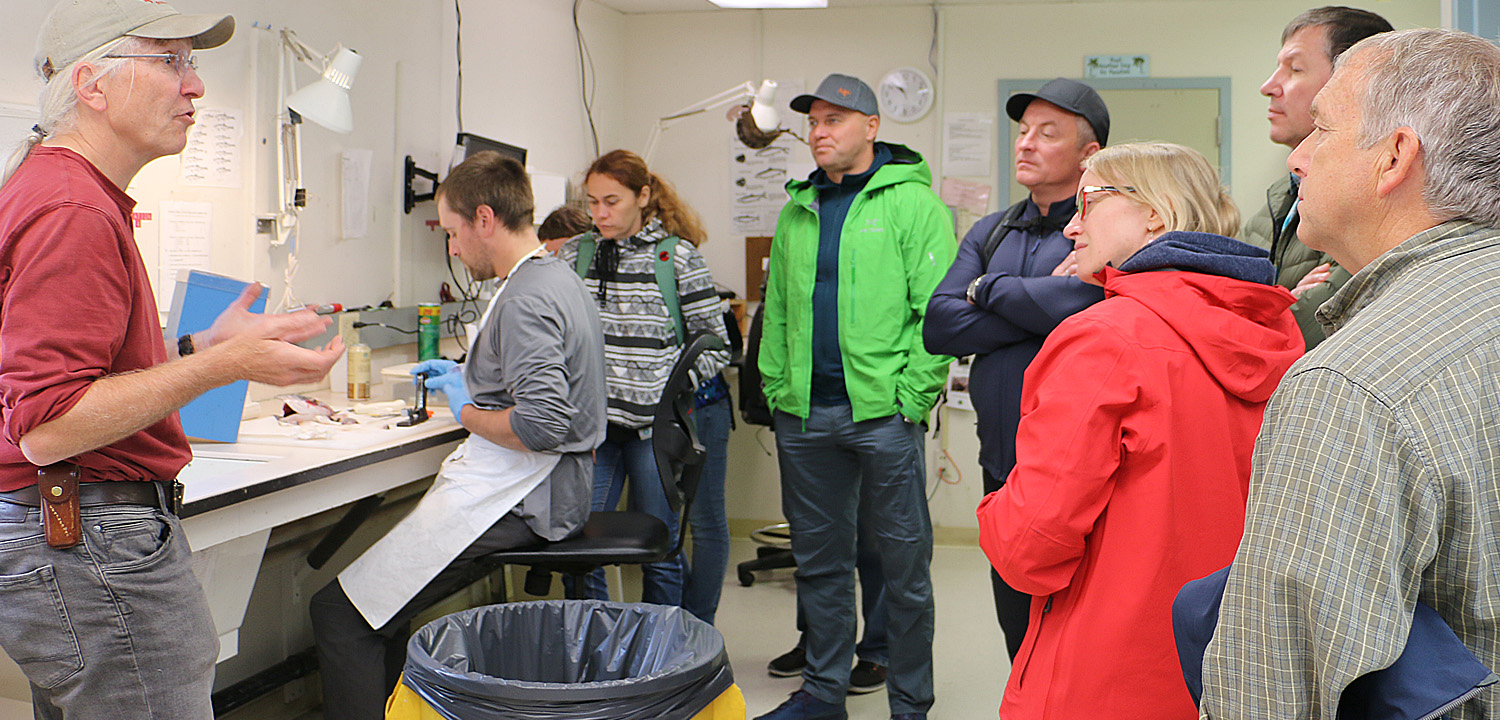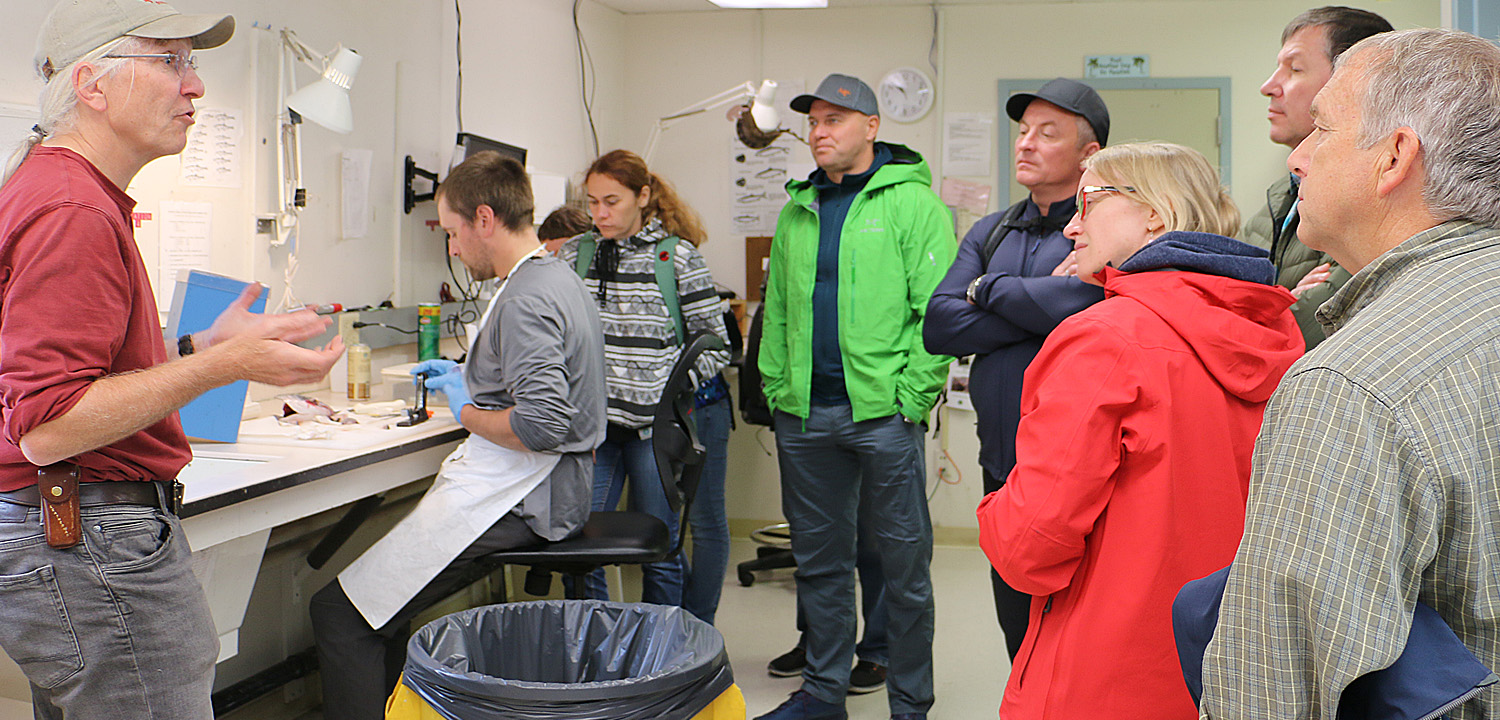 The knowledge-sharing went both ways. In Cordova, Dmitry Lisitsyn, director of Sakhalin Environmental Watch (a longtime WSC partner), shared the story of the Wild Salmon Territory to a packed crowd of locals at the Cordova Center. During his presentation, Lisitsyn explained that 60 percent of Sakhalin's 2018 total pink salmon harvest was landed by Wild Salmon Territory fishermen. "This was absolutely the consequence of the work that we are doing to protect against poachers, secure escapement, and change mining practices."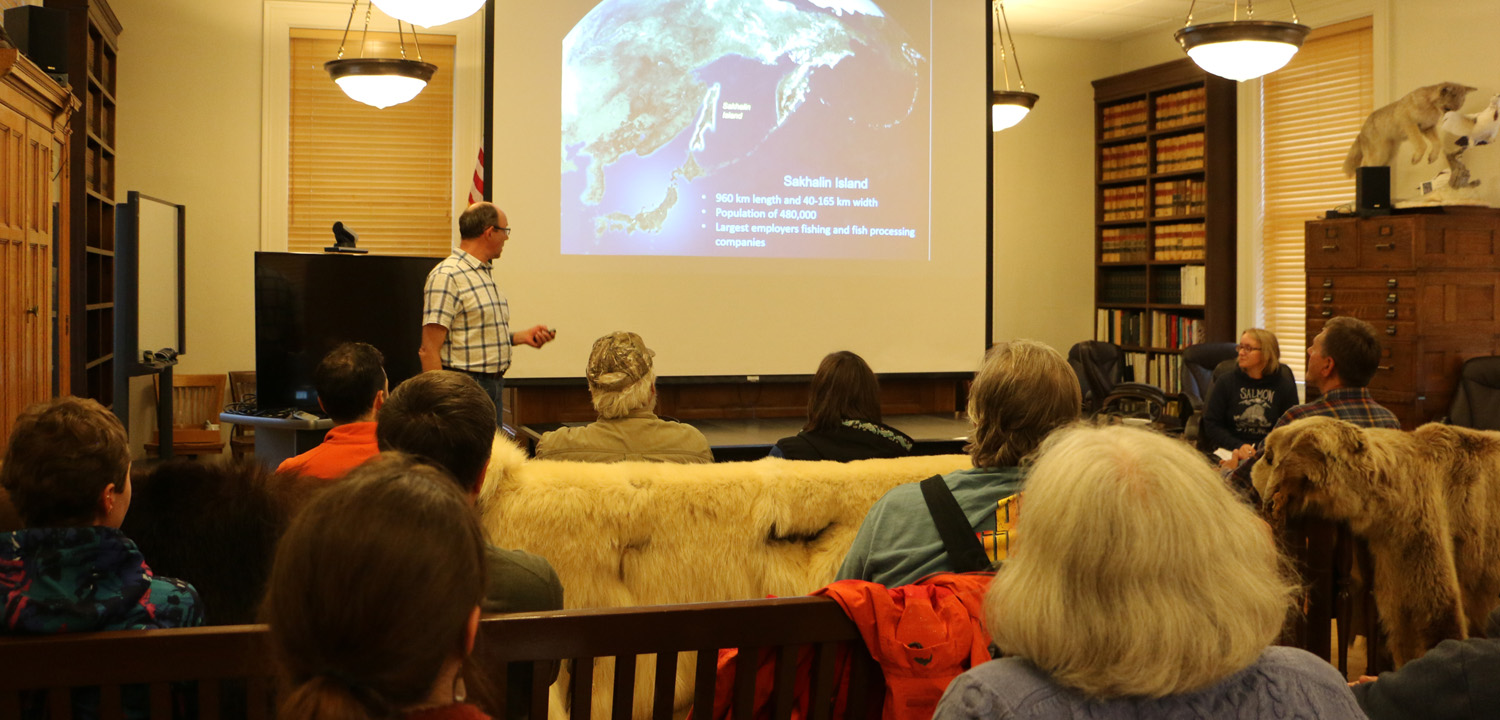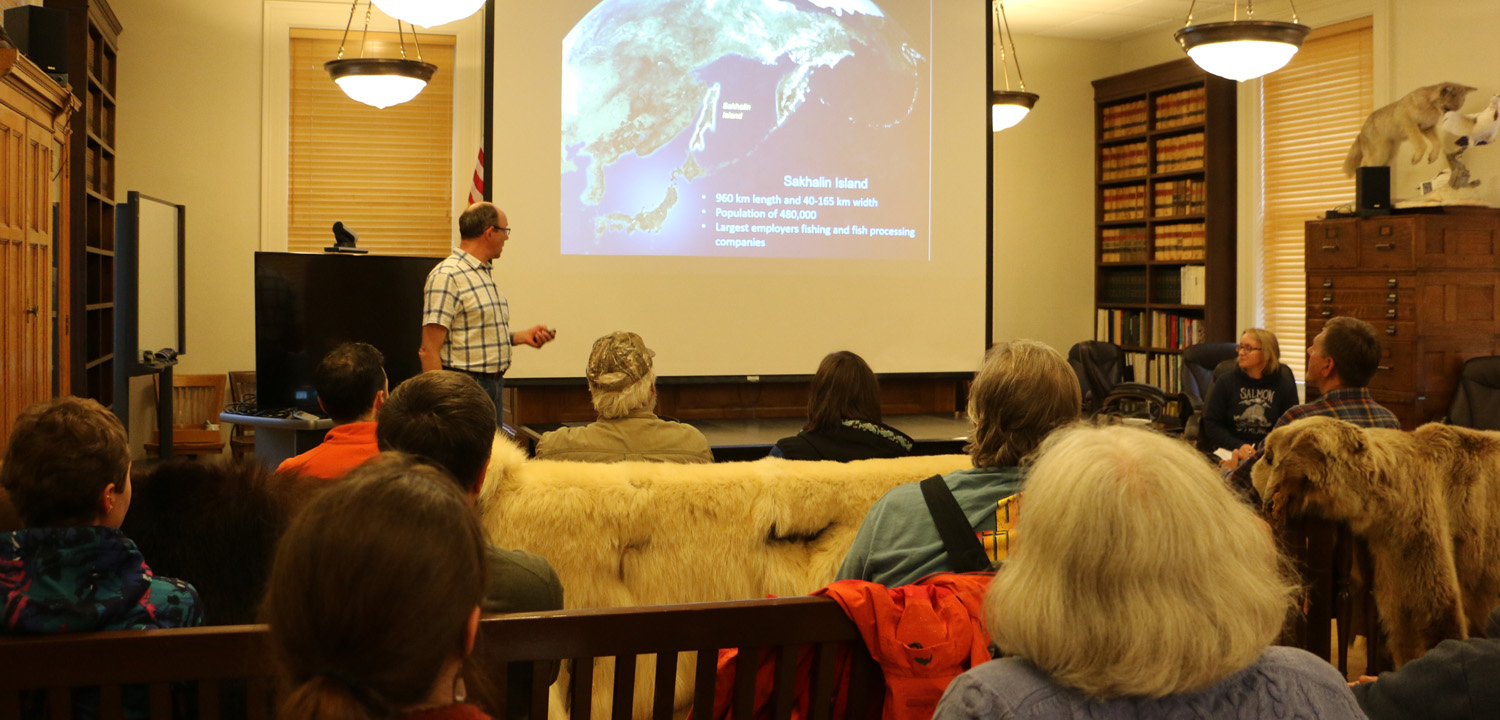 And there was some healthy Russian-American competition, particularly at dinner, where Alaskan salmon, naturally, was the entree of choice. At one meal, the Russian fishermen professed surprise that they were eating coho—a species prized (and priced) higher than leaner pink. "On Sakhalin," the fishermen ribbed their American hosts, "this would be our pink!"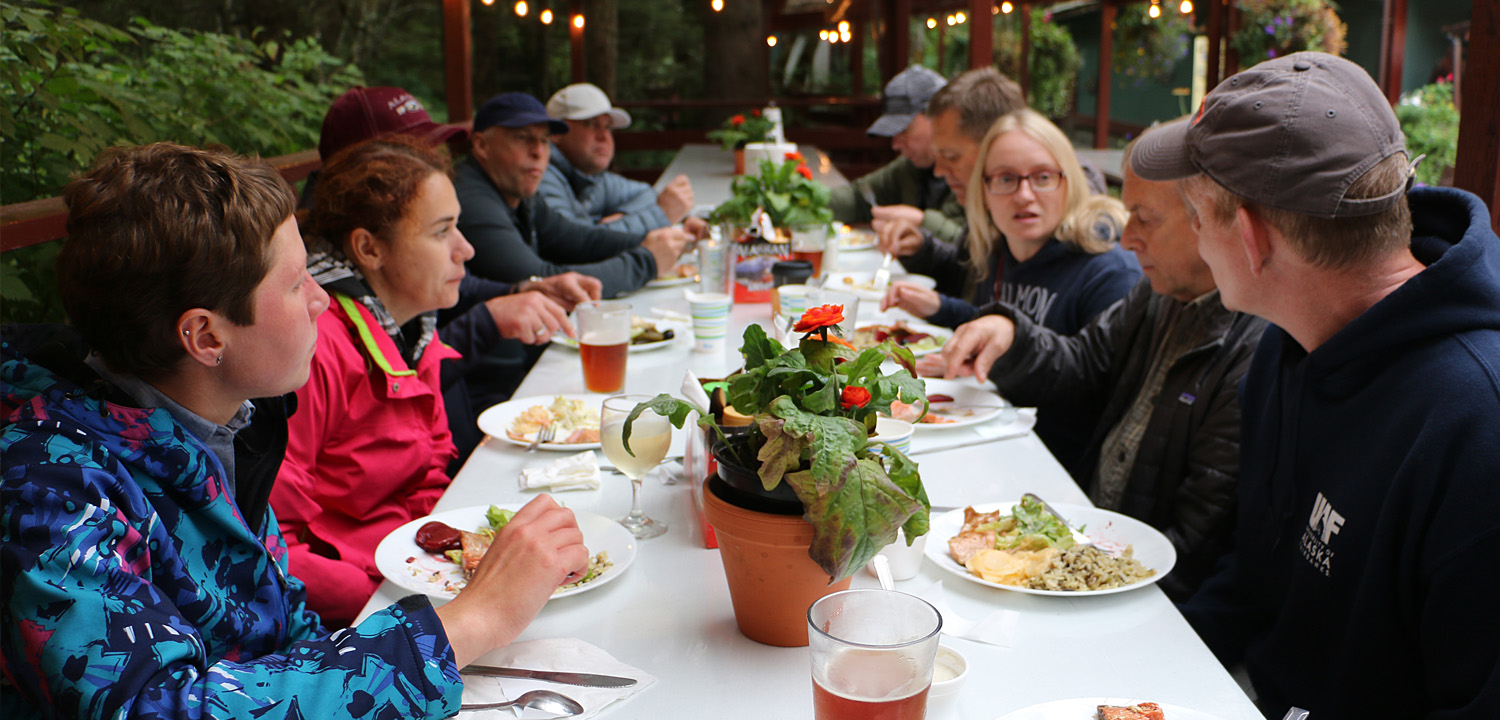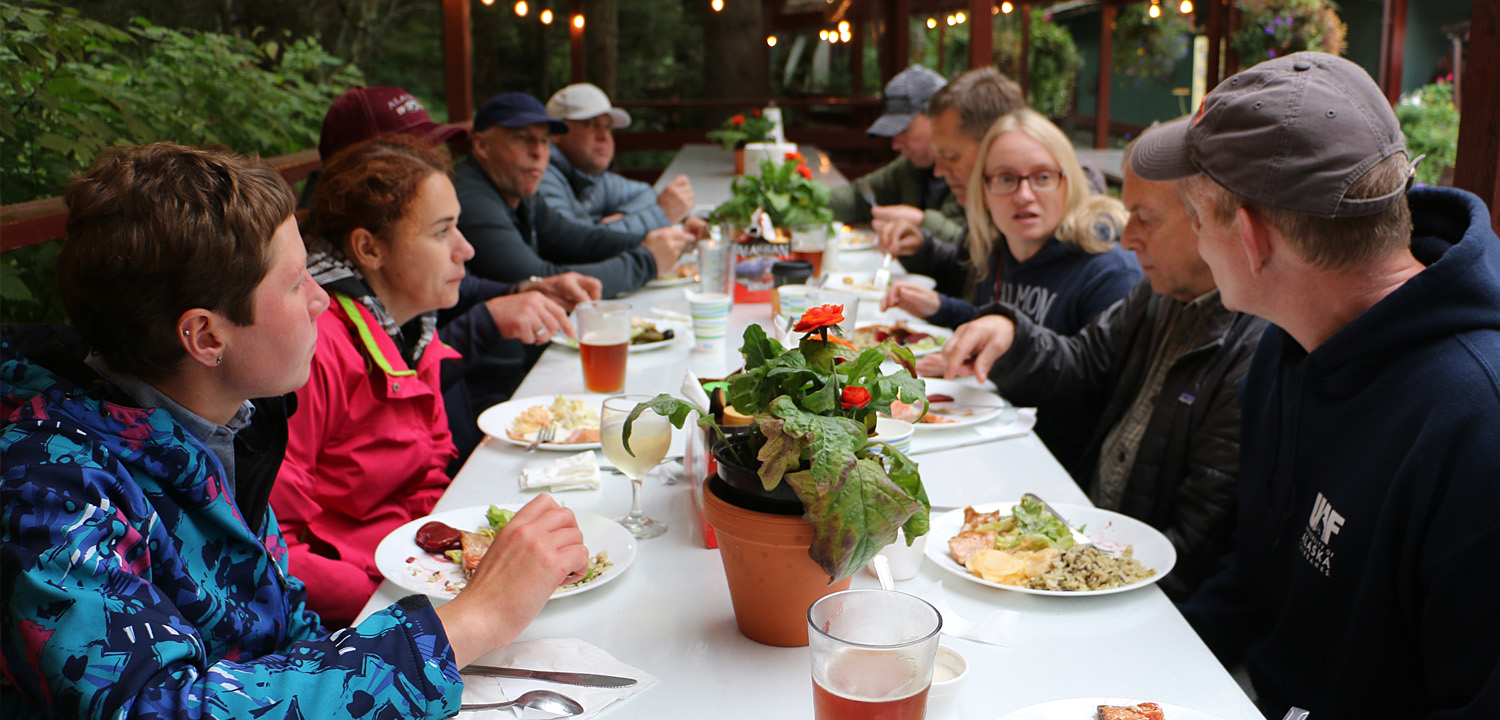 Clearly, the week offered all participants much food for thought. On returning to Sakhalin, Smirnov said, he'll be meeting with the island's new governor to discuss topics including salmon poaching and hatchery management. "Wild Salmon Center always organizes such informative trips. There's a lot from this trip I could talk about," he laughed. "I think I will write a story for the local paper when I get back."
Delegation member Maxim Sukliian, a Russian fishing gear supplier based in Hokkaido, said business networking was his original motive for joining the exchange. To his surprise, Sukliian said, that shifted in Alaska: "Up to now, I haven't participated in any salmon conservation. But now, I'm thinking I will contribute my time and resources. I depend on the resource, so I should be doing a lot for conservation."
***
Wild Salmon Center's September 2019 US/Russia Exchange delegation pictured in top photo, before boarding the Fjordland for a Juneau fishery visit. From left: Albina Kanzeparova, Research Fishery Biologist at the Pacific Research Fisheries Center (TINRO); Yelizaveta Kirillova, Senior Researcher at the Severtsov Institute of Ecology and Evolution at the Russian Academy of Sciences; Vladimir Smirnov, Chair of the Northeastern Sakhalin Association for Sustainable Fishing and owner of Plavnik and Sadko Fishing Companies; Mariusz Wroblewski, Wild Salmon Center's Russia Program Director; Sergei Detistov, co-owner, Saturn and Three Brothers Fishing Companies; Maxim Sukliian, Director of Nikko Service Ltd; translator Viktoria Chilcote; Aleksei Borisov, co-owner, Saturn and Three Brothers Fishing Companies; fisheries management consultant Randy Ericksen; Dmitry Lisitsyn, Director of Sakhalin Environmental Watch. (Not pictured: Dr. Pete Rand, Research Ecologist at the Prince William Sound Science Center.)