Decision to withdraw Clean Water Act Protections for Bristol Bay "arbitrary" according to two new lawsuits.
A group of six Bristol Bay tribal groups and fishing organizations, and another group of 12 conservation groups including Wild Salmon Center filed two independent suits against the Environmental Protection Agency over the last two days, charging that the agency's withdrawal of Clean Water Act protections for Bristol Bay in late July was illegal.
WSC rarely takes legal action; this time political appointees' actions at EPA proved too egregious for the organization to stay on the sidelines. And in joining the suit, WSC and conservation groups across the country are standing shoulder to shoulder with Bristol Bay tribes and fishermen. "We can't let politics jeopardize Alaska's largest wild salmon fishery and all those who depend on it," said Emily Anderson, WSC's Alaska Director. "EPA's decision to discard years of scientific work and reverse protections for Alaska's Bristol Bay is arbitrary and, we are confident, won't hold up in any court of law."
"We can't let politics jeopardize Alaska's largest wild salmon fishery and all those who depend on it."
At the direction of agency appointees, EPA on July 30 formally removed proposed protective standards for Bristol Bay that had been initiated by the EPA in 2014 under the Obama Administration at the request of six Bristol Bay tribes. The decision ignored years of agency science and the rights of sovereign Alaska Native tribes, instead advancing the interests of a Canadian mining company that wants to build the toxic Pebble Mine in the headwaters of two of Bristol Bay's most important salmon rivers.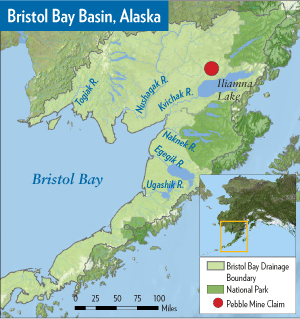 Between 2010 and 2014, EPA undertook an exhaustive study of the potential impacts of mining on the waters and fisheries of Bristol Bay. EPA's work culminated in 2014 with a set of proposed standards that could have protected Bristol Bay from the threat of the Pebble Mine.
But these protections were never finalized due to legal action by Pebble's Canadian parent company. And Pebble's subsequent settlement with the Trump Administration's EPA led to this summer's withdrawal of protections.
Now it will be up to the courts to decide if the reversal was legal. (Read the complaint here)