For two decades, Boomerang Club has built local ecology into lesson plans and field trips that reach nearly every child on Sakhalin Island. Now the program is expanding across the Russian Far East.
Sakhalin Island, stretching north of Japan, looks a bit like a fish noodling up the east coast of Russia. It's apt, then, that the island's rivers nourish a whopping 11 salmonid species, including magnificent, mysterious taimen. Sakhalin represents the world's third most abundant salmon region—right after Kamchatka (just north across the Sea of Okhotsk) and Alaska.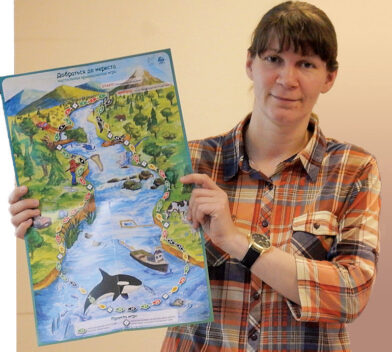 Yet growing up on Sakhalin, Valentina Mezentseva, chair of Boomerang Club—a 25-year-old nonprofit serving local outdoor types and fans of "extreme tourism"—says she didn't learn much about these natural systems in school.
"We gathered up scrap paper and metal, planted trees, and participated in volunteer work-days, although not for nature but rather for collective work," she recalls, via translator. "It was only in college when we first heard about ecology and pollution of the Earth."
Since 2001, Mezentseva and her colleagues have stepped up to fill that knowledge gap, working with schoolchildren ages 8 to 16 across Sakhalin Oblast (provincial region). Students participating in Boomerang's camps and classes learn about wilderness safety, stage dramatic plays, and engage with bright, colorful coursework on salmon species. It's the kind of highly interactive learning that Wild Salmon Center, a Boomerang partner since 2009, is proud to support.
Our mission is to teach human respect for nature," says Valentina Mezentseva, chair of Boomerang Club.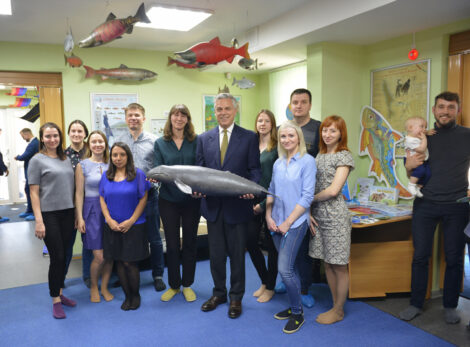 Now, Boomerang's unique conservation curricula is expanding across the Russian Far East, as school systems in regions from Khabarovsk to Kamchatka, Primorye, Buryatia, and beyond are embracing Boomerang's field-tested results.
"Each year, hundreds of children participate in our programming," says Mezentseva. "We see how our volunteers mature and develop. Individuals who first came to us as child participants later become program organizers and leaders. They help us to understand the needs of children and choose the most relevant types of games and activities for youth."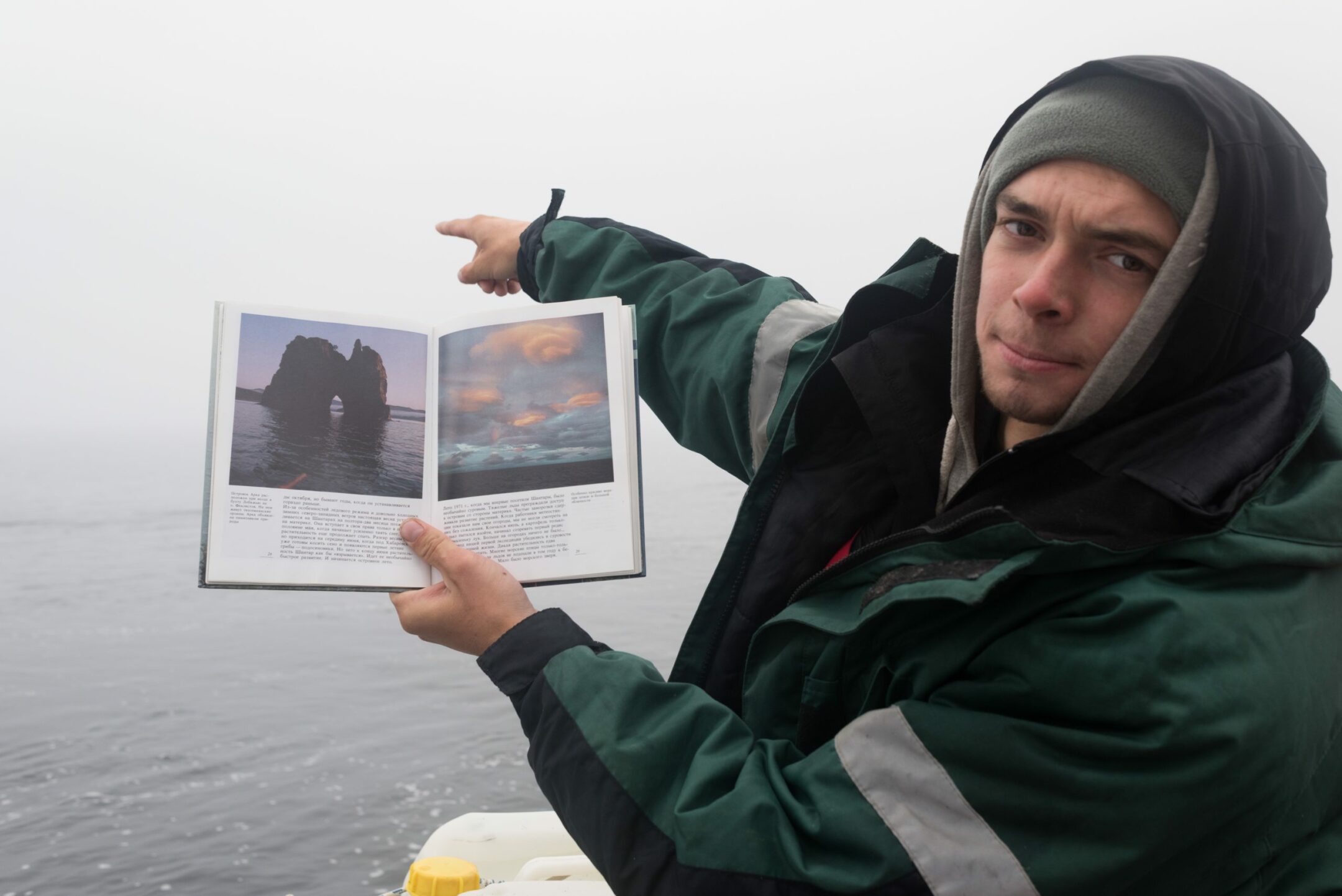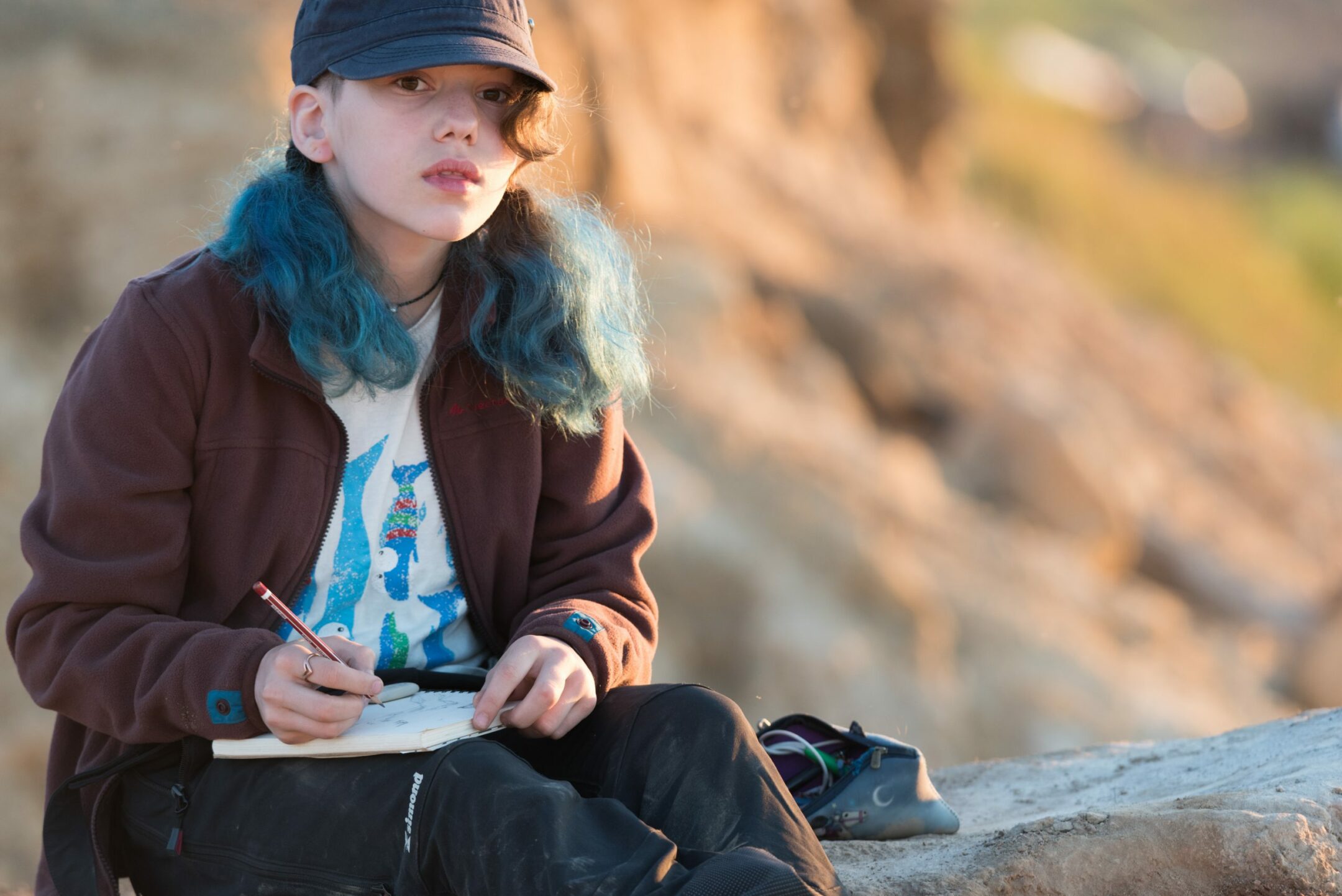 Contests, adventure excursions, board games—in Boomerang's hands, these activities are all tools for kickstarting a lifelong love of nature. In summer 2019, for example, Boomerang partnered with Kamchatka's Kronotsky Zapovednik nature reserve on a first-of-kind competition for conservation-focused lesson plans. (The winning curricula are now freely available via Boomerang's website.) And Mezentseva is particularly excited about a new, WSC-supported educational initiative called "Young Friends of the Ocean," which packages all of Boomerang's priority themes—from salmon conservation to marine habitats—into one formal program.
Over winter break, we chatted with Mezentseva about the club's evolution, mission, and how games are training Russia's next generation of conservation heroes. [Responses have been translated from Russian and edited for brevity.]
###
WSC: So what IS Boomerang Club?
Valentina Mezentseva: Boomerang Club was established in 1994, and our local history programs have been active since 2001. We work actively in tourism, in teaching wilderness safety, and in nature conservation. All three themes are interconnected and teach respectful relationships with nature, nature education, and harmonious life in nature. Our mission is to teach human respect for nature.
Why did you expand from tourism and wilderness safety activities to educational programs for schoolchildren?
Our task is to show people how their own simple habits influence ecosystems and wildlife that they may never lay eyes on. It is important (for us) that people are able to make emotional connections with the animal world—and that they strive to protect it. Children are more receptive and less cynical, and childhood is the time to lay the foundation for their values, including issues around natural resource use. This sort of ecological behavior by children will influence their parents and community.
Children are more receptive and less cynical, and childhood is the time to lay the foundation for their values, including issues around natural resource use."
Salmon is an important part of Boomerang's educational programs. Why is that?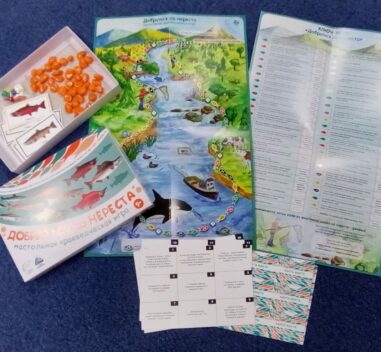 Salmon is one of the key species upon which our island's nature and its human inhabitants depend for well being. It is important that people understand from a very young age the importance of salmon—and that each person can contribute to their preservation.
What is your educational programming like?
We have developed games, dramatic plays (about salmon), and computer games for children and teachers to use independently; they are designed to be used widely by students without our direct participation.The club holds field meetings, excursions, educational classes, and environmental "holidays." Sometimes, we conduct competitions, conferences, or exhibitions.
Wild Salmon Center has sponsored some of Boomerang's curriculum development. You've also attended several WSC knowledge exchanges in North America. What's the value of these exchanges for you?
It's helpful to learn about [other] government programs to support community-based environmental conservation programs for schoolchildren. For example, Alaska Fish & Wildlife has developed games on marine birds and shorebirds for teachers. On Sakhalin, teachers are actively using and adapting these activities. Many international organizations have wide-ranging experiences and history that can be classified into action strategies. And many countries possess laws to protect wildlife that do not exist in Russia.
[In turn,] we can share our approach to conservation education: the logic of our materials, including design, illustrations, and wildlife trivia. Our recent board game was created with interpretation principles in mind. We can also talk about the computer game and information portal which we developed regarding salmon species [Salmon Friend]. And our puppet show!
It is important that people understand from a very young age the importance of salmon—and that each person can contribute to their preservation."