UPDATE: Our salmon art contest ended June 20 and we have posted our winners here. Thanks to all the families that participated!
---
Join the fun with our salmon art contest! Create one of your own salmon originals or start with one of our coloring pages and make it your own.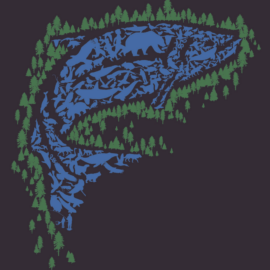 Winners will get one of our awesome Ed Hepp designed t-shirts or other super cool salmon swag.
Scan or photograph your artwork and send it to info@wildsalmoncenter.org with "Salmon Art" in the email headline. Please make sure files are under 10 MB and include the following information:
Name
Age
Phone Number
One cool thing you've learned about salmon (for inspiration, check out our Salmon School page!)
You can also post on your Instagram or Facebook accounts and tag Wild Salmon Center. (Sorry grown ups, we won't stop you from playing, but you must be under 18 to win.)
Have fun creating!