Saving Refuges
A letter from the President
From our 2019 Annual Report.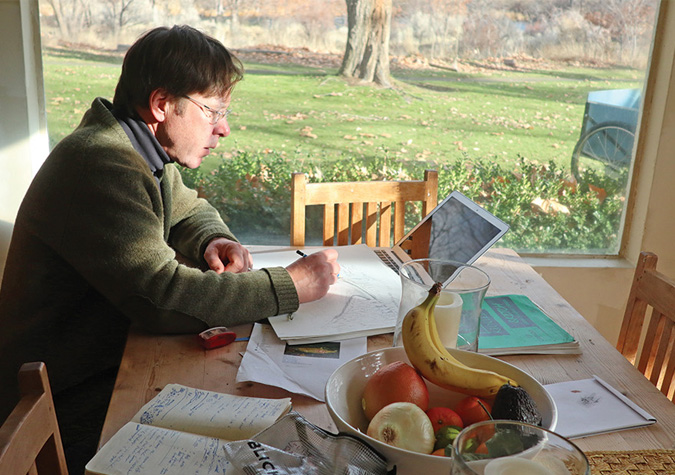 Our world seems more unstable than ever. As our political arenas, our communities, the Covid-19 disease, and the economy are in constant flux, it feels as if the ground keeps shifting underneath our feet. It becomes harder to know where we are.
For my family, our connection to the river and its fish has given us sanctuary from a sometimes uncertain and chaotic world. In the 1950s, my grandfather, recovering from a painful divorce, retreated to our cabin on the Deschutes to lick his wounds. Years later, my mother, exhausted from raising five children, would grab her paints and easel and slip off to the river for refuge. My father, cooped up in an office for months, would grab his alpenstock walking stick, and like a coiled spring, head for the rimrock.
I was allowed to roam the rivers and hills alone, first in search of reptiles and later as a fly fisherman. No matter what was happening in my life, I knew that once I saw the dark waters surging through the basalt canyon, smelled the pungent tang of sagebrush, and felt the warm sun on my face, I would feel safe from the world.
When the Oregon governor ordered us to "shelter in place," my wife Lee and I knew just what to do with our three boys.
We went to the river. Undistracted by social media, news reports, and the stresses of the city, we tied flies, fished for trout, read books, and played guitar. We are extremely blessed to have a refuge, a river that will take care of us.
The rivers that run through our lives anchor us and connect us to nature in a way that is as fundamental to our existence as anything else in this world. The river is where you can find, as Robert Traver wrote, "solitude without loneliness." So many people don't have that refuge, or find their favorite one endangered.
Our work at Wild Salmon Center is to ensure that a network of these rivers—the greatest remaining around the North Pacific—are protected forever. Protected for those who live on these rivers; for those who depend on the salmon, clean water, and other gifts the river brings; and for all those who seek refuge there in troubled times. Everyone needs these places.
And we won't have them unless we are ready to fight for their protection.
Thank you for helping us protect those places on Earth that are important for our health and sanity.
Thank you, as well, for your notes of encouragement and support these last few months. We are grateful for the wider Wild Salmon Center family, one that shares our mission and our life's work. Together, we will emerge from this, alongside the rivers that keep us whole.
Guido Rahr
President and Chief Executive
Download our 2019 Annual Report.