Prominent national figures across the political spectrum weigh in against Pebble Mine as a final federal decision nears.
What do Jane Fonda, Donald Trump, Jr., Alaskan tribal leader George Alexie, and 35,000 (and counting) Wild Salmon Center supporters all have in common?
They're part of an unprecedented uproar over the proposed Pebble Mine in Alaska's Bristol Bay, as the Army Corps of Engineers approaches a final decision on the mine's clean water permits.
"It's an explosion of opposition all over the country and I think it speaks to the unified front against Pebble," says Guido Rahr, CEO of Wild Salmon Center. "People of all backgrounds can see clearly that this is the wrong mine in the wrong place. It also speaks to the urgency of the moment: this is our last chance to stop the mine at the federal level."
The Corps could make a decision on the toxic mine, slated for the headwaters of the world's most important salmon ecosystem, as early as August 24. (Take Action Now: Tell EPA to Veto Pebble)

The agency set up the decision by issuing its final environmental impact statement (EIS) on July 24, a document that wrongly (if unsurprisingly) concluded that the mine would do no harm to the Bristol Bay salmon fishery.
That started the first wave of resistance from scientists and Bristol Bay leaders like Alexie, who roundly dismissed the review as built on poor community engagement and bad science
Next, the U.S. House of Representatives responded on July 30, passing a budget amendment aimed at stopping final approval for Pebble, based on the Corps' deeply flawed review.
Then, on August 5, Nick Ayers, who is Vice President Pence's former chief of staff and who'd been briefed by WSC's Guido Rahr, put out a tweet calling on the EPA to stop Pebble.
"I believe POTUS will do this," Ayers wrote, using the president's abbreviated title.
That triggered an immediate agreement from Donald Trump, Jr.
"As a sportsman who has spent plenty of time in the area, I agree 100%. The headwaters of Bristol Bay and the surrounding fishery are too unique and fragile to take any chances with."
The bipartisan Twitter storm was on. Fonda agreed with Trump Jr.. So did talk show host Jimmy Kimmel. Bass Pro Shops, the nationwide outdoor retailer spoke out against Pebble Mine. So did longtime Bristol Bay defender, Tiffany and Co. A raft of media coverage on Pebble followed from the Washington Post, the New York Times, The Guardian, Fox News, CNN and numerous Washington insider publications.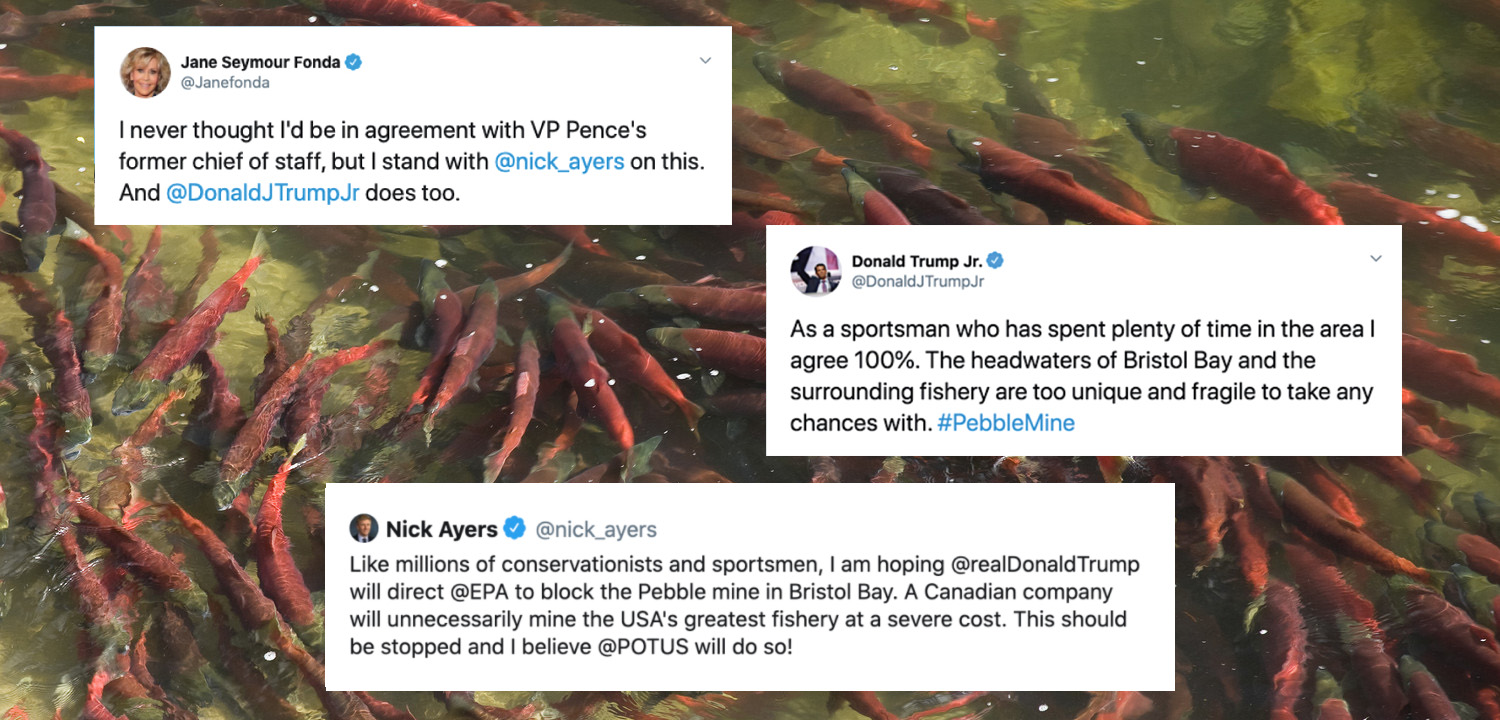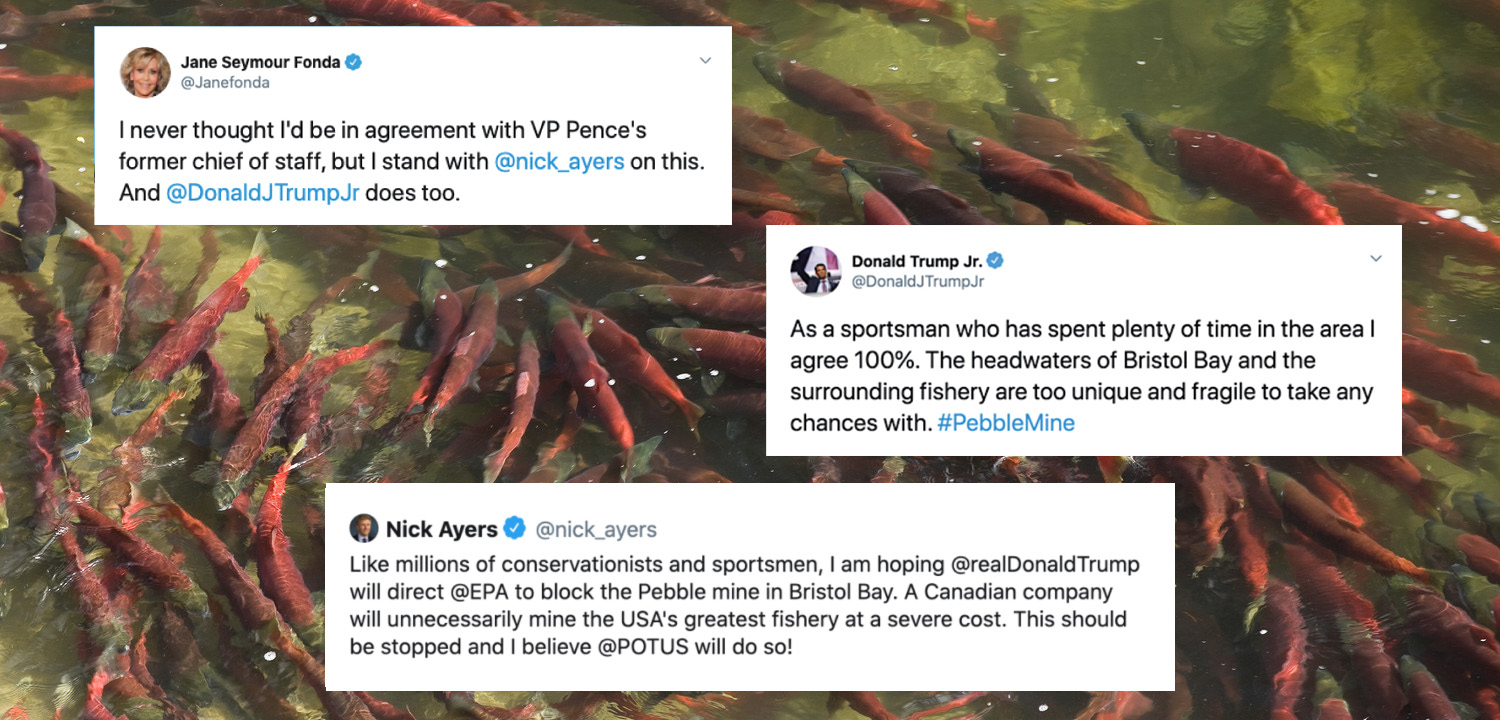 President Trump was asked about Pebble at a press conference soon after and promised to "look at both sides."
Democratic candidate Joe Biden weighed in on Twitter a few days later, saying "Bristol Bay is no place for a mine."
Fox News commentator Tucker Carlson summed up the political state of play on August 14, as he talked with Bass Pro founder Johnny Morris about the threats to Bristol Bay from Pebble. "In most environmental controversies you have a clear partisan divide….But this is not so clear. You're seeing a number of Republicans, including a lot of conservative Republicans saying 'Hold on a moment, maybe Pebble Mine is not a good idea.'"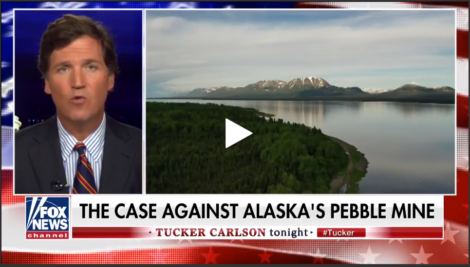 As the Trump administration takes a close look at Pebble, our retail and media partners have kept up a powerful, sustained Stop Pebble Mine campaign over the last several weeks — the size of which WSC has never seen before.
To date, more than 34,000 Wild Salmon Center supporters and friends have weighed in via our action platform, asking EPA to veto Pebble.
There's still time to send a message to the EPA. Be sure to urge your friends and followers to do the same and follow WSC on Instagram and Twitter to get the latest on the campaign.
"Our supporters and our partners set the table for this national groundswell of opposition from all corners," says Emily Anderson, WSC Alaska Director. "And they are the ones that will hopefully carry us over the finish line: Everybody agrees it's time to stop Pebble."