The Martinelli family celebrates wild salmon and giving back to the places they love.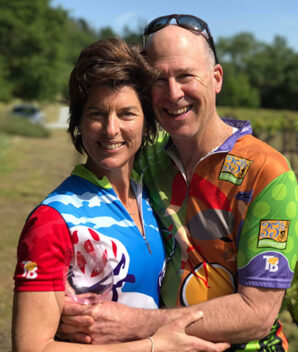 Talking to John and Megan Martinelli, it's immediately clear that both deeply care about their community and share a passion for all things wild. And their actions reflect these values, from Megan's work chairing the annual holiday food drive for their local food bank to the conservation easement the Martinellis placed on their family ranch on California's Pajaro River.
"We've tried to set a good example for our kids by being active in our local community and by giving back to the places we love," says John.
It was John's passion for fly fishing that brought Wild Salmon Center's work to the couple's attention. Both quickly realized that they deeply valued the cascading benefits to people and wildlife that come from protecting wild salmon. For Megan, the outsized impact salmon have as a keystone species is what most inspired her. For more than a decade, the Martinellis have been dedicated supporters of WSC's conservation work. It's thanks to the long-term commitment of people like John and Megan—and their strong belief in our mission—that we're able to achieve major conservation gains for the North Pacific's salmon strongholds.