After four decades in fish and wildlife conservation, our Executive Vice President is retiring. We talked with Sara LaBorde about her experience, what it will take to keep wild salmon around in the Lower 48, and what she's doing next.
This month marks the end of an era at Wild Salmon Center—the LaBorde era. For nearly a decade, Sara LaBorde has served as Executive Vice President, overseeing WSC's day-to-day operations, including every major conservation and personnel decision. After a long career in conservation and agency management at the Washington Department of Fish and Wildlife, her WSC legacy is rooted in a remarkable list of accomplishments, and in the high-quality leadership staff she's empowered to campaign on without her.
Defeating the Susitna Dam and the Skeena Estuary LNG terminal. Reaching agreement on the Oregon Private Timber Accords. Moving durable protections for Bristol Bay, Alaska, to the final stages. Building a coho restoration program on the Oregon Coast, and a cold water connection program in Washington.
All that happened on Sara's watch—though she'd be the first to attribute it to the hard work of her staff and our core partners. She also built a formidable federal affairs program, establishing Wild Salmon Center as a reliable, science-based partner for our Northwest delegation in Washington, D.C.
Sara helped Wild Salmon Center accomplish all this by hiring and elevating high performers. She has overseen the recruitment and promotion of six new directors at the organization, all well-positioned to carry on WSC's work in the coming years.
And she's approached everything with her characteristic, upper Midwest honesty—never mincing words, always letting everyone know where she stood. That came even if her opinion was unpopular.
We treasured Sara's frankness because, at the end of the day, she was usually right. Through decades of battles and negotiations over fish harvest, restoration budgets, and salmon habitat, she knew natural resources and conservation backwards and forwards.
We will miss her deeply. We'll miss her candor, her wit, her wisdom, her palette for whiskey, her pie-making skills, and most of all, her tough love. As WSC staff noted over and over at our December going-away party for Sara, she's been a true champion for the people around her, nurturing us through thick and thin.
WSC's Oakley Brooks and Ramona DeNies caught up with Sara for some final thoughts about her career, wild salmon, and what comes next for her. Ever the realist and the operationalist, she stayed true to form, right to the end.
***
WSC: How and when did you enter salmon conservation?
Sara LaBorde: I started working on salmon recovery in 1997, when I was ordered, by the Director of Fish & Wildlife, to be the salmon recovery czarina for the Washington Department of Fish and Wildlife's involvement in the state's seven salmon recovery plans.
What has changed in that time?
What hasn't changed is the elephant in the room. No agency has as its mission to recover salmon: no state agency, no federal agency. That creates a window to allow another 1000 cuts to salmon.
So any recovery that happens can't keep up with what is happening every day. We are not moving fast enough on the most important things to get done. We want to continue to do our development, take our water. No one wants to do what it takes to recover salmon. That has to change. Like now.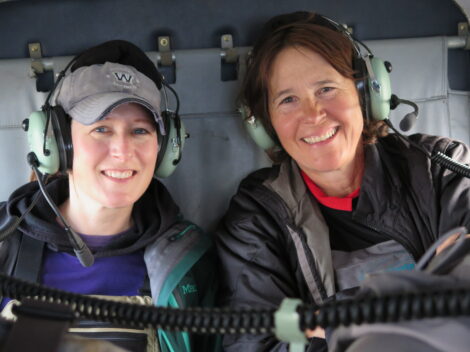 We did just create a major opportunity with the Oregon Timber Accords. Does that feel hopeful for you?
Two things need to happen to really land that. One, we need to get the science and policy work funded so that it actually gets implemented. And two, to move this dial, we need to connect with other landowners, including small private woodland landowners, so we're all working on this together. And we can't move forward without them. And then I think there's real potential for impact on that agreement over the long term.
Are there things we could learn from your experience negotiating with Washington's timber industry 20 years ago? How did that shake out?
The 2006 Washington Forest & Fish Law was historic. Personally, I think the biggest shift from it was the beginning of a significant presence of Tribes in the habitat side of the policy decision ledger. Billy Frank [the late, legendary Nisqually and Northwest Indian Fish Commission leader] drove everyone to connect salmon to habitat—and recognize that the Tribes were not going to stop pressing for functioning habitat.
When we look at Washington State, almost all the habitat gains were associated with Tribal leadership.
But Washington is still losing/converting important habitat from forest and ag to hobby farms and cities and highways. So while we may have timberland owners making improvement for salmon, cities and towns are eating into salmon habitat. I think the lesson there for both states as you move forward is you can't sacrifice one section of the salmon landscape for another. There has to be a strategy across all lands to make sure we're taking care of the things that salmon need—clean, cold water, wood in streams, wetlands and off-channel areas, among other needs.
If we're not looking at cold water access in the next five years, we should all be fired. All of us!
What kept you in this work, despite the inevitable frustrations and long runway to see results?
I'm driven by making people successful—making staff successful. Like, I probably should have just been a high school softball coach. Because I've always loved coaching, athletics, working with people to learn a skill or accomplish whatever they want to accomplish. That's what jazzes me, right? How do I make people, the system, be effective. I think I would have been happy in a lot of different realms.
If Wild Salmon Center is a team, then, and you're rooting for the team, what do you think we can accomplish?
We have an excellent team with that critical mix of policy, science, and implementation chops. This team values and understands the important contributions that are brought to the table by people other than us. Everyone knows that their true strength is what they provide to others.
Now the question is: What are the best levers to pull? I talk to Will (Atlas), Matt (Sloat), and Jess (Helsley) about this: how do you leverage, how do you impact, how do you change? How do you affect Pacific salmon management?
If we can advance that to where we are all working together, we could get somewhere. That's work we can do: set up those intermediary steps, get everyone in the room, pulling together, as we work on our end to figure out the climate piece.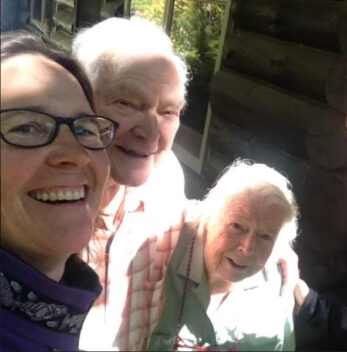 You've championed dam removal on the Klamath and Snake Rivers. What's another big thing you want done right now for salmon?
If we're not looking at cold water access, refugia that can be put into place in the next five years, we should all be fired. All of us! Everyone at a federal agency, state agency, anyone who's just playing status quo, should be fired. Now is the time that we need to ensure that we have cold water access and that habitats are in place.
That includes Snake River dam removal. They need to be on that in the next five years, getting everything in play to get them out. Because the Snake River Basin is projected to be more than 50 percent of the cold water habitat for salmon on the entire west coast! I was stunned when I realized that this one basin is as large as all of the Puget Sound watersheds combined. It is this massive, productive area that many of us have dismissed for too long, because this work is hard and messy. So yes, anyone who's not thinking about that should be fired.
Was there a place or an experience that really brought our work home?
Flying over Russia, seeing Russian rivers that are choked with wood. You have to fly into those places because there is no highway to get there. We were actually seeing and standing on top of 200 yards of large wood covering an entire stream. Right where all of these juvenile taimen are hiding out from the big boys, trying not to get eaten. That's what a productive river actually looks like. And then you fly back into the Portland airport. And you see the Columbia River with a highway running up both sides, not much wood anywhere. And that outlines the challenges and the opportunities. What a productive river should and could be.
You have been fortunate to work with some true leaders through the years. Anybody stand out?
Billy Frank. Everybody throws around the word authentic now. Billy was absolutely authentic all the time. He knew what he wanted. And he wanted these things improved, and he wanted it to move forward. And he would press that, and there were very few people that could speak to a point as well as Billy could or walk into a room and make almost every person there pay attention.
I don't know how Billy would like the comparison but you know, they talk about how Bill Clinton would come in and for 30 seconds, he would just focus on one person and they would just feel like a million dollars. Right? Billy was like that. There isn't a person in Puget Sound that doesn't have a story about Billy Frank. He'd say: "Sara, How the hell are you?" He would look right at you and make you feel part of it. He was key, and is still key to a whole lot of what happens in terms of salmon recovery.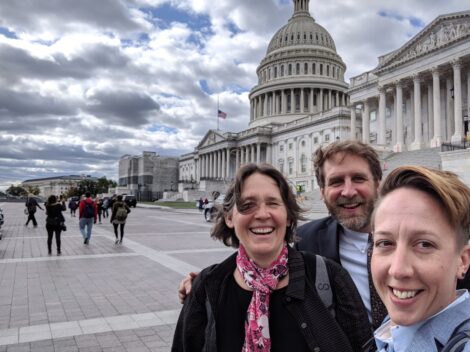 How are you going to spend your first year in retirement?
I'm looking forward to seeing all the places that I haven't had a chance to just sit around and walk in and see. I'm looking forward to seeing ruddy ducks do their spring display in Malheur National Wildlife Refuge. It's just awesome. They're just cute little buggers.
There's a whole lot of Oregon… and eastern Washington! There's the Southeastern US. We want to do the camping loop all the way around Lake Superior.
Every state has a great Rails to Trails bike path to be on to try. And then if we ever get to travel again, there's the Swiss Alps mountain hike from village to village. There's that Italian coastline to hike. There's a camino trip that goes from Porto, Portugal, up to Santiago De Compostela along the coast. So we're going to be moving a lot.