Campaign Update: It's official! Gov. Kate Brown signed the State Scenic Waterway designation. Thanks for all your work! Take a moment to thank Gov. Brown. And stay tuned for a possible celebration on the river later this summer.
The Nehalem River
The Nehalem River is an Oregon North Coast gem that is home to some of the best wild salmon and steelhead runs left in the Lower 48. From cold mountain streams to coastal estuary, the watershed includes important tributaries for salmon like the Salmonberry River. Surrounding forests, including the Tillamook and Clatsop state forests, provide key habitat for wildlife — including endangered marbled murrelets. The North Coast's longest river after the mighty Columbia, the Nehalem is also a cherished destination for Oregonians who hike, fish, camp, and float its clear waters.
Scenic Designation
The Oregon Parks and Recreation Department is currently assessing a stretch of the Nehalem River for a State Scenic Waterway designation. The segment is a picturesque 17.5 miles, from Spruce Run Campground to the Cougar Valley State Park, which meanders through public state forests and some private lands.
The State Scenic Waterway designation allows the state to reserve our natural waterways for their scenic, habitat and recreational values that Oregonians hold dear. The designation includes a management plan, determined by input from an advisory committee, that would encourage wise use within a quarter mile of the river's bank. This summer and fall, Wild Salmon Center is working on this advisory committee alongside other important partners: private landowners, community members, public land owners and conservation organizations.
The Nehalem is an ideal candidate for the designation, with old native forests, popular trails, scenic waterfalls, and prime habitat for fish and wildlife.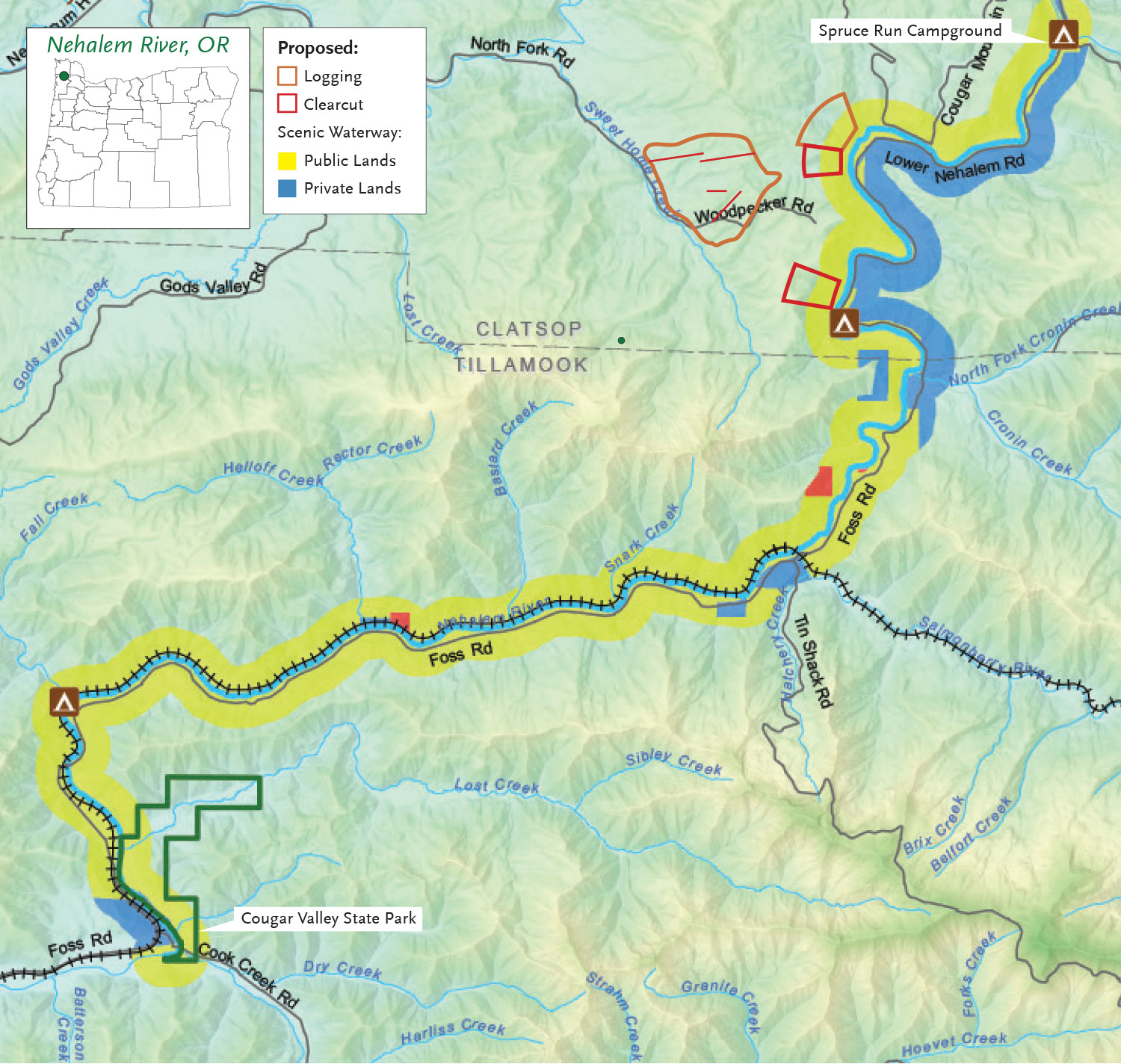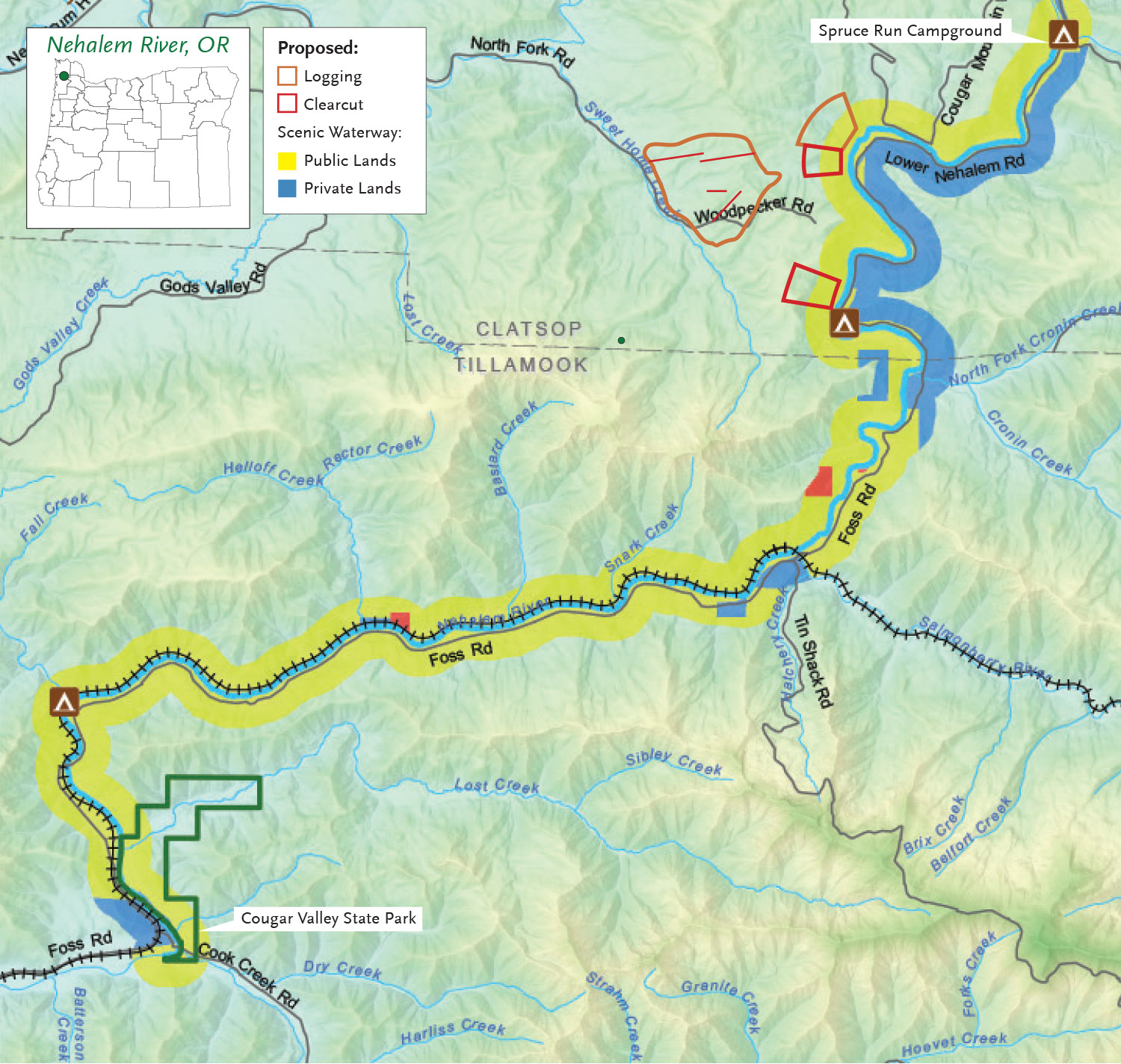 State Forest Management: Anything but Scenic
Unfortunately, Oregon's Department of Forestry still allows clear cutting close to the river's edge and throughout the Tillamook and Clatsop State Forests. Most recently, the department has proposed large clearcuts in the potential Nehalem River Scenic Waterway. Wild Salmon Center has joined ten partner groups to ask the Department of Forestry to defer the timber sale in the river corridor, as well as delaying opening over 750 net acres of older public forest (70+ years) to clearcutting and aerial spraying of approximately 7,200 acres.
The older forests surrounding the Nehalem help maintain and promote healthy riparian areas with vegetation and cover that provides cold-water fish habitat and protects water quality. The large limbs in these older forests also provide some of the only prime marbled murrelet habitat left in our state forests. Clear cutting these older forests would further harm the already endangered marbled murrelet.

If the Department of Forestry pursues the timber sale in the proposed Nehalem Scenic Waterway, it would not only be harmful to important salmon and marbled murrelet habitat, but also to the public who hike, fish, camp, and float the river.
Join our campaign!
Be a part of our movement to protect Oregon's Nehalem River and its forests. Sign up here to stay up to date and donate here to support WSC and our coalition work to ensure this river and its remarkable fish remain for generations to come.