Leading wild salmon and steelhead conservation with partners across the Pacific for over 25 years.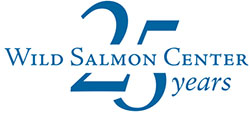 Thanks to the help of our partners and support of our donors, roughly 3 million acres of salmon habitat have been protected and 71 rivers are being managed for wild fish populations.
We salute all of you have supported us over the last 25 years, including those who have been with us for the long haul, year in and year out. You have made our success possible.
Explore our special edition 25 year retrospective report to see Wild Salmon Center's origins, our proudest moments, and some of the extraordinary people who have championed stronghold conservation.