Governor backs conservation areas for Oregon's North Coast forests.
Governor John Kitzhaber addressed the Oregon Board of Forestry in early November and challenged them to seek "a visible and durable conservation area commitment in a scientifically meaningful manner." Kitzhaber called for setting aside conservation areas within the state forests where management would be free from a focus on commercial timber harvest. These protected areas would protect anchor habitat for salmon and other native wildlife, as well as areas for recreation.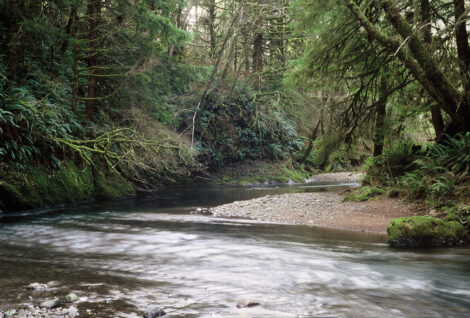 Currently, the Tillamook and Clatsop State Forests contain no significant tracts of land permanently off limits to logging and road-building. Earlier this year, an independent science review by Oregon State University's Institute for Natural Resources said the Department of Forestry's plans to increase clearcutting and reduce protections for fish was not based on the best available science.
WSC and other conservation and fish protection organizations testified at the Board of Forestry meeting in support of protections for high-priority conservation areas in the Tillamook, Clatsop and other state forests.
"We need conservation areas to ensure the long-term health of these forests and the salmon that depend on them," noted WSC's Bob Van Dyk.
The Sierra Club presented a stack of more than 1,250 names of state forest users who signed a petition this summer calling for the creation of permanent protected areas on state forests. The Board agreed to put a higher emphasis on the issue in the 2012 work plan.