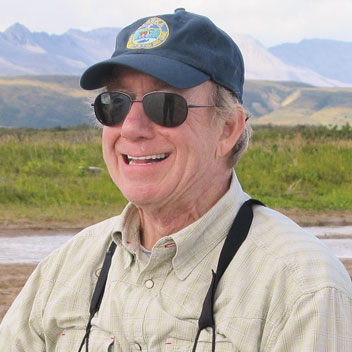 Hometown: Vero Beach, Florida
Occupation: Chairman and Partner, J.W. Childs Associates
What drew you to Wild Salmon Center?
I like fishing for salmon and I want to make sure they are around forever.
My cousin Starling Lawrence knew Guido and he said, "You need to meet him."
What's your favorite river?
For salmon, it's the rivers in Alaska around the Bristol Bay area – the Nushagak, Togiak, Kvichak, Naknek, and the Igigugig. As for favorites, I'm equally divided between silvers and sockeye.
Outside Bristol Bay, it's Yantarni Creek, which runs into the Pacific. It's a runoff from Alaska Range – not a massive river but it has a fantastic silver salmon run.
How do you see the future in Alaska – how do we keep it protected?
I'm counting on Guido and (Alaska Sr Program Manager) Emily Anderson to keep it all protected. I'm trying to do what I can to help out.
One of the biggest threats is the Pebble Mine. Certainly, it's one of the things Guido and I collaborated on early. The mine project is sort of smoldering there, now. I think as long as the price of gold and copper stays low, we don't have as much to worry about.
Undoubtedly, there will be other natural resource projects in Alaska. We have to contain them so that they don't threaten salmon runs – it's a continuing issue.
Is there a sense of hope for you, in terms of fish and rivers and wild places?
I think the Wild Salmon Center has done a phenomenal job in mobilizing interest in protecting salmon habit across the entire Pacific. It's one thing to do it in Alaska. What's impressive about WSC is they have been able to do it in a place like Russia, which is not an easy place to work.
Where are you headed to next?
I'm looking forward to going up to Alaska this summer for the sockeye runs. When you're flying over the Kvichak River, you can see this ribbon of fish going for miles along the shoreline. It's a very impressive show.
Mr. Childs is Founder, Chairman and Partner of J.W. Childs Associates, a Boston-based established private equity firm specializing in leveraged buyouts and recapitalizations of middle-market growth companies. Prior to founding J.W. Childs Associates in 1995, John was Senior Managing Director of the Thomas H. Lee (THL) Company from 1991 to 1995 and a Managing Director from 1987 to 1990. In these capacities, he had broad responsibilities for originating, analyzing, negotiating, and managing leveraged buyout transactions for the THL funds. John spearheaded what is considered one of the most successful leveraged buyouts in history with THL's acquisition of Snapple.
For seventeen years prior to joining THL, John was an executive at Prudential Insurance Company of America where he held various positions in the investment area, ultimately serving as Senior Managing Director in charge of the Capital Markets Group. In that position, from 1984 to 1987, he was responsible for Prudential's approximately $77 billion fixed income portfolio, including all the Capital Markets Group's investments in leveraged acquisitions. John is currently a director of Sunny Delight, Esselte, Mattress Firm, WS Packaging and SimCom. Prior to its sale, he was Chairman of the Board of CHG Healthcare Services. He also serves on the board of directors of Club for Growth and the Salisbury School.
John supports wetlands conservation, volunteering as president of Wetlands Americas Trust, which provides the financial support for Ducks Unlimited, a Florida-based nonprofit that conserves and restores wetland habitat for waterfowl. John has a B.A. from Yale University and a M.B.A. from Columbia University; he resides in Boston and spends much of his time at his additional home in Vero Beach, Florida.