First Nations and conservation partners vow to press on, for permanent protection of the Skeena River estuary.
Today, Canadian Prime Minister Justin Trudeau's cabinet announced the conditional approval of a liquefied natural gas facility at the mouth of the globally important Skeena River.
But First Nations leaders and local conservation groups who have long opposed the Pacific Northwest LNG project – calling the Skeena estuary site the "worst possible place" for an export facility – have vowed to continue their resistance.
They will now be launching a series of legal actions to challenge the approval in court.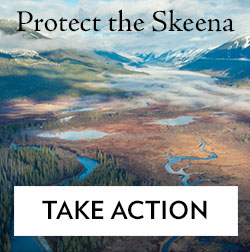 "The Skeena River is our food basket. It provides food security and supports our ceremonial and traditional economy. There is ample scientific evidence that the PNW mega-project threatens our salmon and other fisheries while also undermining Canada's international climate change commitments," said traditional leaders of the Allied Tribes of Lax Kw'alaams, Gitanyow, Gitxsan, Wet'suwet'en, Lake Babine, and Takla Lake First Nations in a joint statement.
"Providing a green light for this project at this time will only lead to protracted litigation which benefits no one. We urge the Government to show leadership now by including our communities in full and meaningful consultations."
Local conservation groups recommitted to protecting the Skeena River.
"Our fight has just begun," says Greg Knox, executive director of SkeenaWild. "This announcement is profoundly disappointing, but expected. The Federal government has failed the people of Canada by approving the largest climate emitter in Canadian history. This government is ignoring First Nations constitutional rights and has failed the people of the Skeena – putting our salmon at grave risk.
"Now, we will take our fight to the next level. Over the last year, we have prepared, with our aboriginal partners, to launch a series of legal actions, and we are prepared to go all the way. Multiple other strategies are in play and under development. We also have economics on our side.
"Adversity only brings us together and makes us strong. I am absolutely confident this project will never be built. "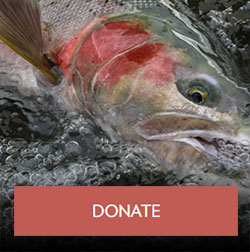 The multiple cases will charge that the Canadian environmental review process for the Pacific Northwest LNG project was deeply flawed and, among other things, did not adequately consider impacts to salmon habitat and salmon as a food source for First Nations. The Skeena coalition has enlisted an expert team of British Columbia environmental and aboriginal lawyers, who are convinced the legal cases have strong merit and build on a long legal precedent upholding First Nations rights in British Columbia.
>>DONATE to the Skeena Stronghold Partnership today.
The $11.4 billion Pacific Northwest LNG cooling and export facility would be built next to and over some of the most important wild salmon habitat in Canada, a sandy eelgrass bed called Flora Bank that hosts hundreds of millions of juvenile salmon every year on their way out to sea.
Scientists, conservationists, and First Nations leaders up and down the river have clearly stated that the facility, backed by Malaysia's state oil company Petronas, is a monumental threat to salmon.
Stay tuned to wildsalmoncenter.org for more news about the Skeena Stronghold campaign.