Increased anti-poaching efforts tied to healthy salmon runs on Sakhalin Island's northeast coast.
Fishermen organized into a collaborative on the northeast coast of Sakhalin Island are crediting increased anti-poaching efforts and rivers patrols with healthy salmon returns and harvest last year.
Salmon harvest on the northeast coast totaled 26.8 K tonnes in 2016. In contrast, harvests on the southern end of the island were 1.3 K tonnes.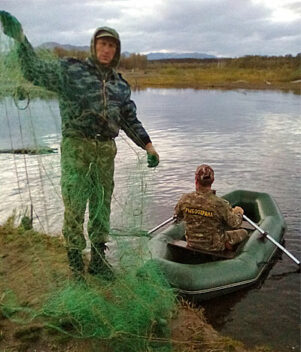 Aniva Bay, a vast inlet at the southern tip of Sakhalin and once one of the most prolific salmon producing areas of Sakhalin, was closed entirely to salmon fishing in 2016. It has been heavily developed by the oil and gas industry and subject to overfishing on unpatrolled rivers.
Fishermen, like longtime Wild Salmon Center ally Vladimir Smirnov, hold the commercial leases for pink and chum harvest on 13 rivers on Sakhalin's northeast coast – an area they are dubbing the Wild Salmon Territory. Smirnov has spent the last 16 years protecting the Langeri River. Other companies have followed suit and have committed to combating poaching, eliminating in-river fishing with damaging river-spanning nets, and keeping the region "hatchery free." They have spent the last two years ratcheting up efforts and extending anti-poaching programs to to nearly one million acres in the region, including the Nabil River (pictured above) and Sakhalin's 165,000-acre Vostochny Reserve.
"These fishermen are setting a powerful example about conservation and the fruits of their labors are bearing out," says Dmitry Lisitsyn, a Sakhalin Island conservationist and Wild Salmon Center partner who is helping to coordinate the Wild Salmon Territory project.
Participating fishermen are also working with the Russian Academy of Sciences to establish limits for responsible pink and chum salmon catches in the region. The group recently submitted formal paperwork to become the Northeast Sakhalin Sustainable Fisheries Association.
In the future, Lisitsyn says that the group will work toward processing fresh fish for regional markets and branding them with the Wild Salmon Territory label. A member of the collaborative has already registered the Wild Salmon Territory trademark.
"Now we need to work on strong traceability measures for these products," Lisitsyn says, "in order to ensure the integrity of the brand in the marketplace."