State-level efforts ramp up to protect Alaska's world class salmon habitat.
As new threats mount for salmon in Alaska and federal protections disappear, local policy reform efforts are progressing in the "salmon state."
After winning a court decision in early October, the Stand for Salmon coalition, which includes Wild Salmon Center, gained provisional approval for a statewide ballot initiative that would update fish habitat laws.
Salmon advocates are now collecting signatures for the initiative to go on the Alaska ballot in November 2018.
The initiative would put specific, enforceable habitat protection measures into Alaska state law. Current law is vague, making it subject to political interference. It also allows outdated mitigation measures for developers building in and around salmon streams – including offsetting damaged wild salmon runs with habitat restoration elsewhere in the state.
The need for stronger habitat protection laws is now greater than ever.
Alaska's greatest wild salmon and trout stronghold – Bristol Bay – is back under attack. Pebble Mine is back on the table.
As WSC President and CEO Guido Rahr told a WSC gala audience last month in San Francisco, "This is the biggest threat to wild salmon of our generation. After losing so many of the world's wild salmon runs, we simply cannot afford to lose Bristol Bay."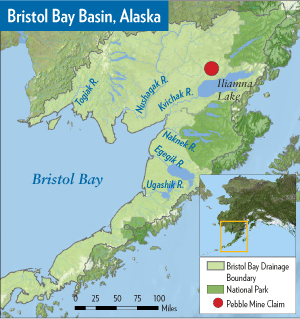 Bristol Bay's abundant, clear, cold rivers support world-class sport fishing, more than half of the world's sockeye salmon, a $1.5 billion commerical fishing economy, and subsistence communities throughout the region.
But if fully developed, Pebble would be one of the world's largest open pit mines, wiping out up to 94 miles of salmon-bearing streams and 5,350 acres of wetlands, ponds, and lakes in Bristol Bay's headwaters.
In 2014, after conducting a three-year assessment to evaluate the potential impacts of the Pebble Mine, the EPA initiated a process under the Clean Water Act to safeguard the watershed. But under Scott Pruitt, the EPA's new administrator, the agency has abandoned those Clean Water Act protections.
With federal protections removed under Pruitt and the Trump Administration, the best conservation opportunity is state level protections.
The Alaska ballot measure still has a challenging political gauntlet to run over the next year, not least surviving further legal challenges and an expensive information war launched by industry forces.
But to leave Bristol Bay and the rest of the state's salmon runs exposed to heavy, unchecked development is to put the future of Pacific salmon in jeopardy. For Alaska fishermen, Alaska Native communities and almost every outdoorsman and outdoorswoman across the state, salmon are central to their way of life.
Building on a decade of in-state work by our Alaska program manager Emily Anderson, we will redouble our efforts this year within the Stand for Salmon coalition, providing legal, financial and communications support.
We will help them prevail. The best wild salmon runs and the last healthy salmon society on Earth are at stake.
Support Wild Salmon Center and our efforts to protect Bristol Bay and Alaska's finest wild salmon rivers.