Timber industry, conservation groups, including Wild Salmon Center, sign promising agreement to pursue more effective forest practices on private lands in Oregon.
Today, Governor Kate Brown announced a new path of cooperation between the timber industry and conservation groups including Wild Salmon Center. A Memorandum of Understanding between a dozen Oregon timber companies and an equal number of conservation groups includes new rules on aerial pesticide spraying, new protections for streams in the Rogue-Siskiyou region of Southwest Oregon, and a new framework for developing comprehensive protections for salmon and other endangered species that depend on clean, cold water throughout the state.
Wild Salmon Center has been working for more than 20 years to update forest policies across the state, to ensure salmon have clean, cold water and adequate habitat for spawning and rearing. Now, WSC has signed on to this agreement, in the belief that it provides a potentially better pathway for protecting Oregon's salmon and steelhead runs and adapting to a changing climate. (Here's a a primer on the pact, with highlights and further context.)
After today's agreement, the Oregon Legislature will take up a package that includes new provisions on aerial pesticide spray, Rogue-Siskiyou stream rules, and support for a comprehensive habitat protection plan.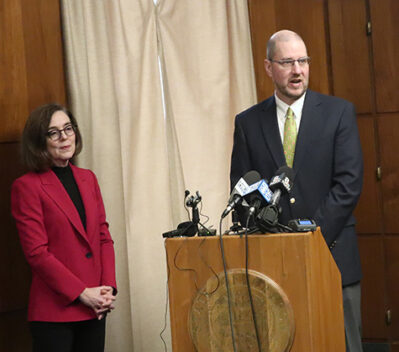 Wild Salmon Center's Bob Van Dyk, who has worked on Oregon forest policy for two decades, said this today at the Capitol:
"It's a great privilege to be here today as a party to this announcement.
Almost twenty years ago, Oregon's forest laws diverged from our neighbors in Washington State. Washington State worked through a difficult but collaborative process to reform their forest laws.The process resulted in major changes to better conserve wild salmon and clean water, while giving the timber industry more regulatory certainty.
In Oregon we never developed that critical mass for compromise. Instead, we argued in front of the Board of Forestry. We filed lawsuits. We fought over legislation. Wild Salmon Center and the many signers of the MOU today have been at the heart of these 20 years of struggle. The result has been a lack of trust, gridlock on forest policy, and growing citizen demand for better forest rules to protect people, clean water, and fish and wildlife.
Today we are starting a new approach. The MOU signed today, and the companion legislation on aerial spray of pesticides, are taking a similar path to that in Washington State. It is a path of collaboration toward the stronger conservation measures our groups seek, and toward the certainty the forest industry needs.
For many of the people and organizations in the conservation community who signed this MOU, this new approach is unfamiliar and unsettling. Pursue legislation in partnership with the industry? Should we do that? It is a good question. As Mark Twain wrote, "Whenever you find yourself on the side of the majority, it is time to pause and reflect." On reflection, we have decided it is worth trying something new.
I want to acknowledge that this isn't easy for anyone. The immediate reforms announced today on aerial spray, together with the improvements to rules protecting the Rogue region, are a real and meaningful step by the forest products industry in a new direction. And then on to more difficult steps, working toward a Habitat Conservation Plan for Oregon's forests.
Of course the prospects for this effort are uncertain, as are most ambitious undertakings.  But our agreement today is the right start.
I want to end by thanking the Governor and her team for helping to convene this conversation, and for the support she has expressed for the result. It truly would not have happened without her."
Wild Salmon Center President and CEO Guido Rahr, who has also been working to reform Oregon forest policy for two decades, had these comments:
"Two of Oregon's greatest treasures are its wild fish and wild rivers, and Western Oregon rivers hold the greatest concentrations of healthy wild salmon and steelhead stocks remaining south of Canada. Science clearly tells us that we need to modernize our forest practices in Oregon, to properly protect these rivers and streams and the wild fish that call them home. 

We've spent many years fighting about salmon and clean water. But today we're demonstrating shared values around protecting the things that make Oregon awesome. Today, we are plotting a new cooperative path to update timber practices and protect salmon. We firmly believe we can get better results this way. I want to applaud this new spirit of collaboration. I want to thank the Governor for stewarding this agreement. I want to also acknowledge the long, hard work of our staff, particularly Bob Van Dyk, to bring about this agreement. And we need to thank the citizens and communities throughout Oregon that have spoken up in favor of new protections.
There's still much work to be done to secure needed habitat protection for salmon. But after today's announcement I'm optimistic that we'll be able to complete that journey together."