Wild Salmon Center joins Bristol Bay leaders in calling for permanent protections, to end regional mining threats for good.
On Wednesday, the people of Bristol Bay made clear that the fight against Pebble Mine will only end with one final, crucial step: permanent protections. In a press statement, core Tribal and leadership organizations – United Tribes of Bristol Bay, Bristol Bay Economic Development Corporation, and Bristol Bay Native Association – called on the incoming Biden Administration to secure lasting protections for Bristol Bay.
"True protections for Bristol Bay must stop the immediate threat of mining, ensure that no future proposal will hurtle through the federal permitting process unchecked, and provide a lasting guarantee to future generations that our lands and waters will not become a mining district," said UTBB Board President Robert Heyano. "Any protections that do not meet this standard are unacceptable."
This comes on the heels of last week's news that the U.S. Army Corps of Engineers rejected Pebble's permit application. The Army Corps determined that the mine was too destructive and not "in the public interest."
Pebble's parent company has vowed to appeal the decision and keep fighting to build a mine in the headwaters of two of Bristol Bay's most important salmon rivers.
Wild Salmon Center has been consistent through the years in calling for Clean Water Act protections for Bristol Bay. Today, we stand with the people of Bristol Bay in their call for permanent protection for one of the greatest remaining salmon strongholds on the planet.
"After the denial of Pebble's permit last week, now is the time to permanently protect Bristol Bay," stated Emily Anderson, Wild Salmon Center's Alaska Director. "Pebble officials insist they are not quitting. Therefore, we need to be clear that we're not backing down, either. We need to ensure that Bristol Bay is protected and the threat of Pebble is fully extinguished."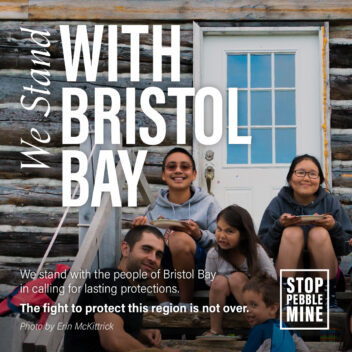 In issuing this call for protection, Bristol Bay organizations outlined a two step process. The first begins with EPA using its authority under the Clean Water Act to restrict mining in the watershed. The second outlines a proposed path for congressional action that could protect Bristol Bay in perpetuity, through the creation of a national fisheries area.
It is time to permanently protect Bristol Bay – to ensure that it will continue to provide for current and future generations of Alaska Native people and supply jobs and healthy, sustainable food to people around the nation and around the world.
Join the people of Bristol Bay, WSC and our Bristol Bay Defense Fund partners by adding your name to the Call to Protect Bristol Bay here: https://stoppebbleminenow.org/take-action/