While COP 26 failed to secure national commitments that would stop global warming, salmon and ecosystems gained a new role in the climate solutions dialogue.
COP 26 is a wrap and, unfortunately, international delegates left Glasgow with a lot of unfinished business. The United Nations Climate Conference failed to establish a firm path to achieving global climate stability by keeping the average global temperature rise under 1.5 degrees Celsius. That's even as the world—including states and provinces across the range of salmon—have experienced some of the worst climate impacts ever recorded over the last year.
How to move forward? We continue to see salmon and ecosystem conservation as a key vehicle for adapting to and slowing climate change. Our work matters more than ever. And nature's role in climate action is gaining increasing recognition, with its own pavilion at COP 26 and more than 200 events on the topic. Governments and philanthropic organizations pledged to stop deforestation globally by 2030 and committed billions to nature-based solutions, including $1.7 billion for Indigenous and local communities stewardship efforts. And for all its shortcomings, the final language of the COP 26 unanimous agreement called out "the importance of protecting, conserving and restoring nature and ecosystems."
We saw more positive developments stemming from our global alliance of salmon organizations' placement of Joseph Rossano's Salmon School exhibit within COP 26 in Glasgow.
As a fixture in the main Blue Zone dining area, Salmon School and its associated messaging were viewed by thousands of delegates every day during the two-week conference.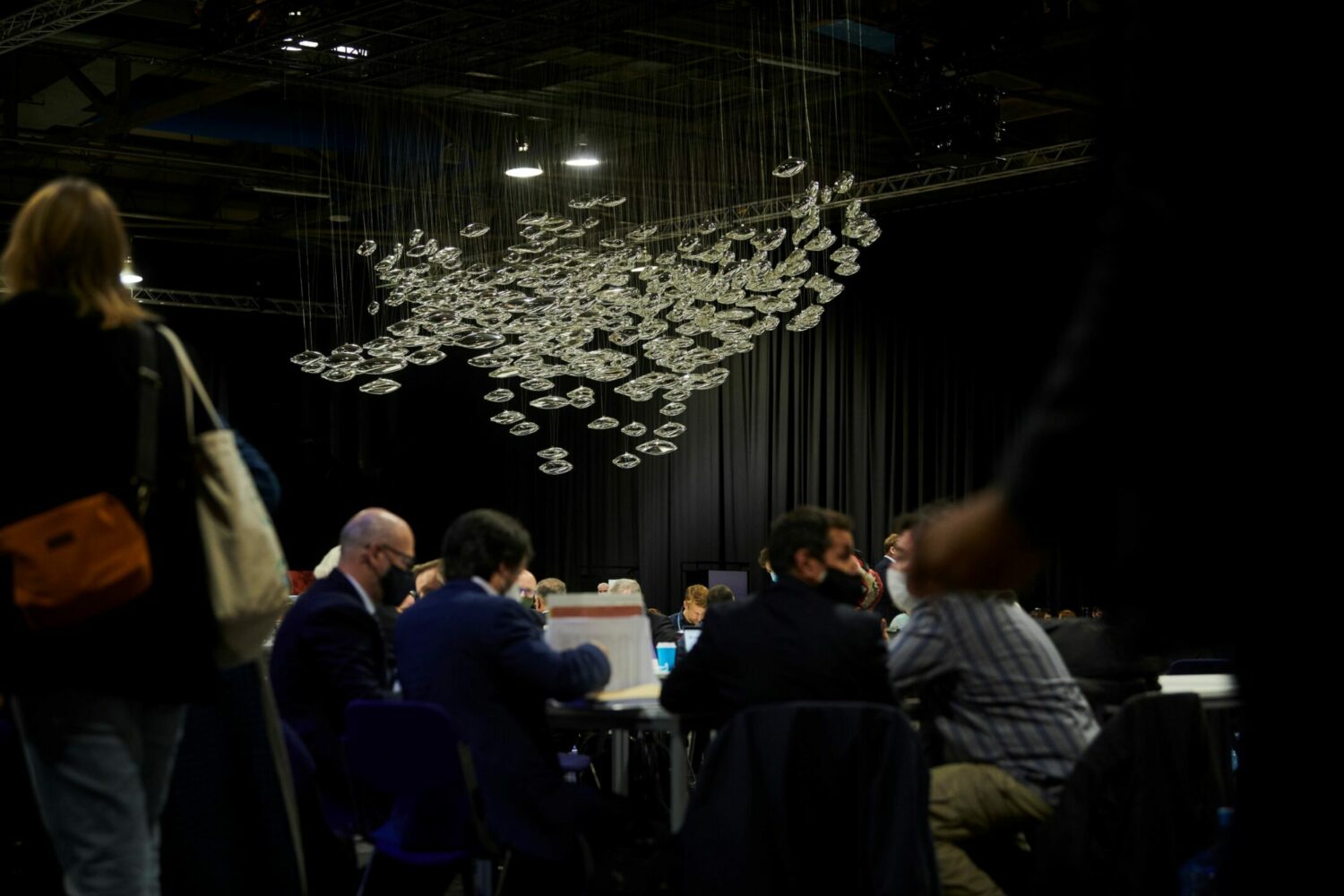 Key decision makers from around the world met with artists Joseph Rossano and Salmon School conservation network members.
Inspired by the sculpture, the Scottish Parliament recognized in a floor motion that "wild salmon need free access to cold, clean water and that concerted action is required to protect salmon, and other native species, from what it sees as the twin crises of climate change and biodiversity loss."
Building on the momentum of its showing at COP 26, Salmon School will now begin a world tour, details forthcoming, to carry its message of caution and hope in the face of climate change to communities and school children across the Northern Hemisphere.
We want to thank generous sponsors who supported the creation of this sculpture and associated storytelling, including our colleagues and friends at World Salmon Forum, Orrick, Sea Legacy, and True Blue Strategies.
WSC will continue to deepen our work at the nexus of climate action and salmon conservation.
As an organization working for tangible results on the most important rivers in the North Pacific, we know how crucial it is to give wild fish time and space to adapt to changes. And we will do our part to protect and restore the best remaining watersheds to slow climate change.
We remain as committed as ever to accelerating our work and leaning into hard challenges.