Preliminary Pebble Mine site plans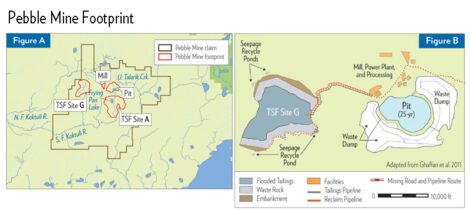 Preliminary designs presented by Northern Dynasty in 2006 proposed two tailings storage facilities (TSFs) at Sites A and G. Combined, these TSFs can store 2.5 billion tons of mine waste, less than a quarter of the estimated 10.8 billion tons of ore on site (Figure A).
An updated site plan contained in the Preliminary Assessment shows only a single TSF (site G), which could store two billion tons of waste under a 25 year operating scenario (Figure B). The Preliminary Assessment considers revenue potential associated with longer term scenarios (45 and 78 years) but does not describe how or where additional waste would be stored.
Taken from "Bristol Bay's Wild Salmon Ecosystems and the Pebble Mine." For a more detailed explanation of this graphic, please see the full report.
For a higher resolution version of this diagram, please email info@www.wildsalmoncenter.org.
Images and text © Wild Salmon Center
Click below to view or download the image: