Storing Pebble Mine waste in perpetuity, with high risk for seepage.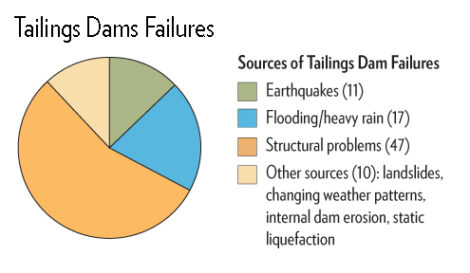 Any failure of a tailings dam represents a catastrophic threat to the Bristol Bay region, where considerable seismic activity and extreme weather conditions call into question whether acid generating ore and other mine wastes can be safely stored in perpetuity. The technical literature fails to show an example of any similar metal-mine tailings impoundment that has not released toxic contaminants into the environment over the long-term via chronic seepage – especially following site closure. For case studies of past mine failures, see the report (refer to page viii for directory).
Taken from "Bristol Bay's Wild Salmon Ecosystems and the Pebble Mine". For a more detailed explanation of this graphic, please see the full report.
For a higher resolution version of this diagram, please email info@www.wildsalmoncenter.org.
Images and text © Wild Salmon Center
Click below to view or download the diagram: