A guide to buying and cooking wild salmon.
They're two of the most frequent questions we get from people: should I eat salmon? And if so, which kind? The short answer is YES, but like any food derived from the wild, it's part of a complex ecological web and has to be approached with care.
Here at Wild Salmon Center our mission is based on ensuring the long-term health of wild salmon populations, and we believe being a conscious consumer of wild salmon is an important part of the species' conservation. Here's why:
When you protect salmon, you protect a whole watershed and everything in it. The most beautiful rivers of the Pacific all depend on salmon;
Eating and purchasing wild salmon fuels a $3 billion fishing industry, provides thousands of jobs, and supports countless communities across the Pacific; and
Salmon are a superfood, packed with essential nutrients, and one of our last wild proteins.
We've partnered with Portland-based and James Beard award-winning cookbook author, Diane Morgan, to give you a guide to eating and cooking salmon, along with two recipes from her new cookbook, Salmon: Everything You Need to Know + 45 Recipes. By knowing two things – where your salmon comes from and what species it is – you can be a better steward while enjoying these delicious and healthy fish.
See more from our Eat This Salmon series.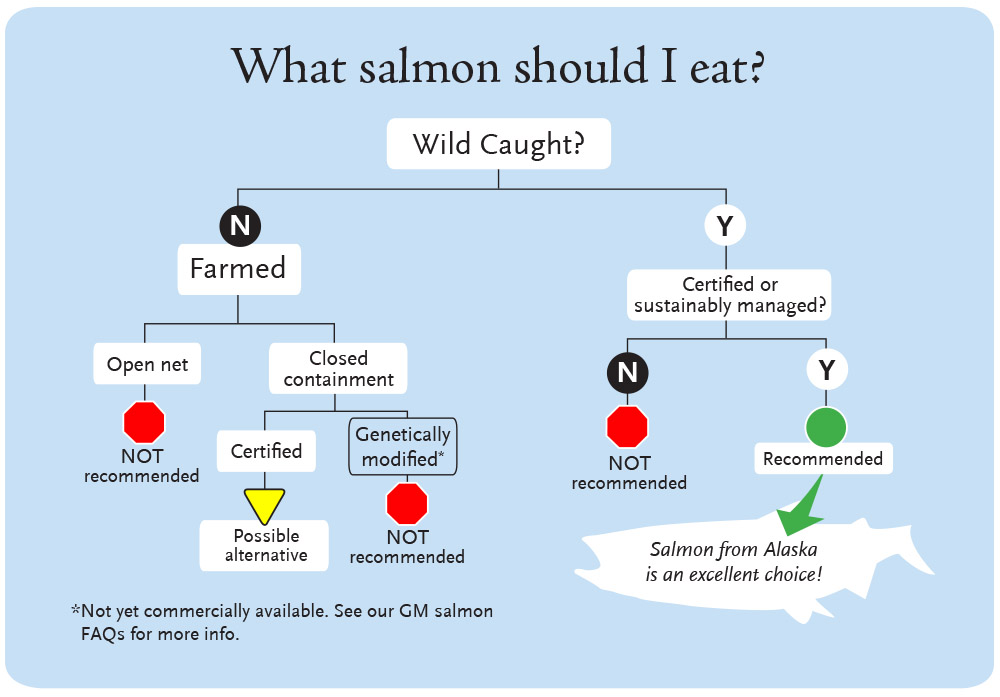 We've provided a lot of useful information below, but if you need a quick answer and fall back, here's one: go with wild Alaskan salmon.
---
Wild versus Farmed Salmon: What's the difference?
Wild-Caught
The term "wild caught" means that the salmon was caught in the wild. Some wild-caught salmon originate from hatcheries to supplement wild stocks. As long as these hatcheries are managed to have a minimum impact on wild populations, wild-caught is your best bet when purchasing salmon. These fish matured to adulthood in the wild, at a natural pace, and ate a wild, marine diet. Unlike Atlantic salmon, there are still healthy wild stocks of Pacific salmon. Alaska for example, ranks as one of the world's healthiest and best managed fisheries due to management based on sustainable yield – the idea that you harvest only the amount that doesn't jeopardize the long term health of fish stocks.
We suggest buying wild-caught Alaskan salmon.
Top Three Ways to Make Sure Your "Wild Salmon" isn't a Fraud
There's been a lot of documentation lately of seafood being mislabeled. To ensure that the salmon you are purchasing is truly "as advertised," take these precautions:
Purchase salmon with recognized certification labels of sustainability like the Marine Stewardship Council (MSC). Better yet, purchase straight from the source – either from the processor or a community supported fishery.
Any fish marketed as both "fresh" and "wild" in the winter months is likely a fraud. Either it is farmed, or it is wild and has been flash-frozen – which is a completely acceptable option in the non-season months.
If it seems too good to be true (i.e. low price for premium fish), it probably is.
Farmed Salmon
Farmed salmon are commercially raised fish in some form of an enclosure. Fish farms do vary but, in terms of what to look for as a consumer, they can be divided into two categories: open net pens and closed-containment systems.
Open Net Pens
Open net pens are usually located in coastal waters in a cage or net system, such as the salmon farms off the coast of British Columbia. Evidence points to these open net pens still not being a good choice.
Here's what you need to know:
Fish escaping is a big problem. When farmed salmon escape into the wild and breed with wild fish it reduces the genetic diversity and fitness of wild populations. Escaped fish also spread parasites and diseases.
Over-crowding breeds diseases and requires chemical interventions. Many net pens rapidly spread diseases and sea lice, requiring farmed fish to be treated with chemicals. Sea lice, while rarely found on juvenile fish in the wild are increasingly seen on juveniles in areas where net pens are located.
Pigment coloring is not an uncommon practice. Some farms use synthetic carotenoid pigments to give the farmed fish the 'natural' color of their wild counterparts.
Pollution is common. Uneaten feed and feces accumulate at the bottom of the pens, creating large concentrations of pollutants in the surrounding water, depleting oxygen levels, and releasing noxious gases into the water and atmosphere.
Closed-Containment Systems
Closed-containment systems utilize an impenetrable barrier that separates the farmed fish from the outside environment. A closed system prevents the transmission of diseases and parasites, eliminates issues with escapement, requires fewer chemicals, and uses less feed. Another benefit is the waste gets treated within the system instead of being pumped into the ocean. Living Oceans has been engaged in the development of sustainable standards for aquaculture practices and says that while this type of system is on the rise, its use is limited due to its high cost of investment and the production costs per fish.
We suggest you avoid purchasing farmed salmon from open net pen farms due to their negative environmental impacts and health drawbacks. If sustainably-caught wild salmon is not an option, we suggest you only choose salmon farmed in a closed-containment system, and from a reputable source with a recognized certification program.
---
Types of Salmon: What are my choices?
There are six species of salmon that you are likely to encounter at the fish market or backyard barbecue.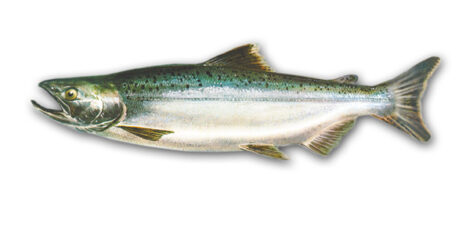 Chinook (King) O. tshawytscha
Wild Sources: CA, OR, WA, B.C., AK. Some populations in CA, OR, and WA are listed as Endangered under the Endangered Species Act (ESA)
Fresh Seasonal Availability: April through September.
Qualities: Has the highest amount of Omega-3 fatty acids of all the salmon species. Flesh ranges from off white to red/orange.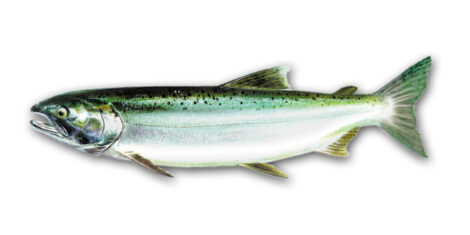 Coho (Silver) O.kisutch
Wild Sources: CA, OR, WA, B.C., AK. CA and OR stocks are classified as Threatened under the E.S.A.
Fresh Seasonal Availability: July through October.
Qualities: Similar to Chinook in flavor, their flesh is firmly textured and ranges from deep red to pinkish orange.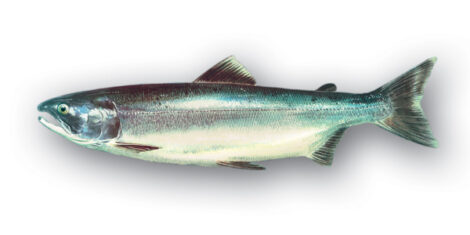 Sockeye (Red) O. nerka
Wild Sources: B.C., AK. Alaska accounts for 73% of all sockeye salmon caught.
Fresh Seasonal Availability: May through September.
Qualities: Bright, deep orange flesh with high fat content. Very popular for canning and smoking.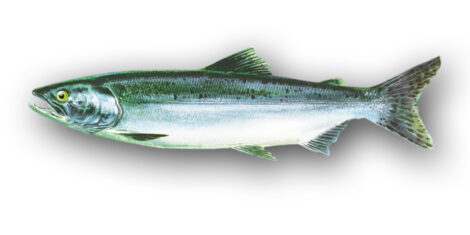 Pink (Humpback) O. gorbuscha
Wild Sources: Commercially fished from Washington up to Alaska.
Fresh Seasonal Availability: July and August.
Qualities: Milder in flavor, the flesh is pink, lean, and finely textured. Widely used for canning or sold whole at bargain prices.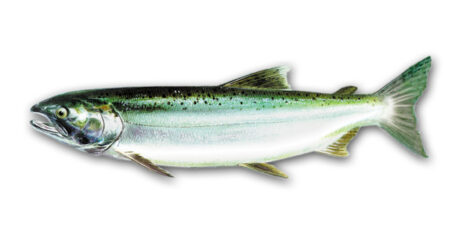 Chum (Keta or Dog) O. keta
Wild Sources: Commercially fished from Washington up to Alaska.
Fresh Seasonal Availability: June through October.
Qualities: Sometimes labelled as "Keta." If caught in the ocean, they will have reddish flesh and be called "silver brites" which are higher in price than those labelled "semi-brites" or "darks" which have paler flesh. Usually sold as salmon burgers or sausages.
Steelhead (Chrome) O. mykiss
Wild Sources: Avoid purchasing steelhead marketed as "wild." Most, if not all steelhead found in markets is farmed. Some farmed steelhead have chemicals added to their feed and get their meat color from synthetic carotenoid pigment.
Fresh Seasonal Availability: Farmed year round.
Qualities: The flesh is usually bright red and rich or pink to white, depending on their diet.
What about GMO Salmon?
While the World Health Organization, American Medical Association, and National Academy of Sciences have all determined that GMO food is not hazardous to human health, eat GMO salmon at your own risk. Wild Salmon Center is concerned about the environmental risks and implications of genetically modified salmon in the wild. And that is why we do favor labeling GMO foods.
---
Eating Salmon: What are the health benefits?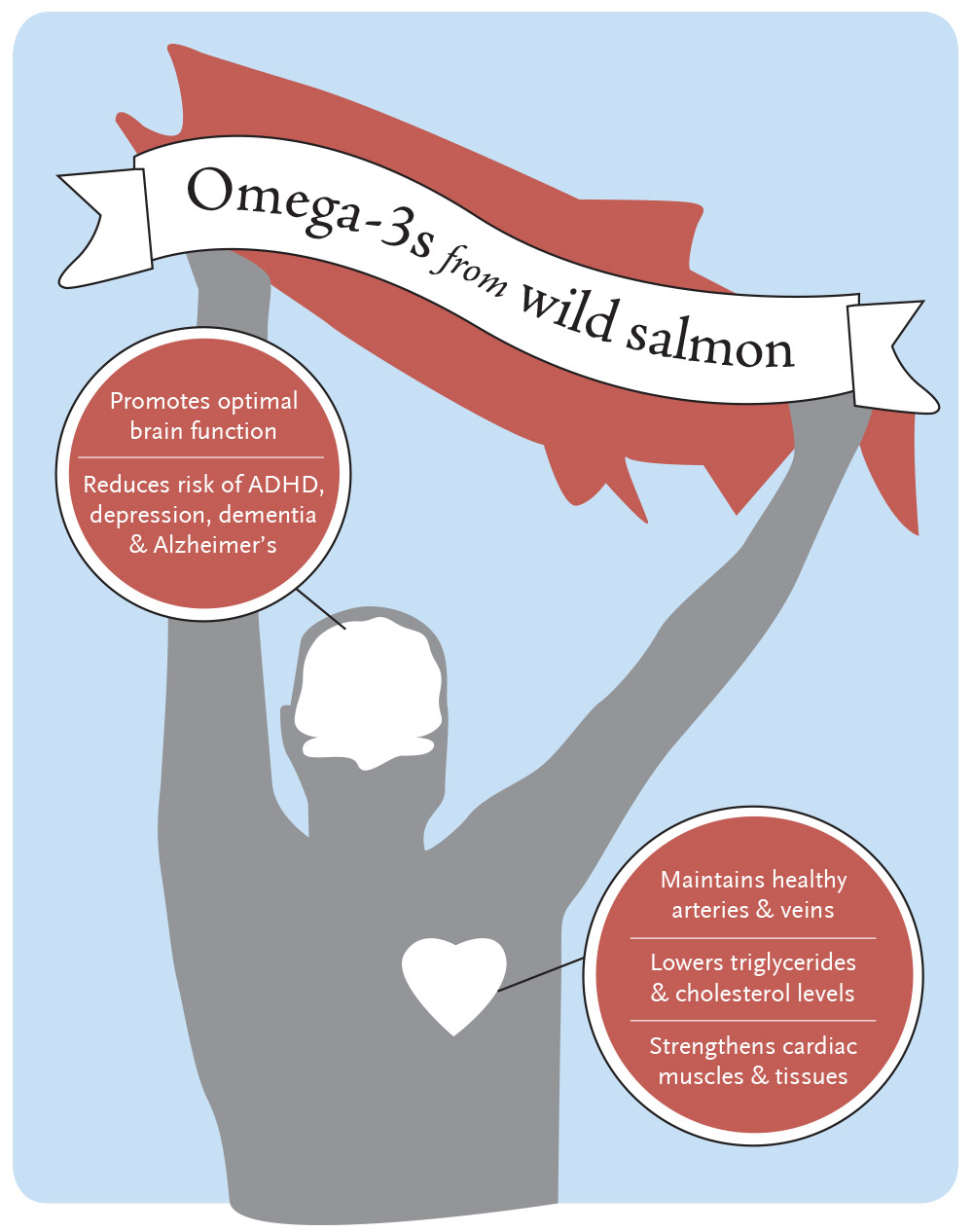 Salmon is a mighty powerful superfood. Packed with marine-derived Omega-3s, salmon also contains significant amounts of vitamin D, A, E, B6 and B12, niacin, and riboflavin. The American Heart Association recommends eating fish (particularly fatty fish) at least two times a week.
Salmon can contribute to a healthy heart by:
Lowering triglycerides and cholesterol levels
Contributing Omega-3s to maintain healthy arteries and veins
Strengthening cardiac muscles and repairing cardiovascular tissues
Salmon can contribute to a healthy brain by:
Promoting mood related signals and optimal brain function
Reducing the risk of depression, ADHD, schizophrenia, bipolar disorder, and dementia
---
Wild Salmon Recipes
Here are two recipes from award-winning cookbook author Diane Morgan and her book Salmon: Everything You Need to Know + 45 Recipes. Click the recipe titles for the downloadable PDF versions.
Salmon a La Plancha with Citrus-Dill-Vodka Marinade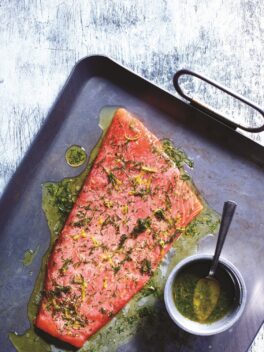 1 whole side of salmon, about
3 lb [1.4 kg], skin on and scaled, pin bones removed
1/4 cup [60 ml] extra-virgin
olive oil, plus more for rubbing
2 Tbsp vodka
Grated zest of 1 lemon, plus
2 Tbsp fresh lemon juice
2 Tbsp chopped fresh dill
1/2 tsp fine sea salt
1/2 tsp freshly ground black pepper
You will also need:
Plancha (large, rectangular griddle)
Remove the salmon from the refrigerator 30 minutes before grilling to bring it to room temperature. Pat dry with paper towels.
Prepare a medium-hot fire in a charcoal grill or preheat a gas grill to medium-high.In a small bowl, combine the olive oil, vodka, lemon zest, lemon juice, dill, salt, and pepper and mix well to form a marinade.
Place the salmon, flesh-side down, on a large, rimmed baking sheet. Rub the skin generously with olive oil. Turn the salmon over, flesh-side up, and pour the marinade evenly over the top. Set aside while the grill heats.
When ready to grill, place the plancha on the grill grate directly over the fire and cover the grill. After 10 minutes, the plancha should be smoking hot. (If your plancha is well seasoned, there is no need to oil the surface. If it is new, brush it with oil to be sure the skin of the fish won't stick.) Uncover the grill, transfer the salmon, skin-side down, to the plancha, and re-cover the grill. Grill the salmon, without turning it, until it is almost opaque throughout but still very moist, or an instant-read thermometer inserted into the center registers 115° to 120°F [45° to 49°C], 15 to 20 minutes, depending on the thickness of the fillet.
Using two long spatulas, transfer the salmon to a warmed platter. Serve the whole side of salmon on the platter family- style, or cut the salmon into individual portions and transfer to warmed dinner plates. (I let the plancha cool down in place,or use tongs, heatproof gloves, or the spatulas to move the plancha to a heatproof surface to cool.)
---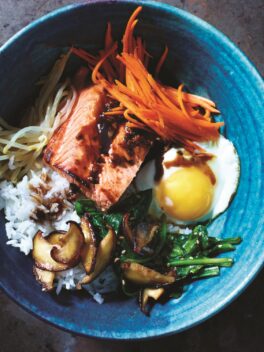 SALMON
One 12-oz [340-g] salmon fillet, skin on and scaled, pin bones removed
1 Tbsp soy sauce
2 Tbsp unseasoned rice vinegar
1/4 cup [60 ml] mirin (Japanese sweet cooking wine)
1 tsp peeled and finely grated fresh ginger
1 tsp sesame seeds, toasted
1/8 tsp freshly ground black pepper
VEGETABLES
Fine sea salt
4 oz [115 g] bean sprouts
8 oz [230 g] baby spinach
2 tsp soy sauce
1 tsp Asian sesame oil
2 tsp sesame seeds, toasted
4 tsp grapeseed or other neutral oil
8 oz [230 g] shiitake mushrooms, stems removed, caps cut into thin strips
4 tsp mirin (Japanese sweet cooking wine)
2 carrots, peeled and cut into matchsticks
BIBIMBAP SAUCE
1/4 cup [60 ml] gochujang (Korean chile bean sauce) or Chinese chile bean sauce
2 Tbsp water
2 Tbsp sugar
4 tsp Asian sesame oil
2 tsp unseasoned rice vinegar
4 cups hot steamed rice
wok-fried eggs (optional)
TO PREPARE THE SALMON: Place the fillet in a nonreactive pan just large enough to hold it. In a small bowl, combine the soy sauce, vinegar, mirin, ginger, sesame seeds, and pepper and mix well. Pour the marinade over the salmon, then turn the salmon to coat all sides. (Alternatively, place the salmon in a freezer-strength lock-top plastic bag, pour in the marinade, press to remove any air from the bag, and seal tightly. Turn the bag to coat the salmon on all sides with the marinade.) Marinate the salmon at room temperature for at least 30 min­utes but no more than 1 hour.
MEANWHILE, PREPARE THE VEGETABLES: Fill a large saucepan two-thirds full of water and bring to a boil over high heat. Add 1 tsp salt and then add the bean sprouts and cook for 1 minute. Using a slotted spoon, transfer the sprouts to a colander to drain. Blot the sprouts with paper towels and transfer to a small bowl.
Add the spinach to the same boiling water and cook just until bright green and wilted, about 1 minute. Drain the spinach in the colander and place under cold running water to stop the cooking. Shake off the excess water. When the spinach is cool, squeeze out the excess liquid and transfer the spinach to a medium bowl.
Toss the sprouts with 1/2 tsp of the soy sauce and 1/4 tsp of the sesame oil. Set aside. Toss the spinach with 1 tsp of the soy sauce, 1/4 tsp of the sesame oil, and the sesame seeds. Set aside.
In a wok or a large, deep frying pan, heat 2 tsp of the grapeseed oil over high heat and swirl to coat the bottom and sides of the pan. Add the mushrooms and stir-fry for 1 minute. Add 2 tsp of the mirin, 1/4 tsp of the sesame oil, and the remaining 1/2 tsp soy sauce. Stir-fry until the mushrooms are browned and softened, about 2 minutes longer. Transfer to a plate. Add the remaining 2 tsp grapeseed oil to the pan over high heat and swirl to coat the bottom and sides of the pan. Add the carrots and stir-fry for 2 minutes. Add a pinch of salt and the remaining 2 tsp mirin and 1/4 tsp sesame oil. Stir-fry until crisp-tender, about 1 minute longer. Transfer to a plate and set aside.
TO MAKE THE SAUCE: In a small bowl, combine the gochujang, water, sugar, sesame oil, and vinegar and mix well. Set aside until ready to serve.
Position an oven rack 3 to 4 in [7.5 to 10 cm] from the heat source and preheat the broiler. Line a rimmed baking sheet with aluminum foil. Remove the salmon from the marinade, wiping off any excess. Place the salmon, skin-side down, on the prepared baking sheet.
Broil the salmon until it begins to color, about 3 minutes. Turn the salmon skin-side up and cook until almost opaque throughout but still very moist, or an instant-read thermometer inserted into the center registers 115° to 120°F [45° to 49°C], 3 to 4 minutes longer. (Don't worry if the skin starts to char; it will be removed before serving.)
Remove the salmon from the broiler. Lift off the skin and discard it or chop some of the crispy pieces and reserve for garnishing the bowls. Cut the salmon into four equal portions.
Divide the rice evenly among warmed bowls. Top each serving of rice with a portion of salmon, arranging it to one side of the bowl. Arrange the vegetables—bean sprouts, spinach, mush­rooms, carrots—in individual mounds around the sides of the bowl. Slip in a wok-fried egg, if desired. Spoon some of the sauce onto the center of each bowl and garnish with some crisp salmon skin, if you like. Serve immediately.