Despite Oregon legislative stalemate, both sides pushing ahead with historic agreement on forest management.
In early February, Wild Salmon Center helped negotiate a historic cooperative agreement between 12 conservation organizations and an equal number of timber companies that lays the groundwork for comprehensive salmon habitat protections and pesticide spray measures on all of Oregon's state and private forest land.
Highlights from a February 10 press conference at the Oregon Capitol are here and deeper dive on the details of the agreement can be found here.
In basic outlines, the parties agreed to expanded forested stream buffers in the Rogue-Siskiyou region of Southwest Oregon, and to new pesticide spray notifications and spray buffers around streams, residences and schools across Oregon. They will also begin a process for comprehensive rules to protect salmon habitat on private timberland in Oregon, with the goal of completing a federally recognized Habitat Conservation Plan.
A similar Habitat Conservation Plan process in Washington State two decades ago led to better protections on more than 60,000 stream miles.
Following the announcement on Feb. 10, the agreement was codified in legislation and passed through committees in the Oregon Legislature. But the legislation died because of a walkout by minority Republican legislators, which forestalled the passage of any bills.
Still, the agreement is very much alive.
WSC's Oregon and California Policy Director Bob Van Dyk says that the timber bill could see action in a special session later this spring. Alternatively, the agreement could move forward via a combination of executive action from Gov. Brown and voluntary action by the timber industry, with the Legislature picking up a bill in 2021. Timber companies and conservation groups penned a joint letter to Gov. Brown on March 25 stating their continued support for the agreement.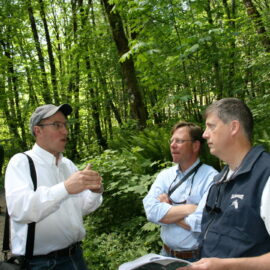 "All sides remain committed," says Van Dyk.
For Wild Salmon Center, new standards for salmon streams on private land, combined with Habitat Conservation Plans on the Elliott and Tillamook State forests – which are in development — would make good on two decades of work to secure permanent protections on some of the best salmon strongholds in the Lower 48 – rivers like the Nehalem, the North and South Umpqua, and the Rogue.
"Western Oregon rivers hold the greatest concentrations of healthy wild salmon and steelhead stocks remaining south of Canada," says Guido Rahr, CEO of the Wild Salmon Center. "Science clearly tells us that we need to modernize our forest practices in Oregon, to properly protect these rivers and streams. We're now on the cusp of taking that critical step."