The campaign's springtime field work helps set the stage for restoration projects that could bring more than $3 million to the Olympic Peninsula.
When the weather's really bad on Washington's Olympic Peninsula—when it's raining sideways and the sky swirls dark gray and woolly—that's when Betsy Krier hops into her rig and heads for the woods.
"Storm events are the best time to be out there looking for problems," says Krier, Wild Salmon Center's new Washington Coast fish habitat specialist. "You could drive by Anton Creek in summertime and not realize it's an issue for fish."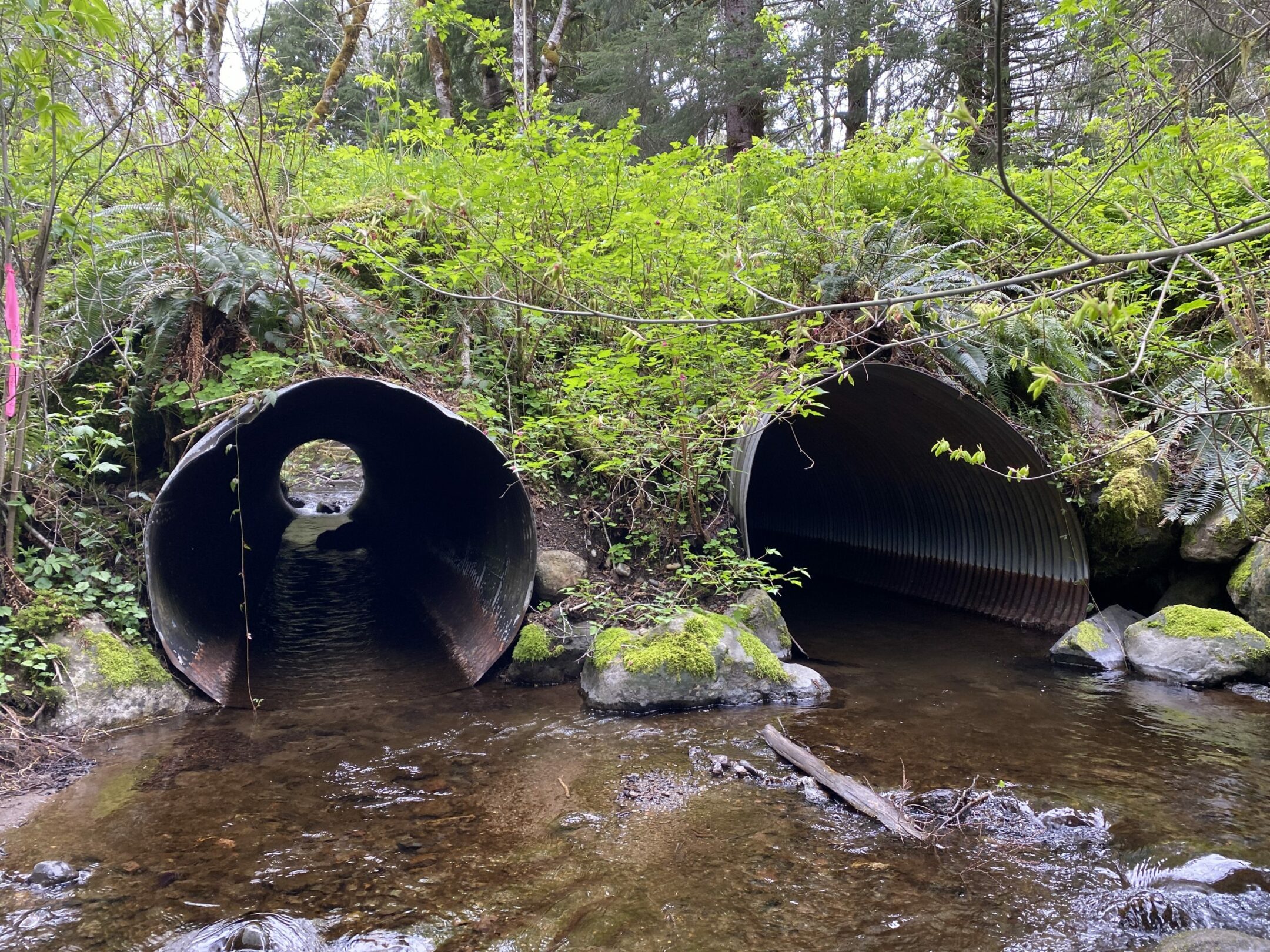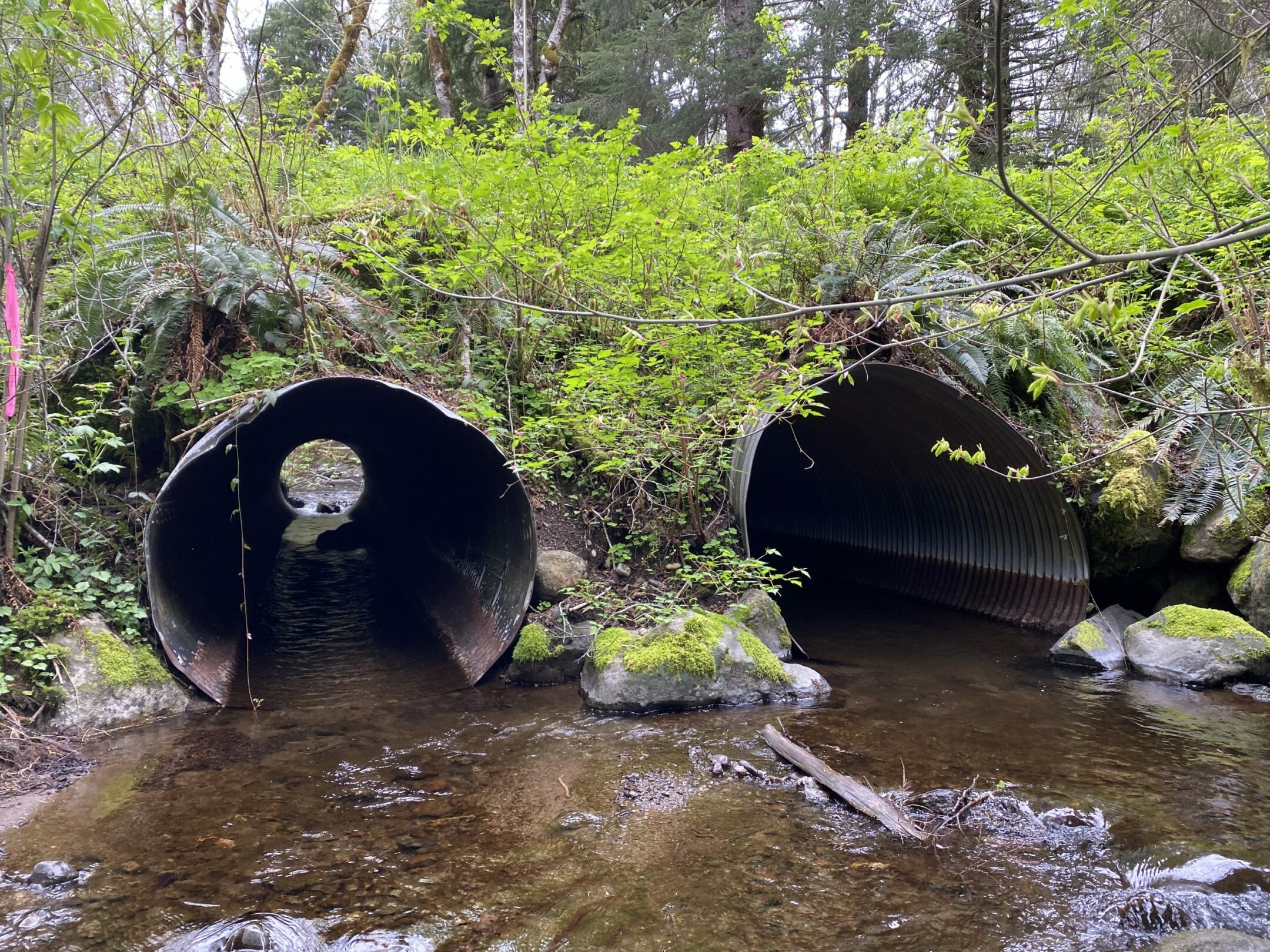 By problems, Krier means failing roads or barriers like culverts: mini-dams that, when failed or poorly built, can make life really hard for fish. A gaping hole in a failed culvert on Olympic National Forest Road 2900 (pictured at the top of this story) forced a stream to drop ten feet straight down. Winter storms at another site, Anton Creek (pictured above), squeezed water through narrow twin culverts "like a fire hose," says Krier; force that scoured out spawning grounds and pummeled fish. Anton Creek lies within the Quillayute watershed, a stronghold that provides key spawning and rearing grounds for coho, Chinook, and steelhead. The Quillayute's native fish are prized by the Quileute Tribe and important to Southern Resident orcas.
Across the Olympic Peninsula, more than 4,000 known barriers prevent salmon and steelhead from reaching the cold water they need to ride out increasingly hot summers. That's according to data compiled by the Cold Water Connection campaign—a partnership that includes WSC, Trout Unlimited, and the Coast Salmon Partnership—from tribal, regional, state and federal agencies.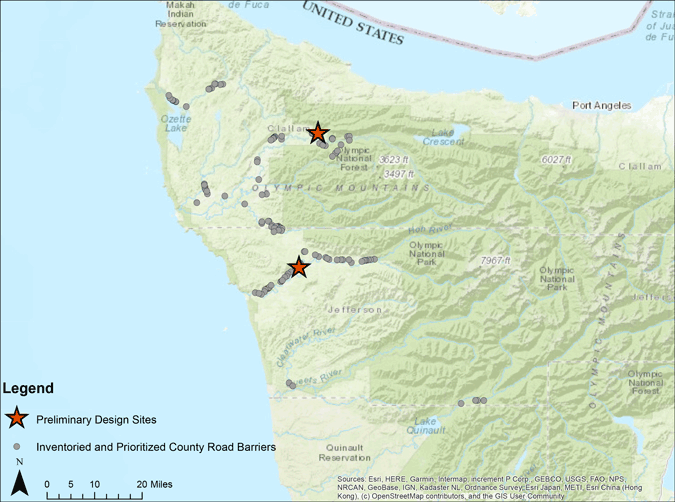 But mapping known fish barriers is just step one for the campaign. Next up is Krier (pictured below), who spent much of the last few months spring bushwhacking deep into the blown-out watersheds of the Olympic Range. Late spring is not only when she looks for problems; it's also a good time to assess upstream habitat quality.
"Thank heavens Betsy loves the rain," says Jess Helsley, WSC Washington Program director. "If the forecast is rainy but not dangerous, she throws on her waders and trudges down to the stream beds, where she is so focused on her habitat assessment she doesn't notice getting slapped in the face by blackberry bushes."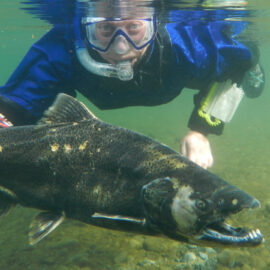 That's because the campaign's step two is figuring out which of these barriers could yield the biggest payoff for fish if removed or replaced. To determine that, Krier wades into springtime streams looking for a confluence of promising factors: quality habitat, the presence of fry and juvenile fish, and a stream grade gentle enough that a culvert fix could restore stress-free passage.
"Anton Creek doesn't represent the worst-case scenario, but we can make it best case," says Krier. "Right now, it's what we call a velocity barrier. The goal is to replace the double culverts with one structure that allows the stream to flow naturally under the road. When our job is done, the fish should never notice a change in the stream as they go under the road."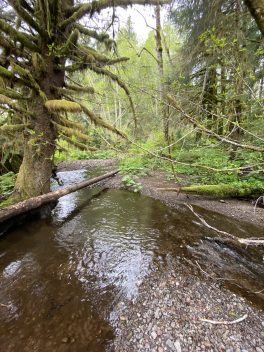 The Quillayute is one of several important salmon watersheds within Washington's Olympic Peninsula, a region that boasts some of the best cold water fish habitat in the Lower 48. Ultimately, the campaign aims to open hundreds of miles of currently inaccessible habitat in watersheds from the Hoh to the Queets. The objective is to enhance the innate resiliency of wild salmon in the face of climate change—especially their ability to seek out cold water and hold there through the summer months.
This spring, Krier and partners like the Clallam Conservation District put the final touches on funding applications for three critical restoration projects: two culvert replacements and a decommissioned road. Restoration like this is dependent upon funding from state and federal programs along with private donors recruited by WSC.
That's another part of Krier's job: helping partners identify and develop funding proposals for multiple projects. If fully funded, Krier says these projects will bring more than $3 million to the Olympic Peninsula in the next few years—funds that will largely be distributed to local partners like the Clallam Conservation District to carry out project work.
"Wild Salmon Center is really just getting started with active restoration projects on the Peninsula," says Krier. "The potential benefits are huge for salmon, and also for local communities that rely on these restoration jobs—all those surveyors, tribal biologists, and construction workers who like to pull on waders and get muddy just like me."
"The potential benefits are huge for salmon, and also for local communities that rely on these restoration jobs," says Krier. "All those surveyors, tribal biologists, and construction workers who like to pull on waders and get muddy just like me."